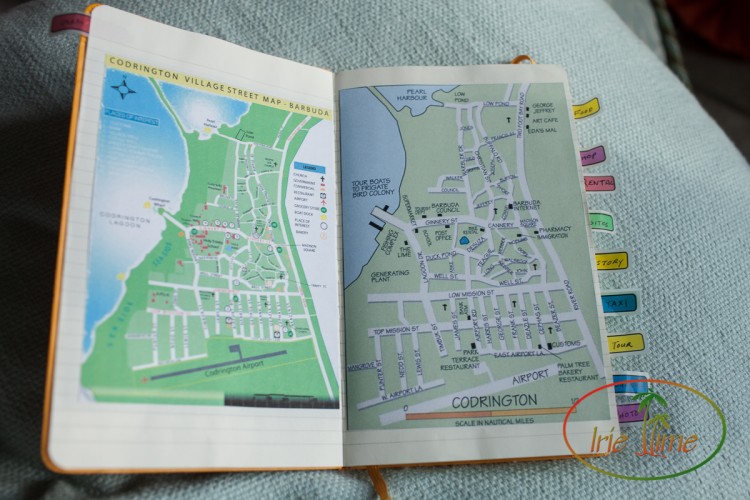 Every good trip starts with a travel planner.  The way to get the most out of your trip is to do your homework, to learn about the island, the people, and the places to see so that you make the most of your limited time there.  When it comes to vacations, most of us don't have months to explore.  The key to experiencing the best of your destination is to have a travel plan.  Here's what I put together in planning our trip to Antigua and Barbuda.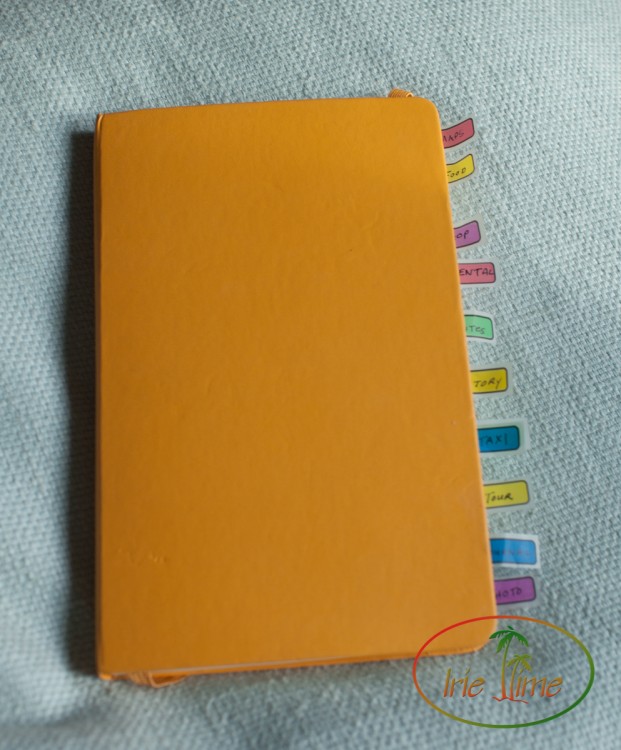 The Travel Planner
Those of you who have read my blog, may have seen my Travel Planning Tips series, and know that I like to put together a book.  Although my smart phone is quite handy, there is nothing like a Moleskine notebook to keep your notes organized and jot down things on the go.   It never runs out of power, and doesn't require that Verizon service the area.
This year, I selected the 8″ by 5-1/4″ Moleskine Classic Notebook
 in the bright orange color (more like a deep yellow, actually) as my travel planner.  In the front of the book, I print my itinerary on full page labels, cut down to size to fit the book.  I use those labels to print other content as well. I use Post-it Arrow Flags
, which you can write on with a permanent fine-point Sharpie, to designate categories for ease of use.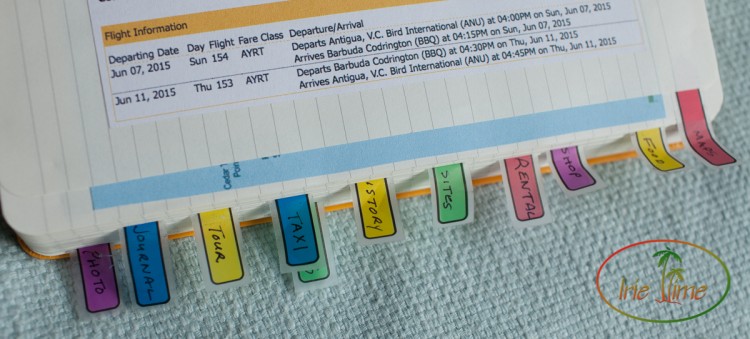 The Categories
Make it easy to find items in your travel planner by creating relevant categories.  Your categories will vary with each trip and what is important to you. My travel planner included the following categories:
Maps  – We would be spending half of our trip in Barbuda, so I printed maps of the island and the town of Codrington, which is across the lagoon from our resort, a short water taxi ride away.  The second half of our trip was at Rosewood's Jumby Bay, and given that we only had three nights there, I didn't expect to get into Antigua, so I didn't print off maps for that leg of the trip.
Food – Although the second half of our trip was all-inclusive at Jumby Bay, I was hoping to try some local restaurants in Barbuda.  The most information you will find about Barbuda is on the website, barbudaful.net, so I took notes from that website and added it into the book.  It's nice to know that you can navigate to your next meal (or cold beverage) no matter where you may be.
Shop – I always hope to find locally-made items to bring home as souvenirs, so I made note of the shops listed on barbudaful.net as well.
Rental – Given the advice on barbudaful.net, I did not plan to rent a car, but I made sure to have note of contact numbers in case I changed my mind.  It's also to make a note of fuel stations, as there aren't many of those on Barbuda, and they may not always have fuel available.
Sites – I like to visit historical sites when possible so I made a note of these as well.  I really like the idea of renting a car to be able to make it to more of these sites, although you can arrange for a tour.
History – The history section of my book is to educate myself on the island's history, and also to assist me in blogging about it later.
Taxi & Tour – Given the size of Codrington, I didn't expect to need a taxi, but when you need one, it's also handy to have a number.  I also remember walking so far on Grace Bay Beach on Providenciales and not realizing how far it was and needing to taxi back.  It doesn't hurt to have these numbers available just in case.  I also had the telephone numbers of tour operators in case we decided to go see the frigate bird sanctuary or other parts of the island.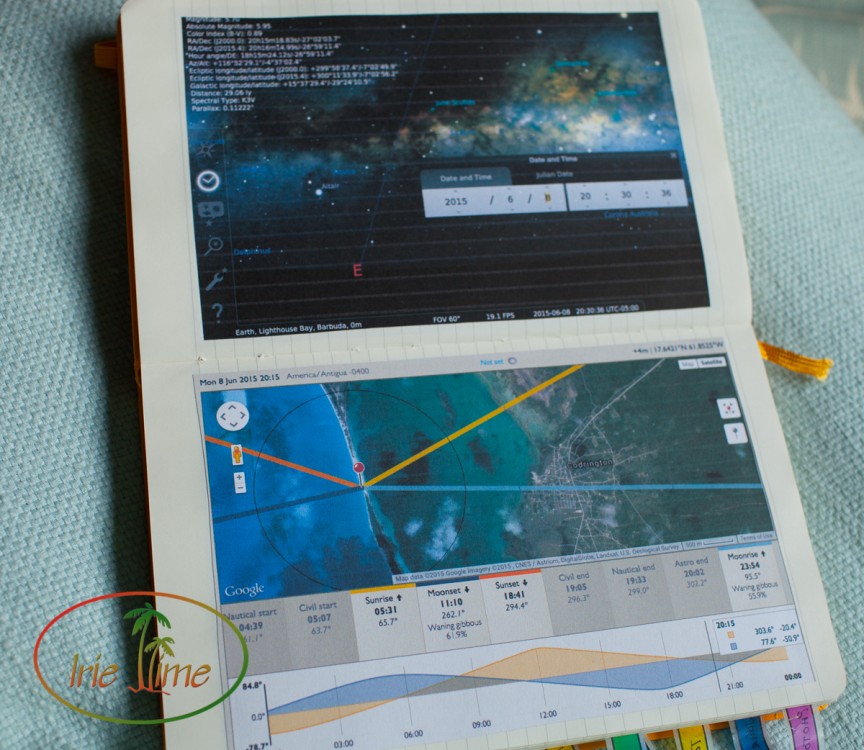 Photo – This is where I keep notes on what photos I want to take and what techniques I want to try while on the trip.  Barbuda was known to have very little development, so I really wanted to do some night photography, and try to capture the Milky Way.  I'll do a whole post on how I did this later, including the camera settings and the exposure time, but to prepare, I used Photographers' Ephemeris to identify sunset, moonset, and moonrise times (to pick the perfect time to shoot), and Stellarium (to know what direction to shoot to capture the Milky Way).  I printed off these guides on the labels and added those to my travel planner.  I added a label for each day I was there because the times and locations change every day.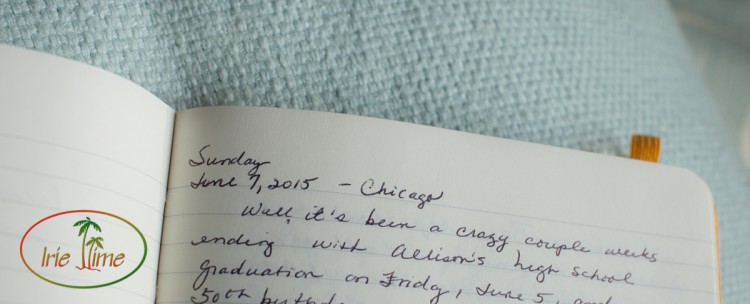 The Journal 
Don't forget to journal!  I make a point of writing daily, sometimes twice daily.  It is very easy to forget the little things that happen which make you smile, and as a travel blogger, it's important to remember the details.  I also write because one day after I'm gone, maybe my kids will remember how much fun it was to travel to the Caribbean with their parents!
Put together a travel planner for your next trip and you'll find things go much more smoothly along the way.  You will have all the information you need at your fingertips, without a need for a fully-charged battery or cell service.
For posts on our trips to Lighthouse Bay, Barbuda and Jumby Bay, Antigua, follow along here:
All words and images ©2006-2018 Wendy G. Gunderson. Any use without written permission is prohibited. For licensing information, please send inquiries via the Contact page.