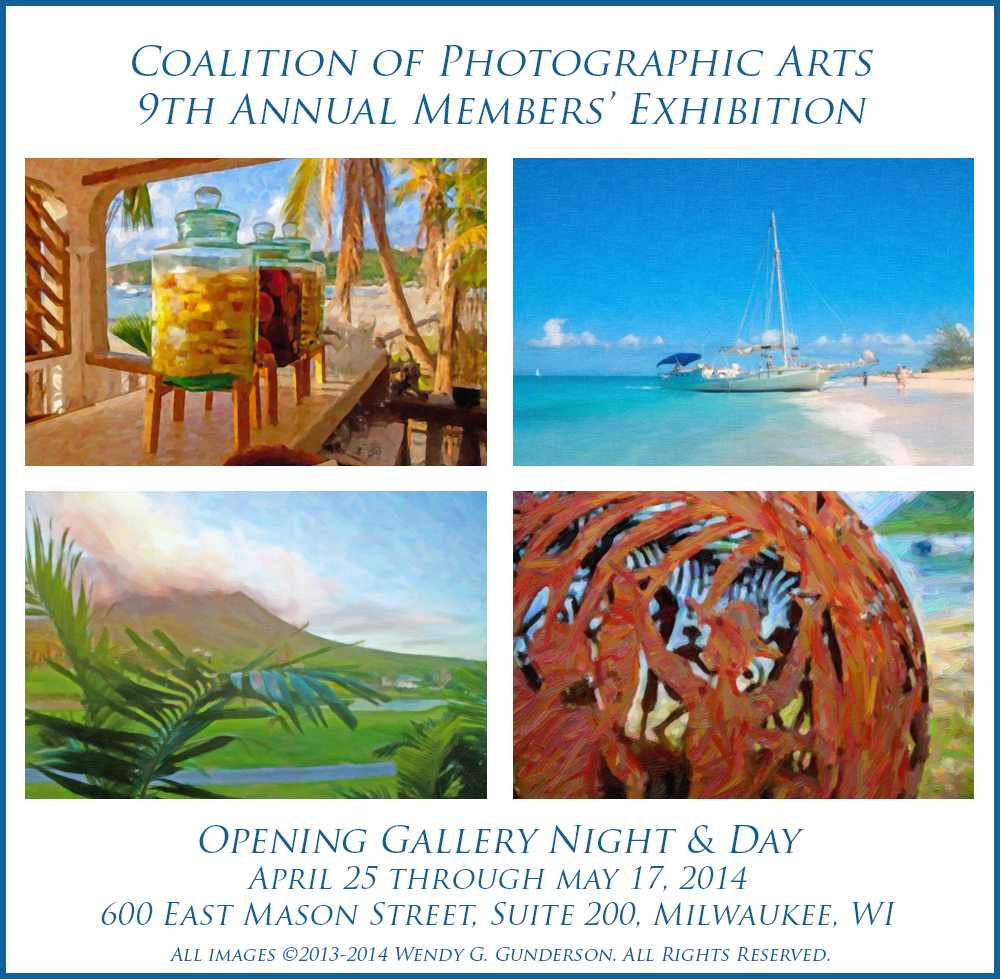 Join us for the 9th Annual Coalition of Photographic Arts (CoPA) Members' Exhibition!  CoPA is an organization of photographers, ranging from long-time professionals to novice hobbyists.  Founded in 2004, the organization's mission is to "develop appreciation, promote growth and support the creation of photographic arts in the Greater Milwaukee Region."  The group hosts monthly meetings, oftentimes featuring guest speakers, to address issues important to the photographic community.  Aside from the serious stuff, it's a great way to meet some really nice people.  For more information on CoPA, read here, and consider becoming a member.  Annual memberships for students are $25 and are $55 for the big kids.  Members have the opportunity to participate in a number of exhibitions, including the annual members' exhibition.
The exhibition opens on Gallery Night & Day, April 25, 2014  from 5 to 10 p.m., and Gallery Day, April 26, 2014 from 12 to 4 p.m.  The exhibition continues May 1 through May 17, 2014, Thursdays through Saturdays, from 12 to 6 p.m.   It is closed Sundays through Wednesdays except by appointment.
We will be exhibiting canvases from our Digital Paintings Collection at the show, and will be offering special discounted prices for those who attend.  If you can't make it to Milwaukee, browse our collection at the My Irie Time Shop.
Photos above include:
Upper Left: SandBar, Sandy Ground, Anguilla
Upper Right: Grace Bay Beach, Providenciales, Turks & Caicos Islands
Lower Left: View from the Four Seasons Nevis
Lower Right: Fireball at Aragorn's Studio, Trellis Bay, Beef Island, British Virgin Islands
All words and images ©2006-2018 Wendy G. Gunderson. Any use without written permission is prohibited. For licensing information, please send inquiries via the Contact page.