I overpack.  I know that.  I hate having the capability to do something, but not have the gear with me to do it.  I have many times heard the saying that the best camera is the one you have with you at the time, and I always want my best camera with me.  So, I overpack, and I carry my monster camera, the Canon 5D Mark II with me everywhere we go.  I took it to the beach, stowed in my Kate Spade rubber tote to keep out water and sand, and I took it on our hike on Mount Nevis, stowed in my daughter's backpack. Otherwise, it fits in my everyday tote bag. This trip, I decided to record everything I packed, and then go through everything upon our return to determine what I used, and how often, to see if it was worth it.
Let's start with the bag — no regrets here.  I purchased the Think Tank Airport Airstream because it was compact, meeting all international requirements. Without the laptop in the front pocket, it fits underneath the seat.  This bag is small in comparison to many out there, but it holds tons of gear.  You have to be careful when traveling to some places.  When we traveled to Ireland in April, Aer Lingus weighed our carryons.  This little bag held twice the weight allowed.  On Aer Lingus, the carryon weight limit is 22 pounds or 10kg. After passing a few lenses out to my kids to stow in their backpacks to get past the weigh-in, I was ready to re-pack and be on my way.  If you are traveling alone, you will have to consider the weight of what you can fit in this bag.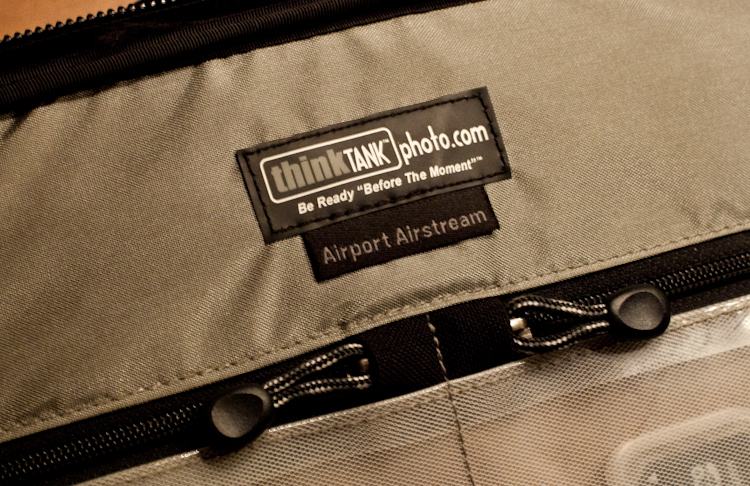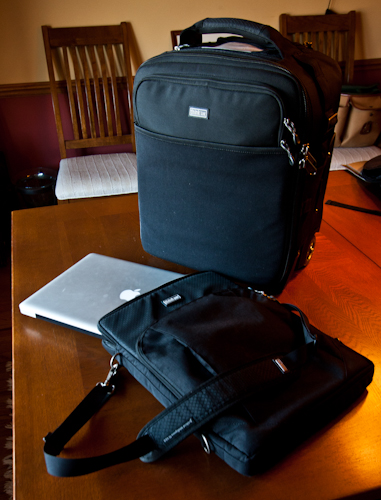 Stowed in the front pocket of the bag is the Think Tank Artificial Intelligence Laptop Bag.  It fits my 15″ Mac Book Pro, the power cords, and a bunch more in its front pocket.  I stored two portable hard drives in the pocket, on which to download shots.  I download photos daily so that I have two copies, one on the card and one on the drive, so I never lose anything.  The front pocket on the Airport Airstream is stretchy, so the laptop bag slides in the front, and goes back into place when not in use.  The Airport Airstream has an extendable handle and nice sturdy wheels.  It also has a lock and cable for security.  I've never used it, but I suspect it would come in handy in some places.
Let's look inside…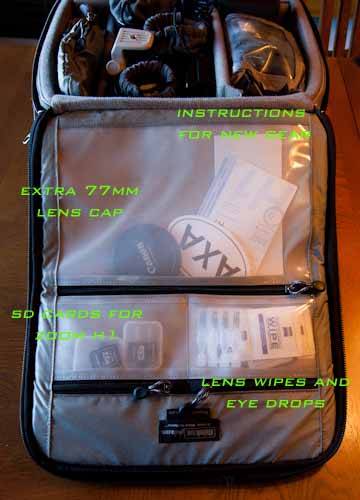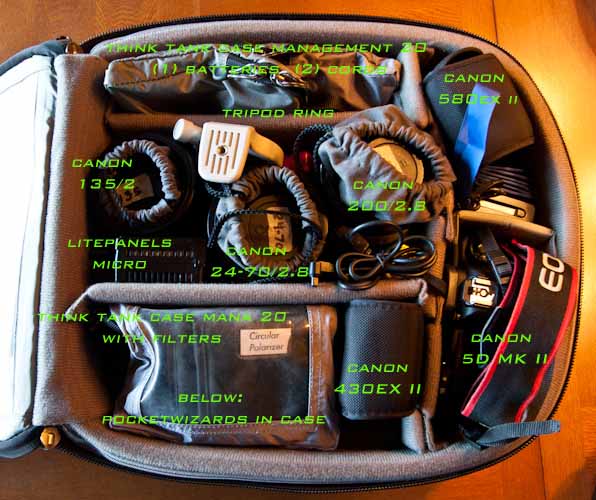 The camera I bring is the Canon EOS 5D Mark II.  I bring it with the battery grip, the Canon BG-E6 Battery Grip, into which fits two batteries.  It fits with the battery grip and the tripod head plate screwed to the bottom inside the Airport Airstream. For walking around, I remove the grip.  I went back and forth on bringing the grip, and decided to bring it in case I wanted to do star trails and needed the extra battery life.  I didn't end up using it, and would probably leave the grip home, although I would bring the extra battery.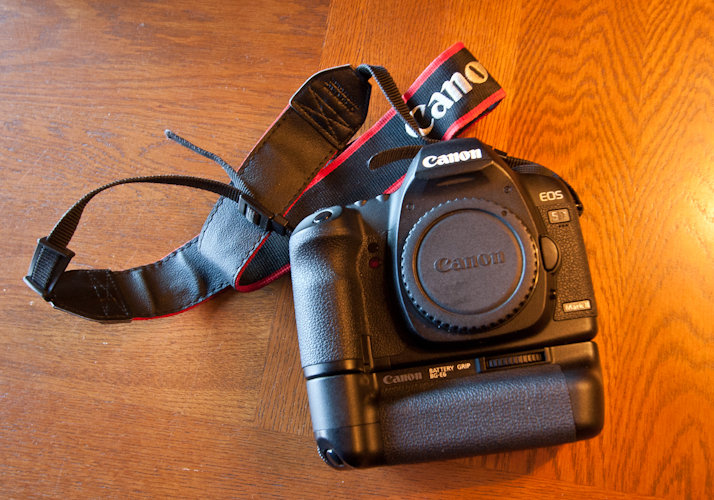 The lens I use the most is the Canon 24-70mm f/2.8L.  It is a great lens to capture most things we see and wide enough to capture a broader view of churches and other tight places.  If it didn't weigh over 2 pounds, it would be the perfect lens.  After returning, I would probably eliminate one of the long lenses.  I love my Canon 135mm f/2.0L , so I tend to gravitate toward it.  When we went to shoot monkeys, I took the 135, and I probably should have taken the Canon  200mm f/2.8L II so I could get closer to the action without spooking my target.  Next trip, I will probably make a decision and pick just one.  I ran my statistics in Adobe Photoshop Lightroom to see how often I used each lens.  The 24-70 was the clear favorite.  
You will see a set of Pocket Wizards, including two PocketWizard MiniTT1 's, two PocketWizard FlexTT5's, and a PocketWizard AC3 ZoneController, in the PocketWizard G-Wiz Trunk. You will also see two flash units, the Canon 430EX II and the Canon 580EX II.   I brought these to shoot the our Christmas card photo.  I didn't end up using them because the lighting was good without the additional light, but I would bring them again.  When shooting with strong back light, like a sunset or a beach as a backdrop, you usually need to fill in your subject's faces to avoid shadows and to keep the exposure even.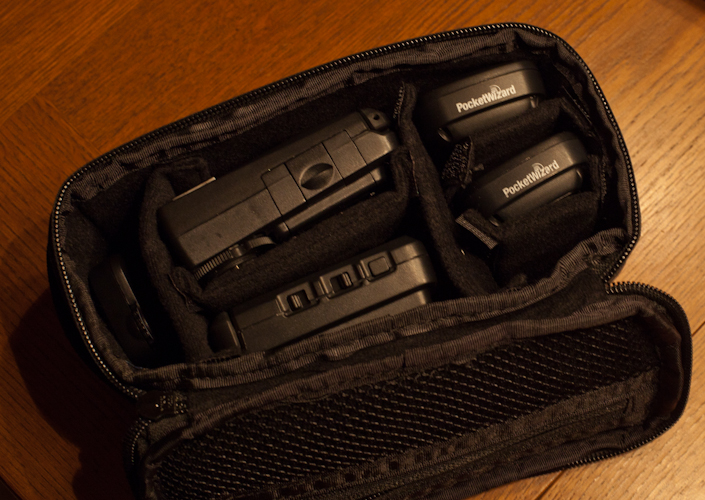 Another small light I bring is a Litepanels Micro.  It is great to add a small amount of light to illuminate objects in dark bars (example here) without flashing everyone to death. The knob on the top allows you to adjust the power.  It is a continuous LED so it can be used for shooting video and has a foot to fit in the hot shoe of your camera. It's lightweight, and runs on four AA batteries.  It also doubles as a flashlight when you're out on the beach at night and need to avoid tripping over or running into items in your path.  It is very powerful.  When our son misplaced his Crocs on the beach at night, we were able to light up a huge area to quickly locate them.  I have seen less expensive models of this LED light, but they don't have the power of the Litepanels model.  It was worth every penny, and this is now a must-bring item.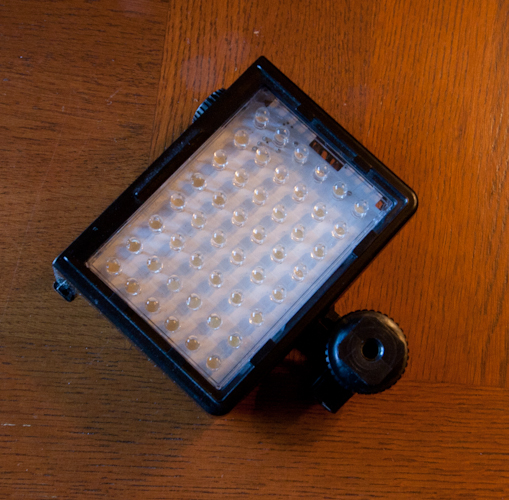 The device in the photo below is a new addition to my bag.  It is a timer and remote trigger.  I was interested in this before, but the $135 price tag for the Canon Timer Remote Controller TC-80N3 put me off the subject.  This is the Cowboystudio Timer Remote Control, which at $31 makes experimentation economical.  I tried it out on a sunset in Nevis, which I intend to put in a time lapse sequence for my vacation slideshow.  It worked perfectly, so it was definitely worth the $100 savings.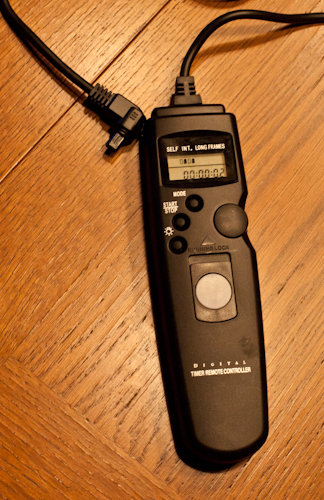 You will see three Think¤Tank Cable Management 20 bags.  I have a number of other small bags to organize items, but this one is my favorite.  It has a window where you can see what's inside.  I use one for cords, one for batteries and chargers, and one for filters.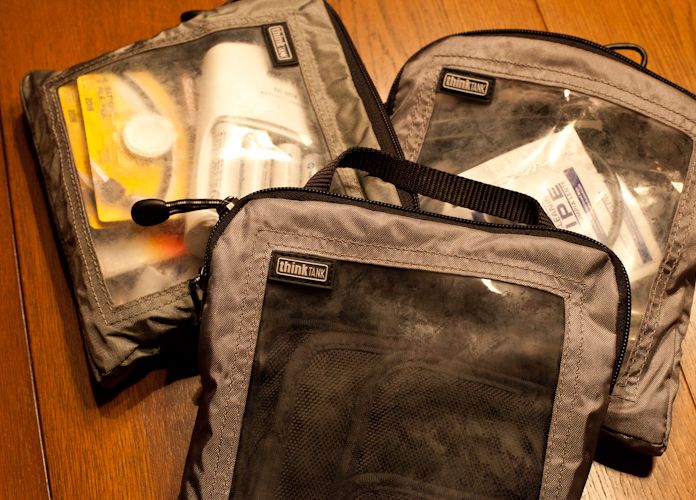 I brought a number of filters along on this trip.  I brought a Tiffen 77mm Digital HT Circular Polarizing Filter, and two neutral density filters, a Hoya 77mm Neutral Density x400 (ND) Filter, and a 77mm Fader ND Mark II
. The circular polarizer is great to diminish the glare when shooting through glass or when shooting highly reflective surfaces.  The neutral density filters were brought for fun and experimentation.  I use them to take long exposures of waves (example here and here), where the brightness of my subject would preclude a long exposure.  I also use the Fader for shooting video on the beach.  The bright subject matter precludes shooting video at anything other than f/22 without it. The only regrets I have here is that I did not bring a step-down ring to use these filters on the 135 and the 200, which have a 72mm filter size.
 I should probably mention that I don't work for Think Tank Photo, nor do they pay me anything to endorse their products.  I just love their stuff.  They make sturdy and useful bags and accessories.  Included in my bag is the Think Tank Pixel Pocket Rocket.  They now come in three sizes.  This is the largest.  It holds 10 CF cards, and the clear-view pockets allow you to see your cards.  When I fill a card, I flip it over, so I know immediately what cards are full and what cards are available.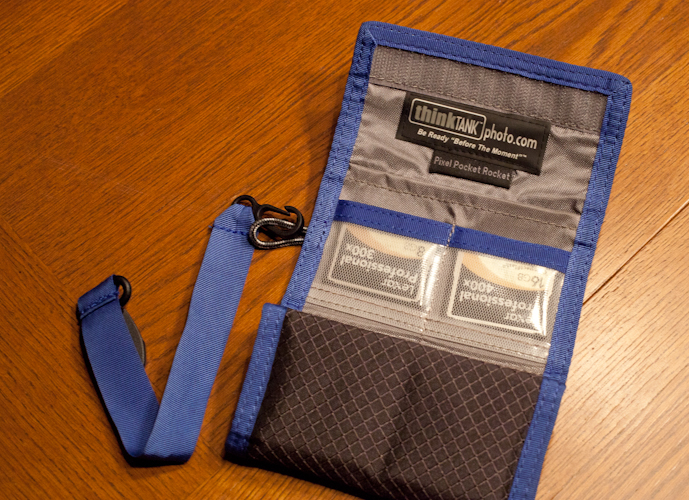 I should mention my sound system.  It was stowed in the Airstream underneath the Pocketwizard case, which shows you how small it is.  The microphone for video on the Canon 5D Mark II is necessarily small, and you will get tons of noise, particularly on the beach.  For sound, I use the Zoom H1 Ultra-Portable Digital Audio Recorder, and top it off with a Red Head Windscreen to cut the noise of the wind on the beach.  The audio for these videos (beach sounds plus performance by "The Musical Brothers") was recorded with the Zoom H1.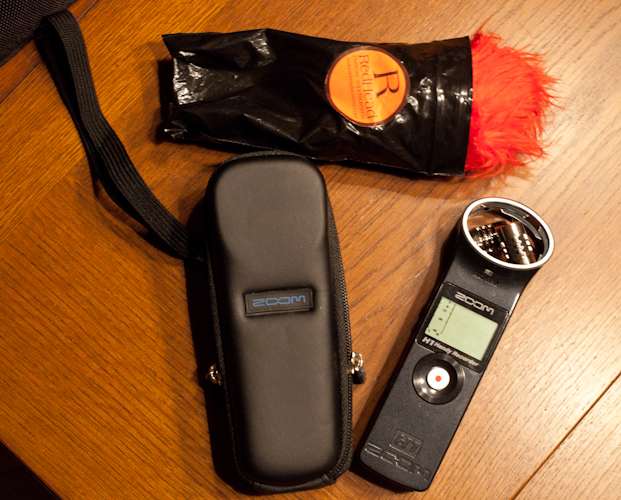 The last item I thought quite a bit about.  I left it behind on the trip to Ireland because of the size.  I would not have brought it on this trip except that my husband volunteered to put it in his suitcase.  That was my tripod, a Fancier 60 Inch Professional Carbon Fiber Tripod
. It folds down to 23 inches and comes with a nice carrying bag in which I stowed the tripod heads, a Cowboystudio Tripod Collar Mount Ring
, and a screwdriver.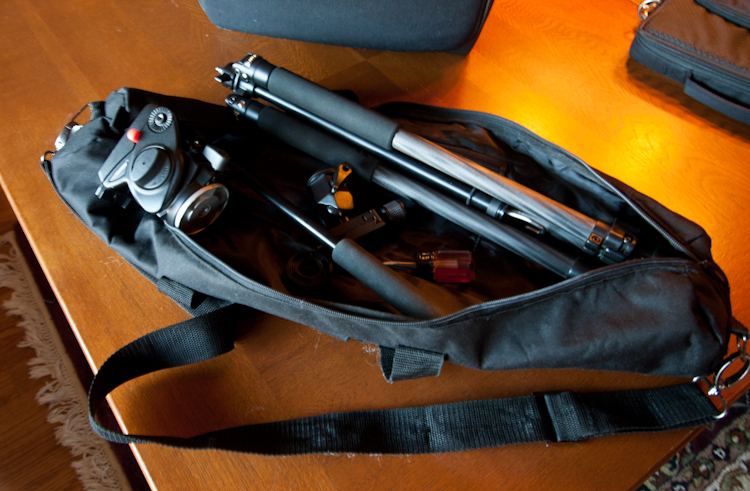 I really appreciated having it when shooting video on the beach.  It is so much easier to made a good video with a tripod  Even when you think you are holding it steady, there is movement which will make your viewers nauseous.  I brought along the video head, a Manfrotto 501HDV Pro Video Head.  It's a great tripod head for video, but it's a bit big for travel.  I would probably leave this home next time and simply use my basic tripod head, the Fancier FT6691AH Tripod Head
.  I also brought along a Manfrotto 209 Tabletop Tripod Legs w/ 492 Micro Ball Head which I didn't use at all.  I might bring it if I leave the full-size tripod home, but otherwise, it was not worth the weight.
Overall, I am happy with my decisions, although I will cut out one long lens and the video tripod head, which will cut down on the weight and bulk.  I can't wait for the next trip!
If it matters to anyone, I buy all my own stuff (or my wonderful husband!), and so I tell it like I see it.  You will see affiliate links here, which as explained below, help offset the cost of this site, but don't be misled – – If I don't like something, I'll tell you so.
NOTE: To offset the cost of this website, My Irie Time is a participant in the Amazon Services LLC Associates Program, an affiliate advertising program designed to provide a means for sites to earn advertising fees by advertising and linking to Amazon.com. We are also participants in the B&H Photo Affiliate Program, which provides commissions for sales linked by this site to B&H Photo Video.  
All words and images ©2006-2018 Wendy G. Gunderson. Any use without written permission is prohibited. For licensing information, please send inquiries via the Contact page.