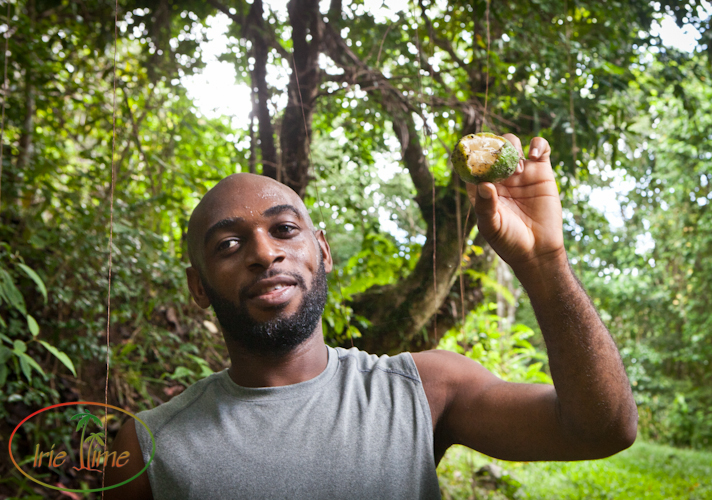 While planning our trip to Nevis, we decided that we wanted to do a mountain hike.  Rainforests and mountains were new to us on trips to the Caribbean, so we thought we would arrange for a hike.  I knew I wasn't in shape to hike to the peak, knowing that climbing robes and vines were involved, so we looked at the options for one of the shorter hikes.  The three options we had were:
Rainforest & Ruins – Hike with a guide into the Rainforest and Coconut Plantations on the slopes of Nevis peak.  Along the way, experience the beauty, tranquility of a cool, luxuriant and tropical ravine with massive volcanic boulders worn smooth by a mellinniums rainfall.  Majestic trees and lush tropical plants such as heliconia, elephant ear ferns and bamboo. (2 ½ hours, $30/person)
Source Trail Rainforest Hike – Experience a moderately challenging hike through lush forest to an ideal spot for panoramic island views.  You will hike by two tropical ravines and into a cave.  You will be introduced to the flora and fauna of the island, including bamboo and fruit trees such as bananas, citrus, mangoes and guavas. (2 hours, $35/person)
Butler's Source Rainforest Hike – Take a moderately challenging hike to the Butler's source.  Along the route see the prison farm, better known as Russell's Rest and learn about it's true origin.  Walk along lush tropical Rainforest, enchanting ravines and haunted areas.  View the flora and fauna, monkeys, cocoa trees and a variety of fruits.  Enjoy breath taking vistas of the Atlantic Ocean. (3 hours, $35/person)
Knowing my son's patience for organized activity, we opted for the two-hour Source Trail Rainforest Hike.  We had a rental car, so we planned to meet our guide, Sheldon, at the entrance to the Old Manor Hotel in Gingerland.  We were early, so we explored St. George's Anglican Church and Gingerland Methodist Church, and Sheldon met us there.  We drove a bit up the mountain, until we ran out of road, and then went out on foot.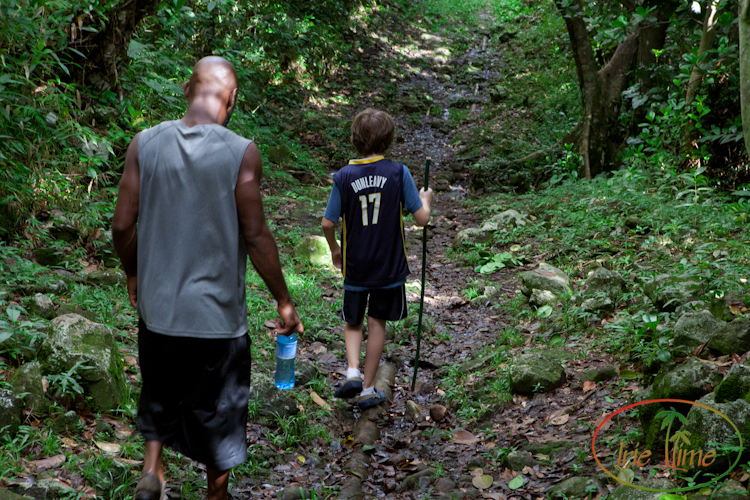 Sheldon gave each of us a walking stick to use on the hike, which I was glad I had.  My husband and I questioned the "moderately" in the "moderately challenging" description of the hike at a few points.  There were areas where we needed that stick as a third leg to cross rocks and ditches.   I would think it's just that were in our mid-40's and out of shape, but even our children, ages 12 and 14, were challenged by the hike. Twice, I had to stow my camera in my backpack so that I could cross a rocky or slippery area.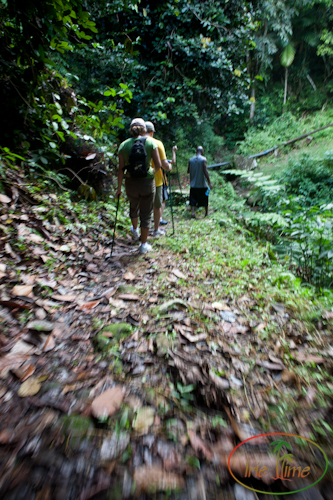 We learned quite a bit about the area, the plants, trees, and environmental conditions such as deep ravines, known as "ghauts."  The photo at the top of this post captures one of those moments. Sheldon held up a lemon with one bite out of it.  He explained that this is what the monkeys leave behind.  They are quite wasteful creatures, taking one bite, and tossing the rest aside.  The monkeys, a delight to tourists, are essentially pests to the residents, devastating their plantings.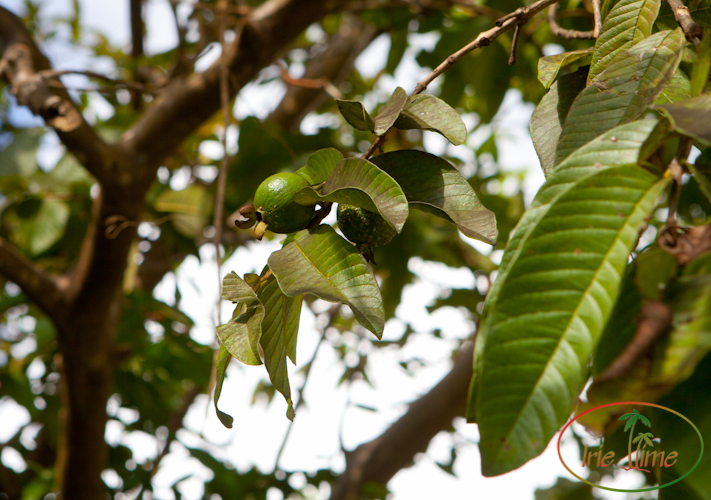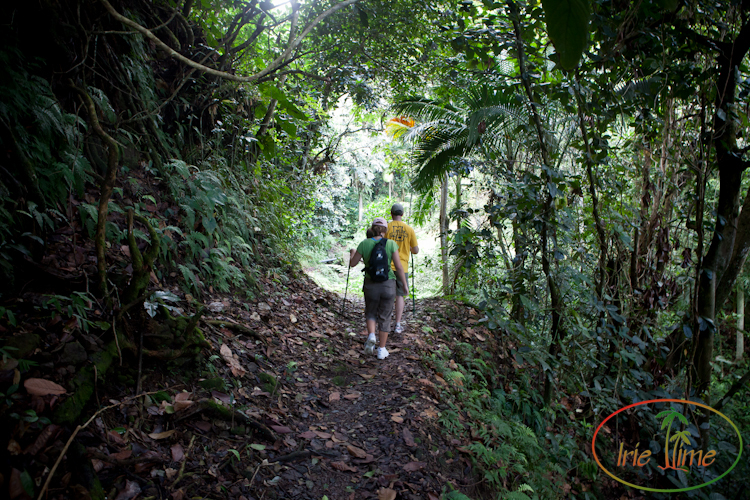 Although we learned quite a bit about the island plants and animals, my favorite part of the hike was learning about the island people.  After walking and talking for a couple hours, you can't help but share information on all sorts of topics, including religion, family, taxes, and government.  At the end of the trail, we were exhausted, had shoes covered with Nevisian mud, but all concluded that we had a great time.
Read other parts of our trip report on Nevis:
Part Two: Sunshine and the Killer Bee
Part Four: Bars of Pinney's Beach
Part Six: On the Nevis Heritage Trail
Part Seven: New Castle and the Mighty Yaris
All words and images ©2006-2018 Wendy G. Gunderson. Any use without written permission is prohibited. For licensing information, please send inquiries via the Contact page.