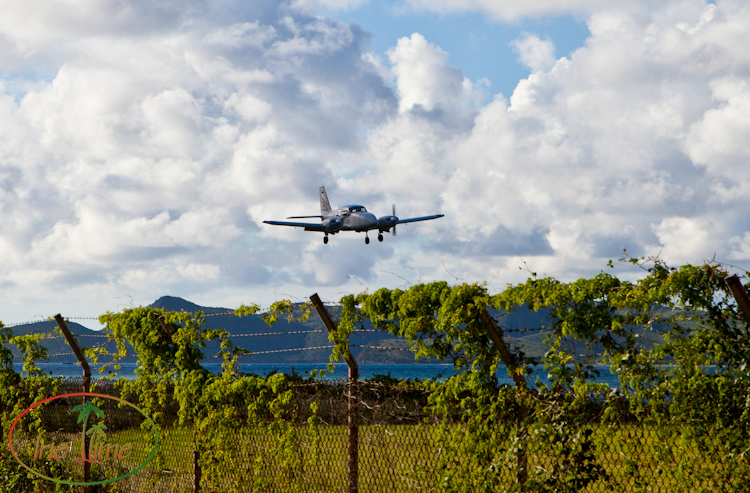 In this installment of our trip planning series, we talk about a variety of tips for successful trip planning to save money, time, and to get the most out of your vacation.
When to buy airfares
           I tend to book early.  Perhaps it's the tough winters, but by the end of January, I want to have a new destination in sight.  I generally have frequent flier miles to pay for a couple tickets, but with a family of four, I generally don't have enough to get all our tickets for free.  Over the years, I've learned that you have to try different combinations of departure dates and length of trip to get the best deal.  I've also learned that certain days of the week generally translate into better rates, although this is not an absolute rule.
          I did a bit of an experiment when purchasing tickets for last year's trip to the British Virgin Islands.  I knew it was cheaper to fly into St. Thomas, but to get from there to Tortola, and then to Beef Island, and then Scrub Island, meant a long ferry ride, a long taxi ride, and finally the shuttle to Scrub.  Although I would save money, I would lose a lot of time and create more hassle at both the beginning and end of the trip.  I concluded that we needed to fly into Beef Island (EIS).  I started to run the numbers, keeping track of the date of my search and the dates searched.  Each search used the same flight that got us from Chicago to Beef Island at 4:40 p.m. the same day.   This chart shows all the searches for a trip lasting 8 days, departing Wednesday, November 21 and returning on November 29.  The searches produced fares ranging from $692 to $970.  The chart confirms that the best fares came while searching on Tuesday and Wednesday.

When to Depart
          In that same experiment, I searched a variety of dates, changing the day of week upon which we departed and the number of days stayed.  There was no doubt that it was cheaper to depart early in the week, on a Monday,  Tuesday or Wednesday, and that the most expensive departure dates were Friday and Saturday.
          Sometimes, a difference of one day in your stay or the day of departure can mean a huge difference in the fare.  In this example, I conducted all these searches on the same day, Monday, January 23, 2012.  I searched a stay of 9 days, and four stays of 8 days, varying the departure day.  The fares ranged from $800 to $1018.  In fact, the cheapest fare came with the longer stay of 9 days.  Comparing apples to apples, you could save $168 per ticket by starting your 8-night trip on a Tuesday ($850), rather than starting on a Thursday ($1018).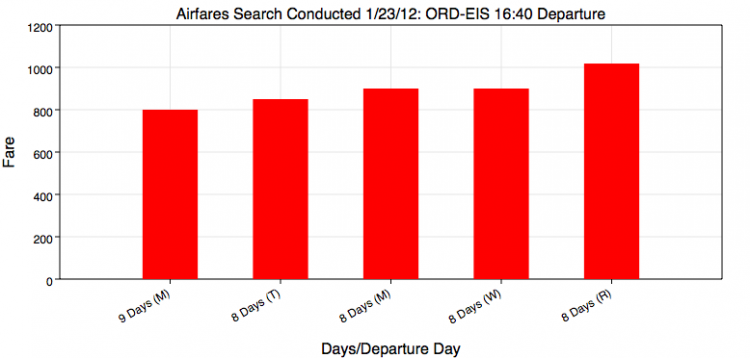 Although not an absolute rule, your best bet is to search on a Tuesday or Wednesday, and plan to depart on a Monday, Tuesday, or Wednesday for the best fares.
           By the way, my favorite way to search for airfares is now Hipmunk.  The chipmunk is undeniably cute, but the site is amazing.  Type in your search and you get a graphic layout of the different fares, departure times and arrival times.  I love the "Agony" button.  Click that to find the quickest route to the least expensive fare, with the shortest flight length and fewest layovers.
Maximize Your Miles
            You all know that frequent flier miles can make it easier to schedule that next vacation.  Find ways to maximize the number of miles, doing what you would be doing anyway.  We use an airline credit card to get miles with purchases.  They offer programs for dining, where you can double your miles, and programs for shopping where you can double or triple those miles by shopping at selected retailers.  You can get more for your dollar, just by being mindful of how you spend it and make your way to that trip even easier.  Check out The Points Guy for tips on how to maximize your points, and the best deals in credit cards.
Small Bills, Please
           Before leaving for your trip, skip the ATM and make the effort to go to the bank to get small bills, fives and ones.  You want to have a lot of these on hand to reward the people who help you along the way, the guys who carry your bags, drive you around the island, or make that special effort.
Does My Passport Really Last 10 Years?
             No, not really.  I thought it did until 2010, ten days before leaving for Anguilla to be exact.  I was reading through the Anguilla Guide Forum and someone posted about the rule that you need to have six months left on your passport at the time you enter the country.  Our passports were due to expire in three months, and I had planned to renew them upon our return.  This was the first I had heard of the six-month requirement.  I called our travel agent, who seemed to think it was common knowledge.  Well, I had no idea, and here I was ten days before our trip in need of new passports.  They can expedite the process.  However, asking the government to do anything in a rush will cost you.  We immediately Fed Ex'd our application to an expediter so that we could make our trip, at about double the regular cost. Each country's regulations in this regard varies.  Plan ahead.
Dropbox Your Docs
           If you're not familiar with it, there's a wonderful site called Dropbox.  You create an account and you can store documents in a cloud and access them from any computer or phone.  You can share folders with others so they can contribute or view documents.  I generally use this site to collect or share photos with others, but it's a useful tool when traveling.  You can store documents and access them on your trip if needed, such as a copy of your passport in the event yours is lost or important contact information.  You can store maps and itineraries.  While on your trip, you can upload photos so you always have them in the event your camera/memory card is lost or stolen.  To sign up is free and you get some storage space to get you started.  You can buy more storage space if needed, or refer them to friends to get more for free.  Check them out at Dropbox.com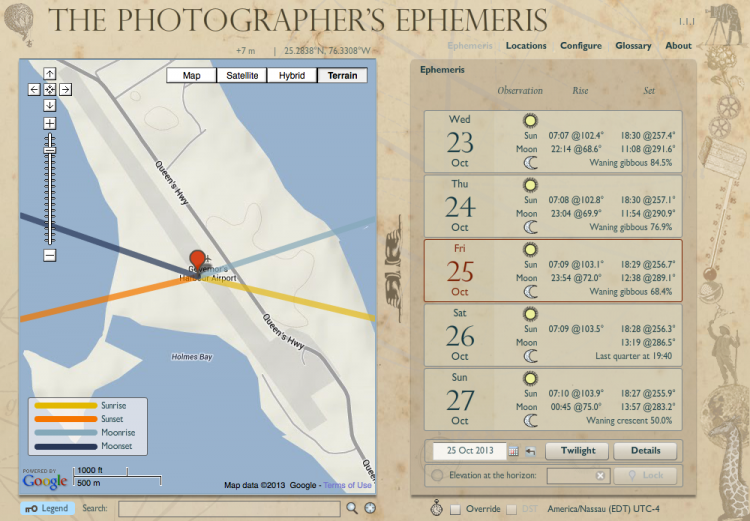 Have You Got an App For That?
          If you have been reading this series, you know I love my book, but I know that my smartphone has quite a few helpful items.  Before leaving home, first make sure that you have the international data plan with your cell provider if your phone works in your destination.  If you don't go with the plan, the charges are astronomical.  We figured this out on our trip to the British Virgin Islands.  Per the map on the Verizon website, our phones were not supposed to work in the BVI.  However, after spending a day on the beach, I returned to the room to find numerous e-mails with huge overcharges for data use.  It turns out that our phones did work in the BVI, and the roaming was costing me a fortune.  Given the misinformation from Verizon, they reversed the charges, but be mindful of your use!
          If your smartphone does work in your destination, and you have a plan that keeps the costs down, there are apps for just about everything.  I'm an Android user, although I suspect most, if not all, of these are also available for iPhone users  The apps I have found useful are:
Assistive Light – It's really a widget, not an app, for Android.  Handy little flashlight app, helpful for reading menus in dimly lit restaurants.
TripIt   – Sign up for a TripIt account and access your itinerary and planning information everywhere.  A basic account is free.  You can upgrade to have the app update your airline points and more.
Trip Advisor – For obvious reasons.  Search anywhere.
SoundHound – You're on the road and you hear a song on the radio.  You remember the song, but cannot remember the artist or the lyrics.  Try SoundHound.  It listens to the song and quickly pulls up all the information you're seeking.
Photo Tools – A great app for the photographers out there.  It includes tons of useful tools including depth of field calculator, a light meter, a timer/stopwatch,  a Sunny 16 Calculator, an Exposure Reciprocation Calculator (for using ND filters), a Moon Phase and Exposure Calculator, and many more.
The Photographer's Ephemeris – A weird name, but a great app.  It takes your location and tells you where to find sunrise, sunset, moonrise, and moonset, and the phase of the moon on a particular day.   You can skim ahead on the calendar and plan the perfect shot, setting up exactly where you need to be to have the perfect foreground and background to your image.  It also has a handy desktop application so you can plan on the big screen. Available now for the iPad only is The Photographer's Transit, which allows you to plan your shots based upon the lens you use, allowing you to plan your precise field of view.
Don't Advertise When You Are Out of the Country
           I hosted a photography workshop which brought in photographers from all over the country.  On the morning of the second day of the workshop, one of the participants received a phone call that his studio had been robbed the day before. It turns out that the photographer, so excited about the workshop, tweeted and facebooked and pretty much plastered his absence from his studio all over the internet.  Some clever thieves took advantage of his excitement, and he lost thousands of dollars in valuable equipment.  Don't advertise when you are gone.  Even if you have a house sitter, they won't be there all the time.  You can brag to your friends when you get home.  They'll still be jealous.  I promise.
Where do the locals eat?
The internet has brought the world a lot closer, helping us find what was previously hard to find.  However, not everything is on the internet.  Travel forums and websites often share where tourists go, rather than locals.  On our first trip to Providenciales in the Turks & Caicos Islands, we spent a lot of time in restaurants in the resorts, spending a lot of money and never getting much local flavor.  On our second trip, we learned the trick.  When we picked up the rental car, we asked the rental car guy where he eats.  He directed us to a great spot near the airport with great local food at great prices.  There was no ocean view, but the food was delicious.  Ask the locals where they eat.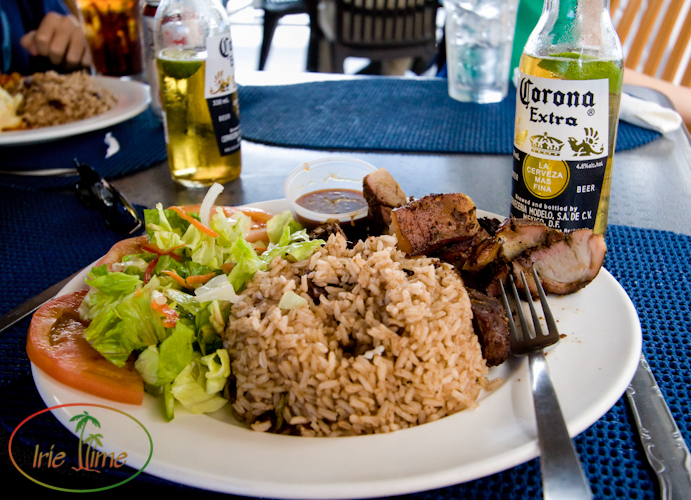 Ask and Listen
           Tourism is a major part of the economies of many countries in the Caribbean.  Aside from their economic interest in keeping you happy, the Caribbean people are warm and welcoming.  Ask for help.  Ask for directions.  Ask where to shop, eat, fish, hike.  Ask, and you will be glad you did.  Also be sure to listen.  There are so many things to learn about people and the country from the people who live there which you will never see in a travel book or forum.  People love to talk about their country, to share with you the pride in their people and traditions.  Be sure to take it all in.
Did you miss Parts One, Two, or Three of our Trip Planning Series? Be sure to read them all!
What's in our camera bag for travel?  Check it out here!
All words and images ©2006-2018 Wendy G. Gunderson. Any use without written permission is prohibited. For licensing information, please send inquiries via the Contact page.