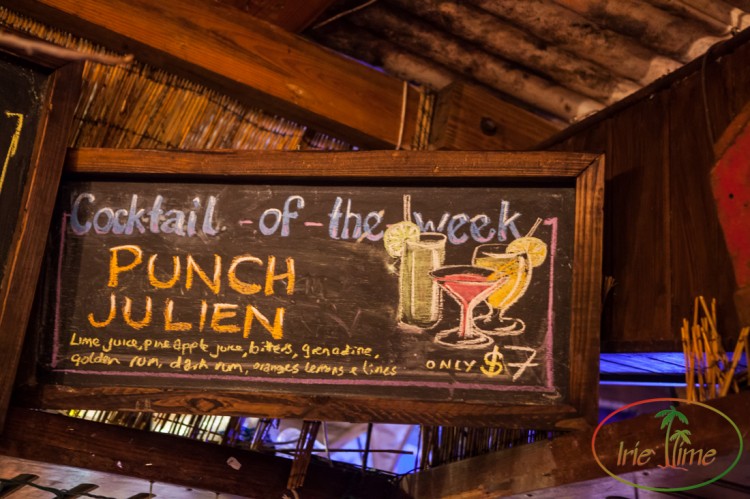 How often do you travel to the Caribbean and happen upon a group of beloved television characters?  It's only happened once, on our visit to The Last Resort, Bellamy Cay, British Virgin Islands.
First, how do you get there?  I can't help you navigate by sea, but by land, get yourself to Trellis Bay on Beef Island, just a quick hop from the airport (EIS).  When you are facing the main dock at Trellis Bay, turn right, walking toward Aragorn's Studio.  You will see a sign with a telephone on it and a sign for The Last Resort.  Pick up the phone and let them know you would like a ride, and they will send a launch out to pick you up.  Then walk down their dock toward the red sign depicted above and wait for your ride.
Upon arrival, you will notice the distinct decor, part island bar, part goth night club (maybe it's the demon red eyes, I don't know).
We did not have reservations, although I would recommend them.  They were kind enough to fit us in, but if it had been a bit later in the evening, when the live music was in full swing, I don't think we would have been so lucky.
While waiting for our table, I approached the bar looking to try something new.  Upon seeing the sign for the "Cocktail of the Week," I was sold, and ordered one up.  The bartender, in refreshing candor, remarked that it wouldn't be his first choice.  Intrigued, I asked what his choice would be, and I went with his recommendation, not to be disappointed.  It was my first Dark and Stormy.
It wasn't long before we were seated and enjoying our meal. The rain picked up while we had our dinner, so we waited it out at the bar.  Just a few more Dark and Stormy's!
And then this happened.
While waiting out the rain, a number of boats arrived, loaded with the crew of Gilligan's Island.  You are not seeing double – – there are two Gingers, although with the Dark and Stormy's on board, I did check twice.  What a fun group!  Our thanks to the crew!
All words and images ©2006-2018 Wendy G. Gunderson. Any use without written permission is prohibited. For licensing information, please send inquiries via the Contact page.