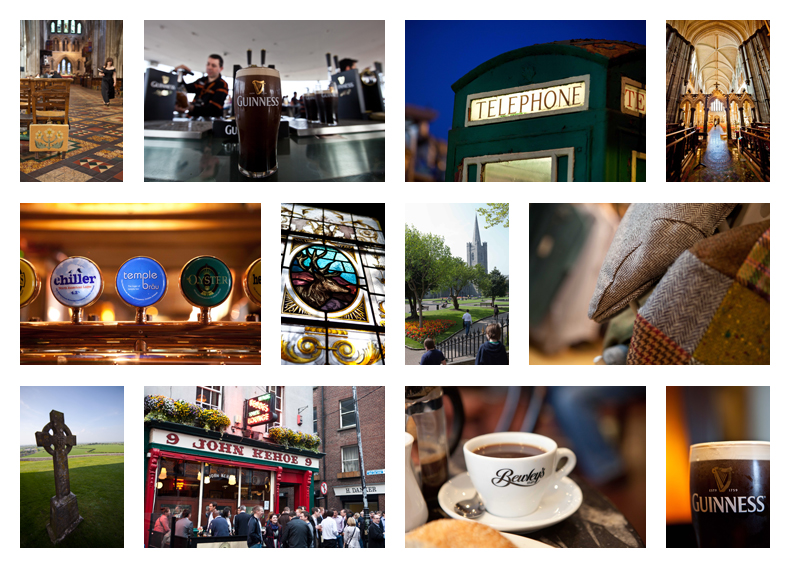 We had never been to Ireland before, so I really didn't know what to expect, but I had a few ideas.  I knew there would be beer, and plenty of it, so I went back and forth on bringing a tripod to prevent "camera shake." I knew there would be amazing cathedrals, pubs, landscapes, and tons of details I wanted to capture, but I wasn't familiar at all with the country, or where I might find what.  
I knew I needed a wide angle, and one which was pretty fast, for dimly-lit cathedrals.  I had read so many great things about the 14mm/2.8 MkII L, but the $2200 price tag was not appealing given that I was more a fan of details than wide angles.  It was hard to justify such an expensive lens given the limited anticipated use.  Through a Flickr group, I learned of a company called borrowlenses.com.  For $158 less a 10% discount with a code I had, I was able to rent the lens for 2 weeks, ensuring I had it before leaving and had time to ship it back upon our return.  It's really easy and it's a great way to try a lens to see if you might purchase it, or for particular event or trip.  They were wonderful to work with and even send you a reminder email so that you can promptly return the lens.  
I bought the Think Tank Airport Airstream especially for this trip, given that it met all international requirements and could fit under the seat in front of me.  This bag is small in comparison to many out there, but it holds tons of gear, in this case, a bit too much gear.   Aer Lingus has this pesky habit of weighing carryons.  This little bag held twice the weight allowed, which was 22 pounds or 10kg, so be sure to weigh your bag in advance to avoid any nasty penalties.
Here's what I packed: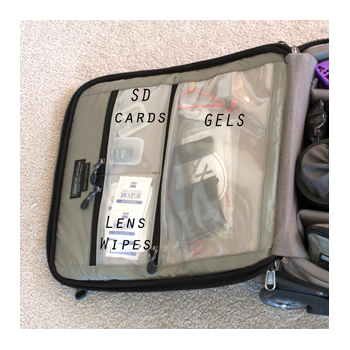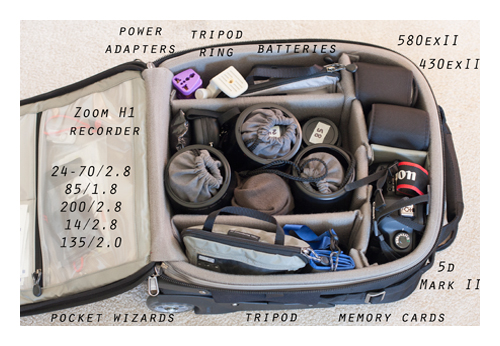 I pulled up my stats in Lightroom to see what I really used.  Here are the numbers:

The "unknown lens" are shots edited in software outside lightroom and returned to the library.  The 200L and the 85/1.8 should have stayed home.  They didn't see use even once.  As expected, my 24-70/2.8L is my workhorse.  It would be the perfect lens if it didn't weigh so much, causing me to reconsider my travel gear for upcoming trips.  The 135L is my favorite detail lens, and portrait lens when I have the time to change things up, so it will never leave my bag.  The 14mm sure did come in handy for those cathedrals and some landscape shots.  It was well worth the rental cost to have it on hand, but I haven't missed it since sending it back to the good folks at borrowlenses.com.  However, when we travel to Europe again, I have no doubt I will rent it again.  
Interested in what I pack for travel to the Caribbean?  Check out What's In My Bag!
What's your favorite travel gear?
If it matters to anyone, I buy all my own stuff (or my wonderful husband!), and so I tell it like I see it.  You will see affiliate links here, which, as explained below, help offset the cost of this site, but don't be misled – – If I don't like something, I'll tell you so.
All words and images ©2006-2018 Wendy G. Gunderson. Any use without written permission is prohibited. For licensing information, please send inquiries via the Contact page.