Enjoy our "Best Nine" of 2017 based upon "Likes" on Instagram!
Top Row
Left: The beautiful jewelry of Dune Jewelry, created from the sand of your favorite beaches! This piece is filled with sand from Pink Sand Beach, Harbour Island, Bahamas. These pieces make beautiful gifts. For more information on Dune: http://bit.ly/2B9oRbt
Center: Our free iBook, Taking Better Travel Photos was released in January of 2017!  Get your copy here: http://bit.ly/2hXNFhJ
Right: This photo is our favorite image from our June 2017 trip to the island of Nevis!  Read more about this amazing island here: http://bit.ly/2tElrJT
Middle Row
Left: Dine amidst the palms, high above the Hamilton Estate, at Bananas Restaurant, Nevis.  Check out the view and the great food here: http://bit.ly/2umfxPp
Center: The dock at the Four Seasons Nevis is a great place to check out the sunset.  Tour this beautiful resort here: http://bit.ly/2uynfoW
Right: On our trip to Nevis, we continued shooting film.  Here we used Kodak Ektar in our Mamiya 645 Pro TL to capture a bit of Pinney's Beach.  For more on our film photography in Nevis, including a comparison of film stocks and some double exposures, click here: http://bit.ly/2uZ0TNJ
Bottom Row
Left: Flying over the Bahamas on our way to Antigua came with some great views.  However, flying was also a contributing factor to my suffering from blood clots in my lungs.  For more on that story, read here: http://bit.ly/2hNSSni
Center:  Caribbean lobster is one of our favorites!  This extraordinary example came fresh from the fisherman's boat as it docked on French Leave Beach near our rental home in Eleuthera.  For more about this great home, read more here: http://bit.ly/2CsFKje
Right: Sadly, Hurricane Irma devastated the beautiful island of Barbuda in 2017.  We hope it will soon rebound and we'll be able to visit this beautiful beach at Low Bay.
We're looking forward to 2018!  Happy New Year!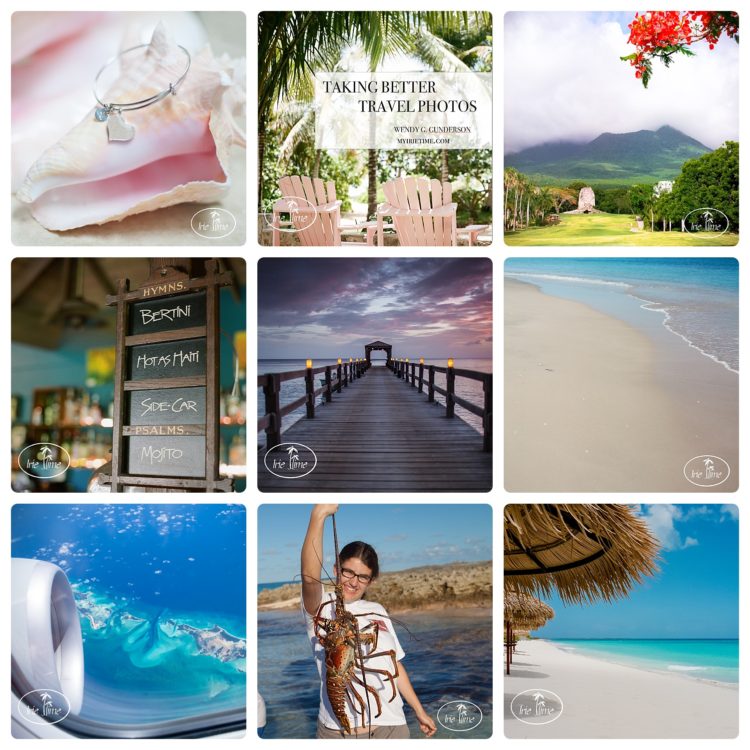 SaveSave
SaveSave
All words and images ©2006-2018 Wendy G. Gunderson. Any use without written permission is prohibited. For licensing information, please send inquiries via the Contact page.