No trip report is complete without talking about the food and drink.  Vacation is not just about the beach and the ocean.  We need to recharge!  We tried a wide variety of local food and drink, from local stands off the side of the road to the pricier restaurants which you read about in the magazines.  Let's get started!
Friday Night Fish Fry, Governor's Harbour, Eleuthera
I had been looking forward to the Friday Night Fish Fry since the time that I first began reading about Eleuthera.  Locals and tourists gather together once a week in Governor's Harbour to share food, drink, some music and a few stories.  As we walked through Governor's Harbour, we found the place, and eagerly looked forward to Friday night.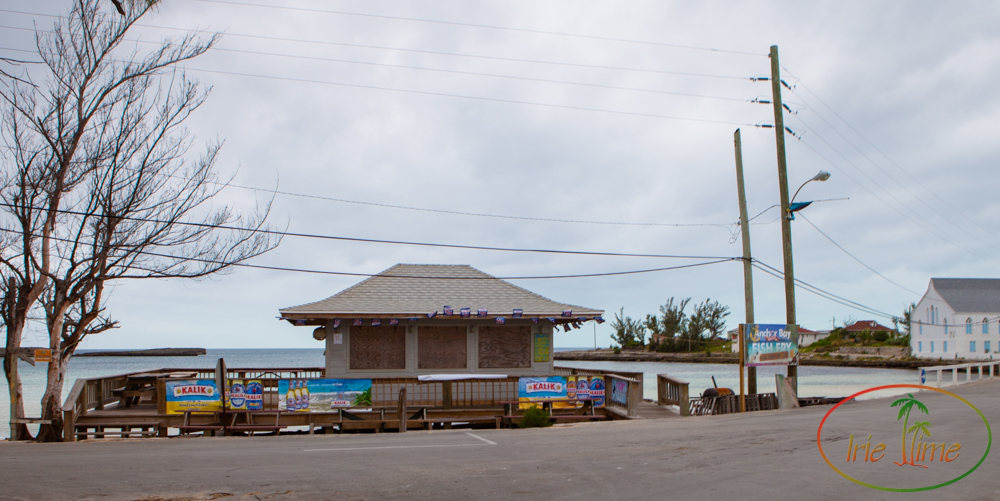 The weather was a bit dodgy while we were there. The first few days, there was a bit of sunshine in the mornings, followed by overcast skies or light rain. Later in our trip, things cleared up, but not in time for the Friday Night Fish Fry.  In fact, it wasn't just raining that night.  It was pouring.  That didn't stop people from showing up for the food and a few "Rum Bubbas," the signature drink of the weekly event.  However, it did cut things a bit short.  It wasn't so bad when we first ordered so I was able to grab a few photos.  But, it was raining so hard by the time our food came up, that we grabbed it and headed back to the house.  Luckily, we each had a couple Rum Bubbas to keep us warm for the wet walk, or more accurately, run, back to the car.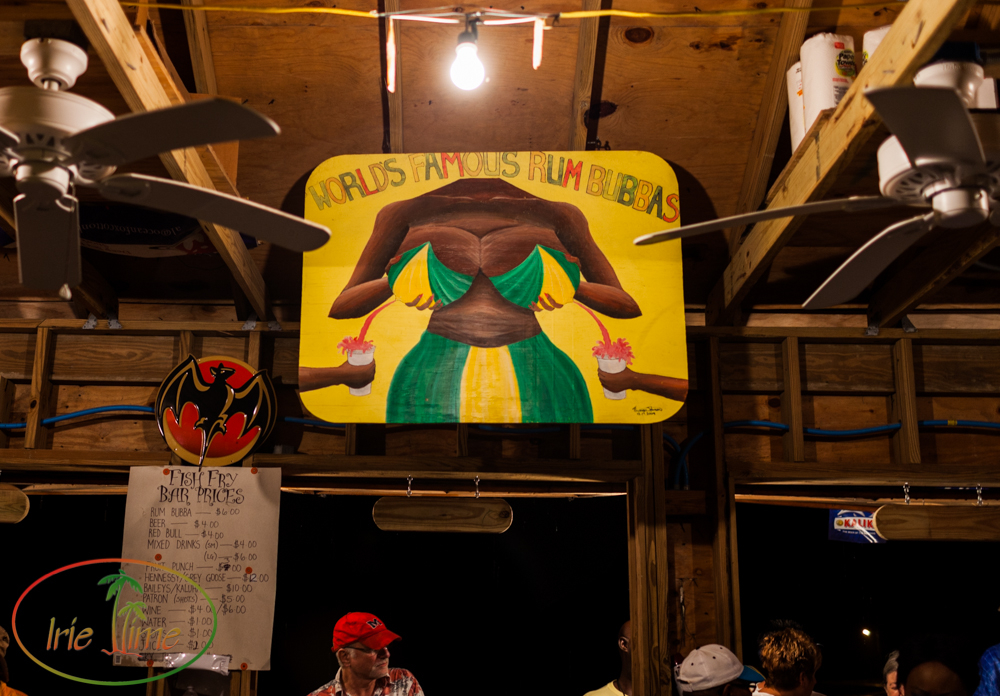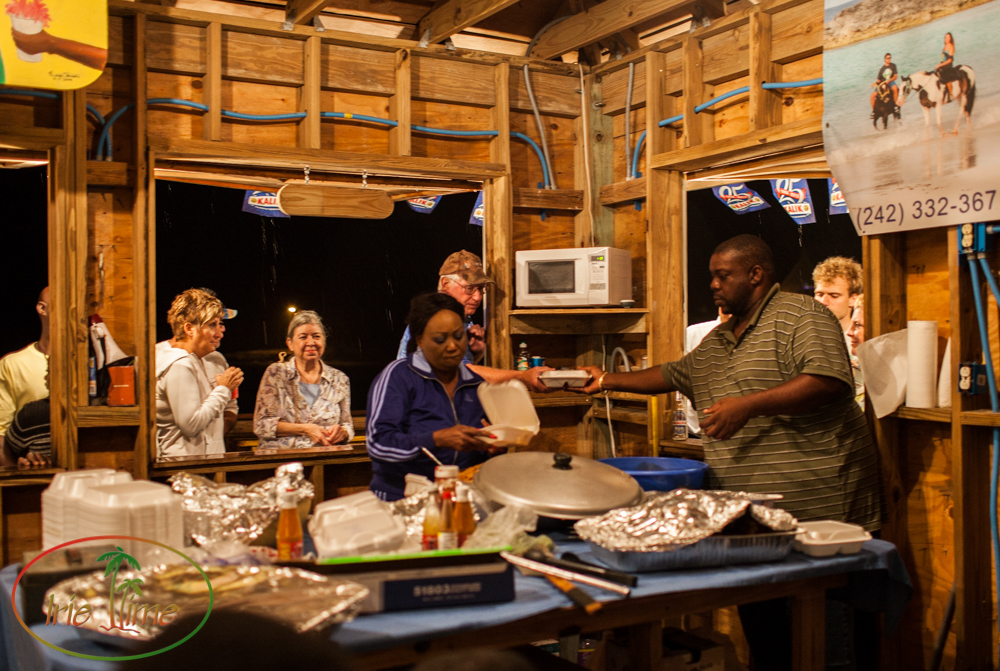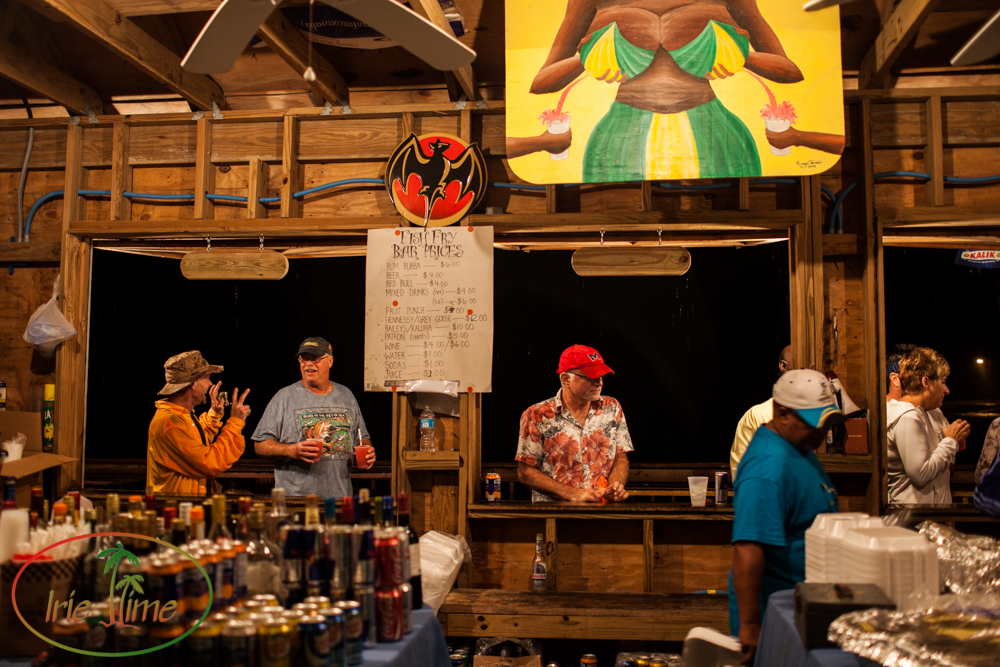 While waiting for our food, I had a conversation with a man from Delavan, Wisconsin, a small town of about 8,500 people, where I went to junior high and high school.  It truly is a small world!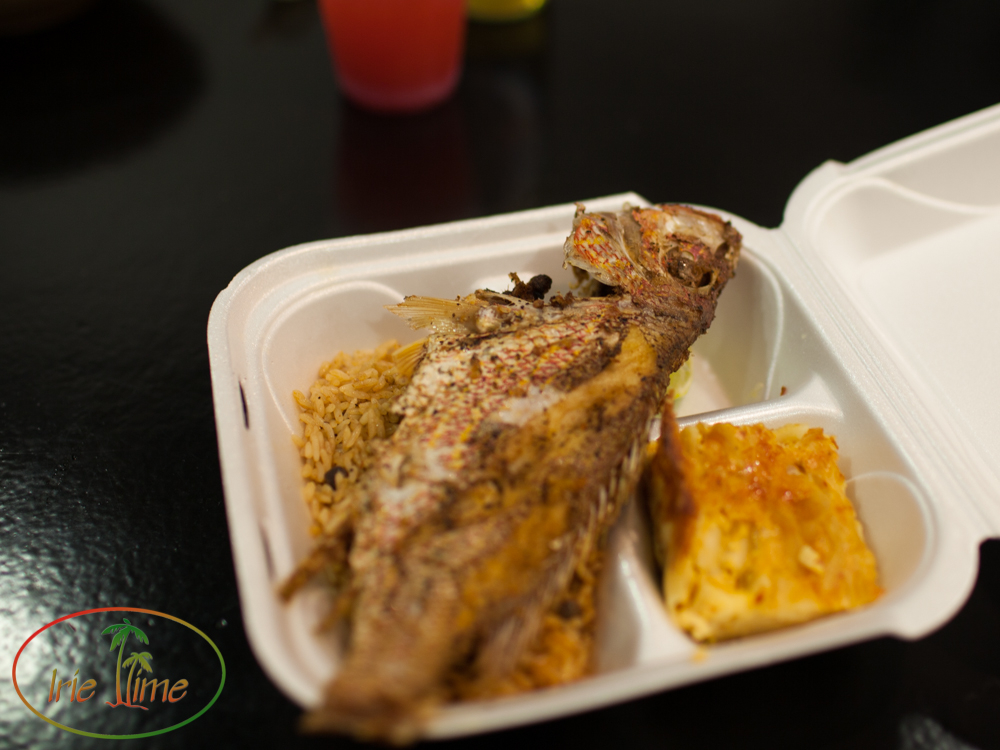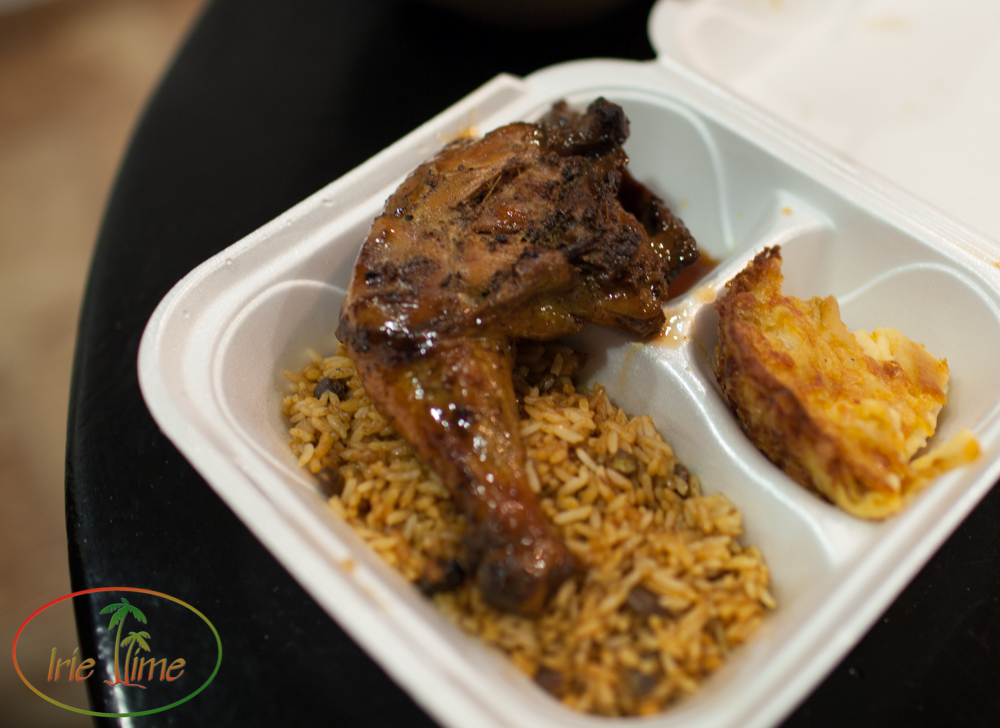 We jumped back in the rental car and headed back to the house.  The food was delicious.  My favorite was the conch salad.  I wish we had been able to really experience the Fish Fry, but there's always next time!
Governor's Harbour Bakery, Governor's Harbour, Eleuthera
I had read that Governor's Harbour Bakery was a bit difficult to find, but well worth the effort.  Luckily, there are signs to help you find your way.  If you get lost, just ask someone.  Eleutherans are so friendly!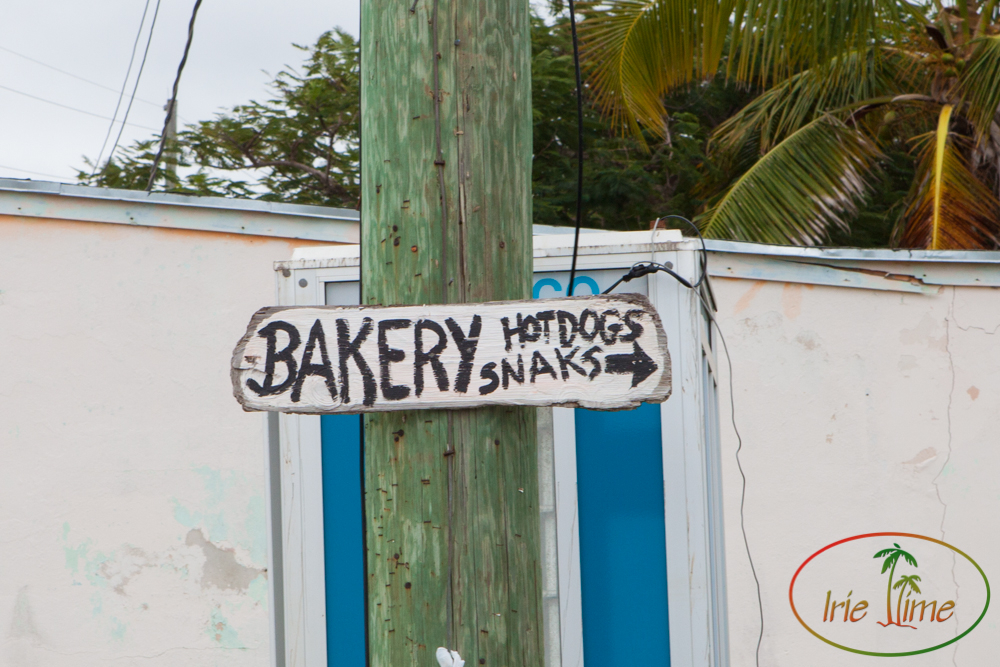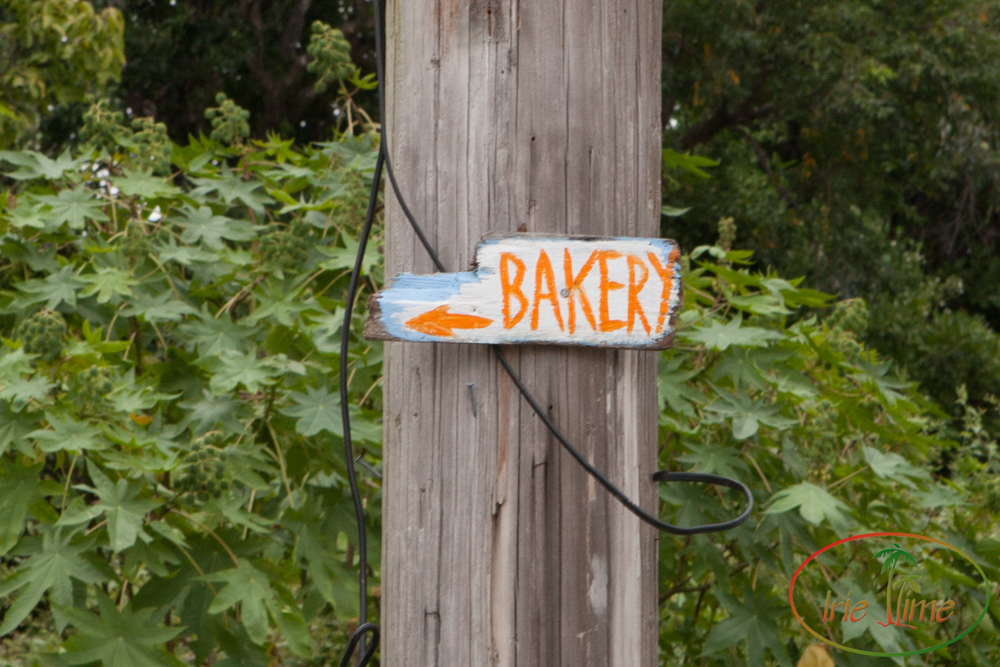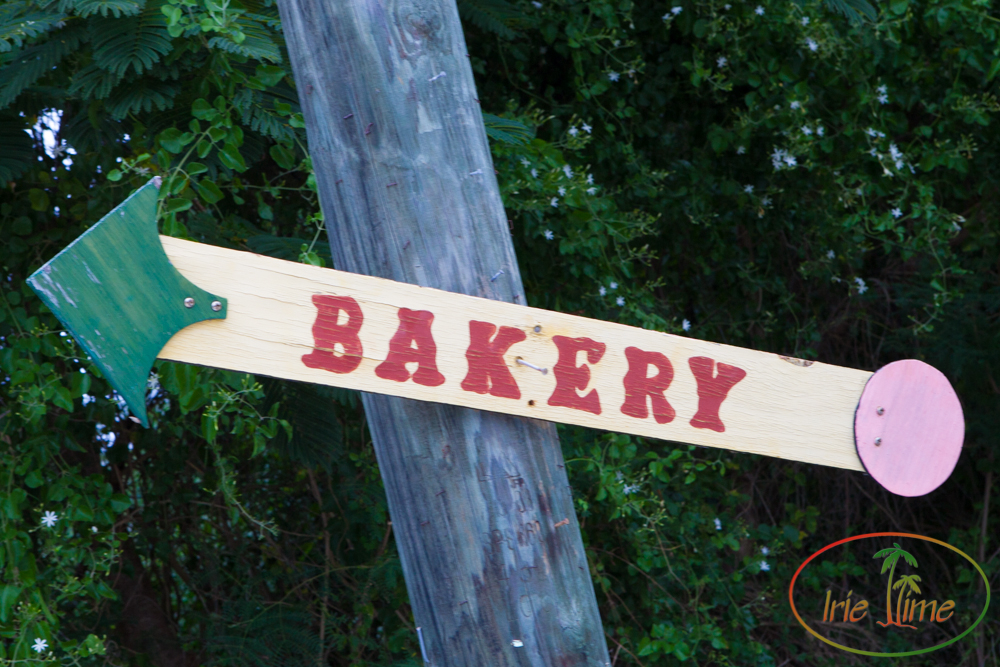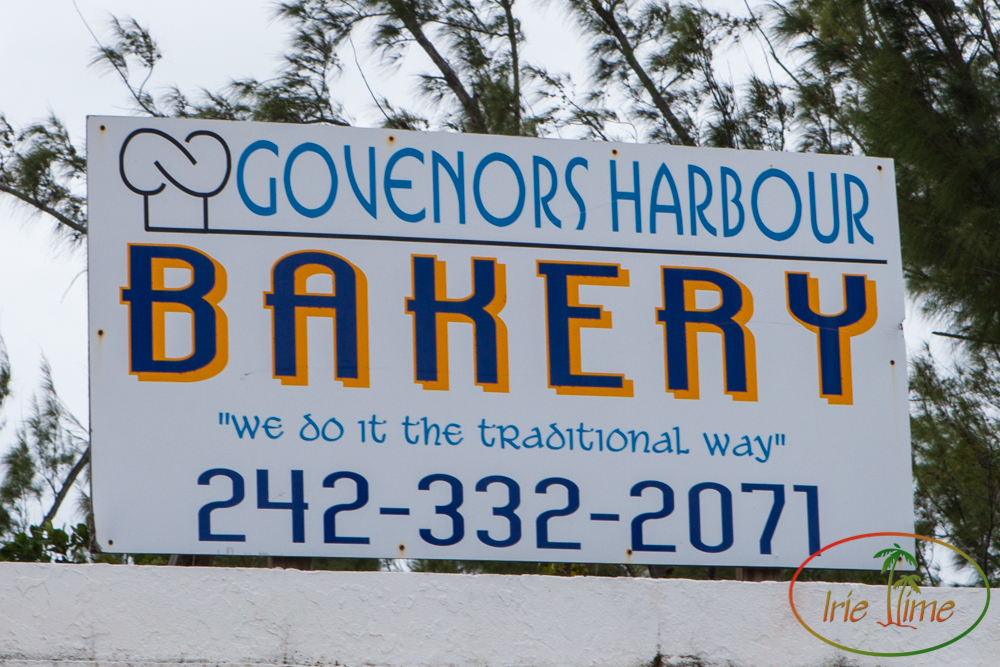 We were lucky enough to get the last of the beef patties that day, and a chicken patty.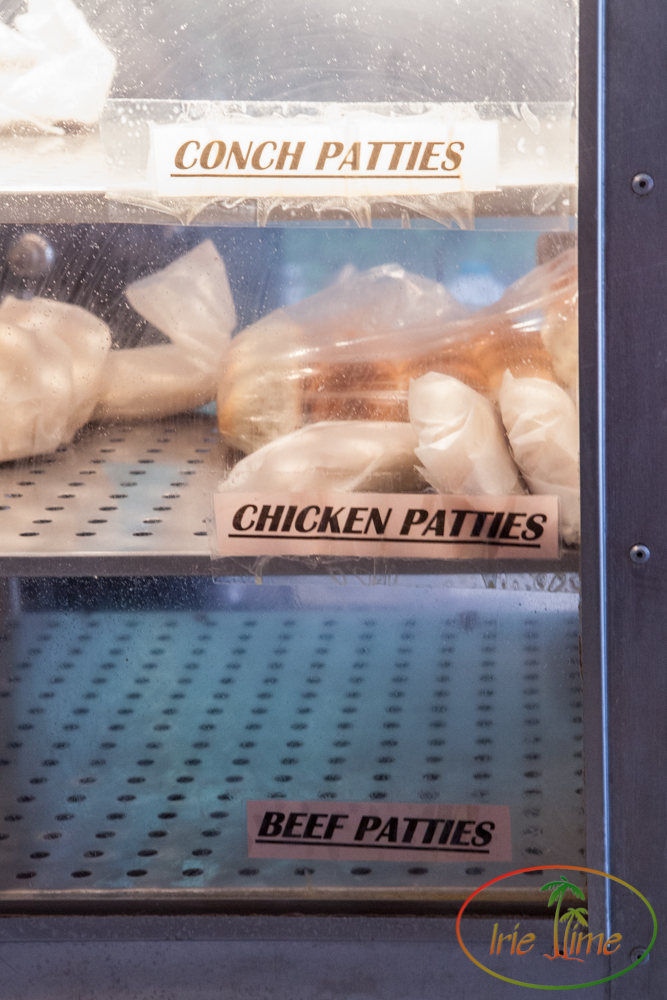 Check out that flaky crust!  The beef was so pleasantly spiced, not too spicy, but just perfect! Stop in for a visit!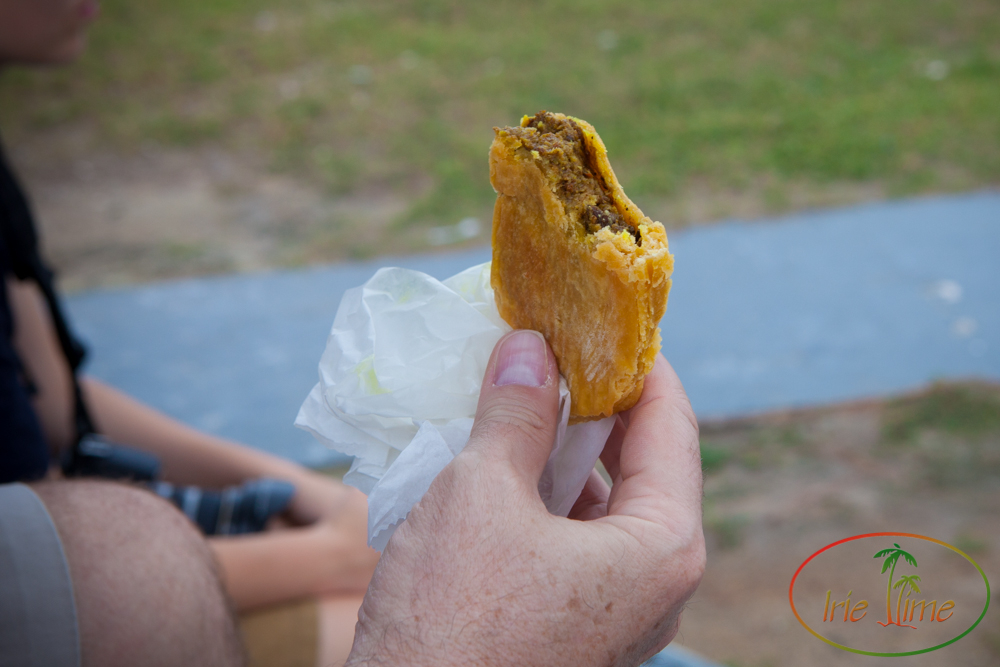 By the Side of the Road in James Cistern, Eleuthera
I don't know what to call this place.  We were headed into James Cistern, looking for Brenda and Billy Stubb's BBQ, which we were told was in front of their house in James Cistern, open only on Friday and Saturday for lunch.  From the directions we were given, this was not the place, but it looked so inviting, we had to stop.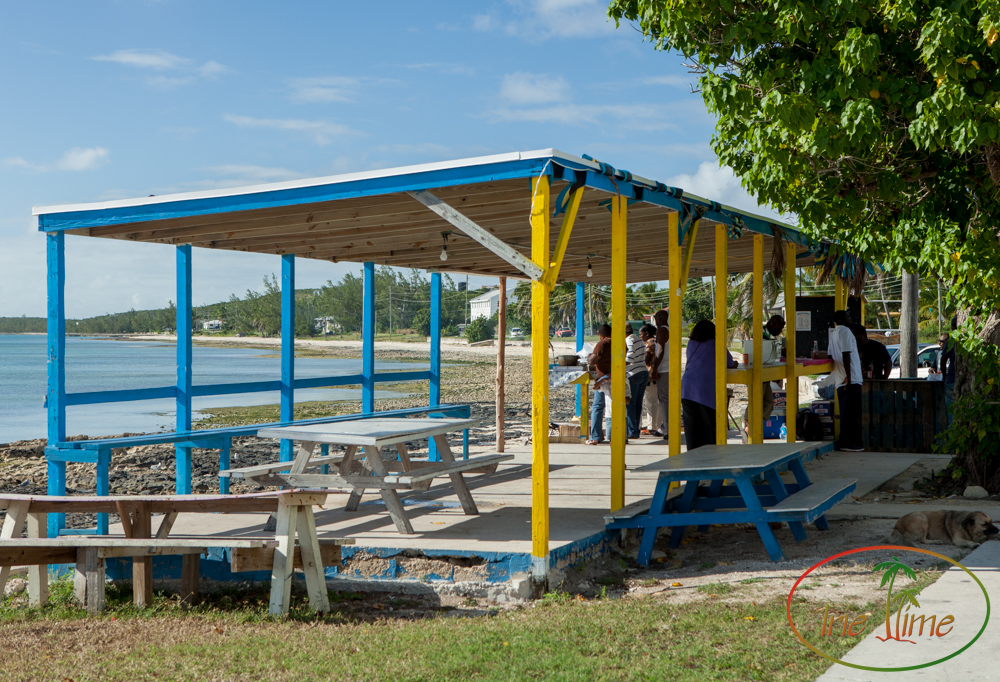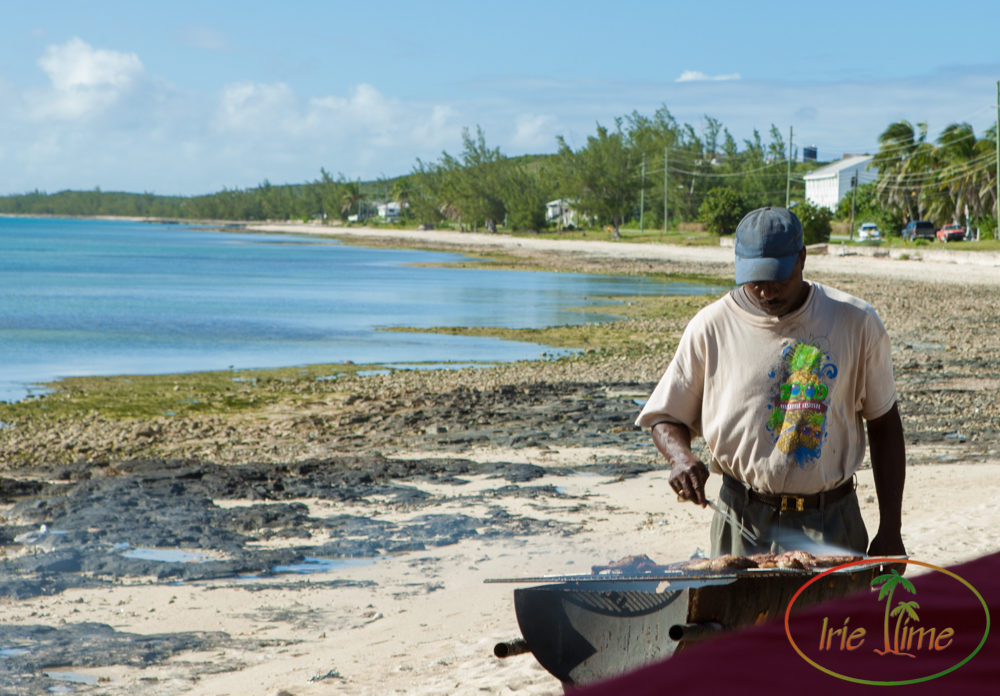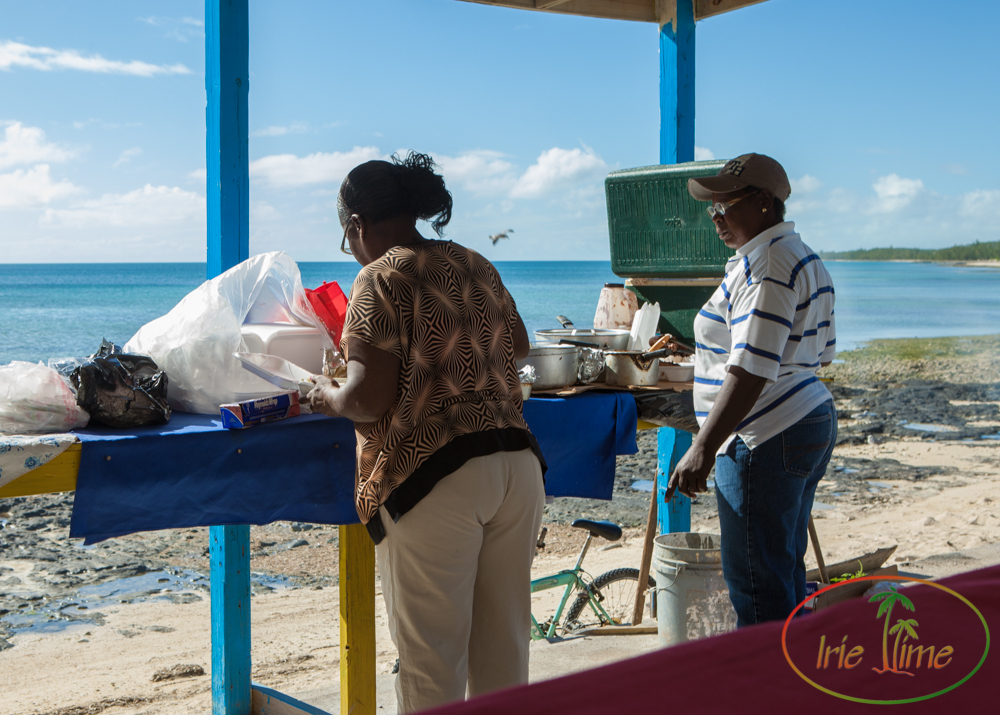 The BBQ chicken is served on a bed of peas and rice, accompanied by coleslaw and potato salad.  Wash it down with a cold Kalik. Yum!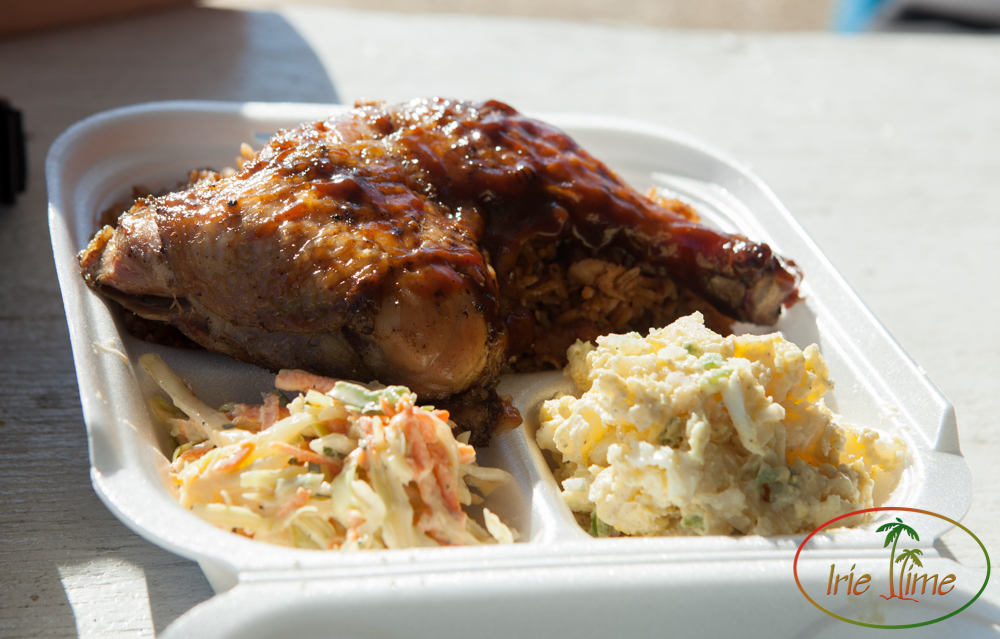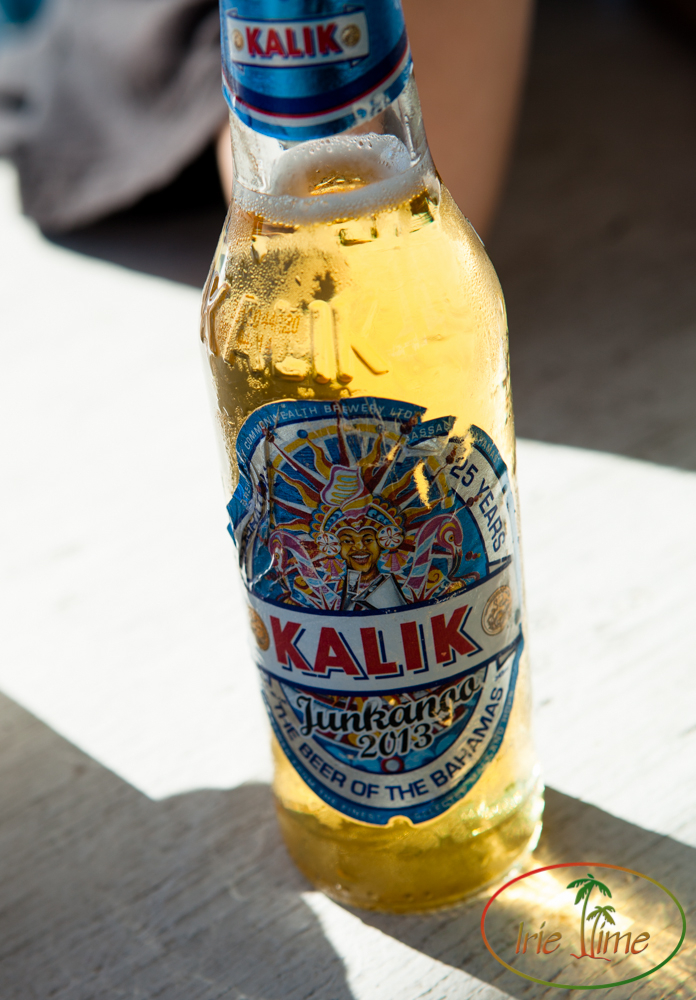 Pammy's, Governor's Harbour, Eleuthera
We had heard Pammy's had great take-out, so we had to stop in.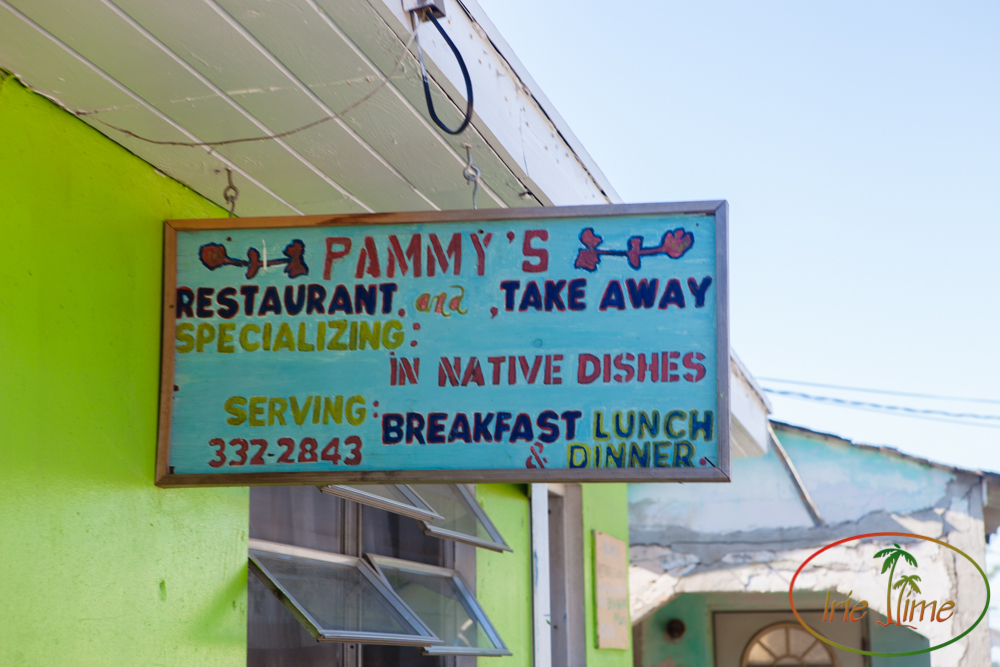 As you can see, the prices are super reasonable!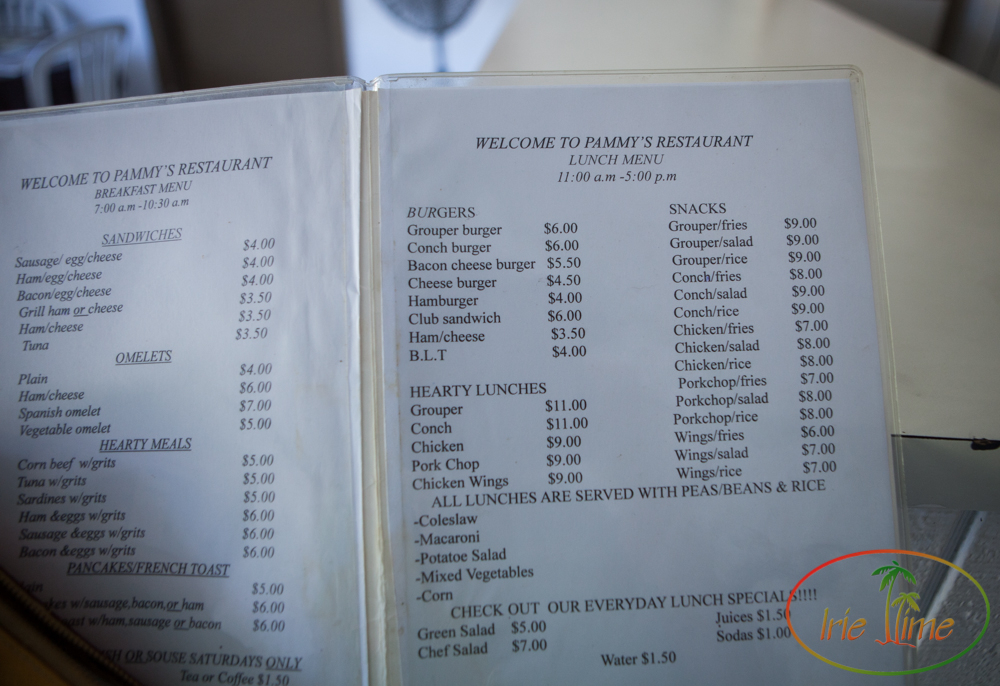 We ordered the pork chop, one with plantains, one with potato salad…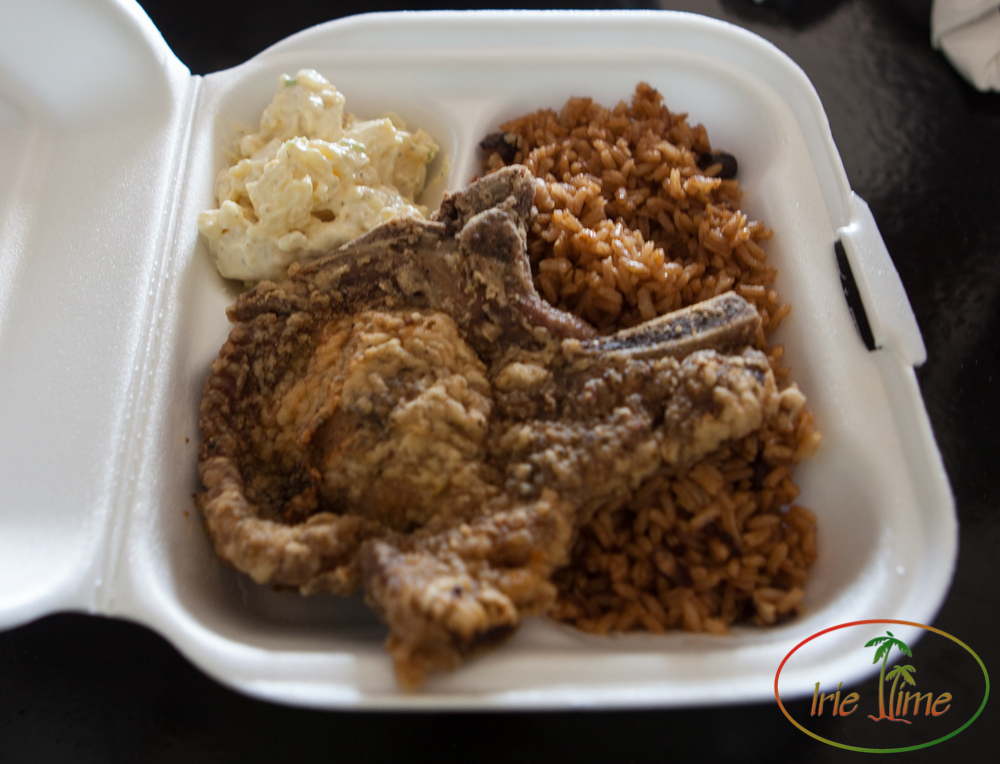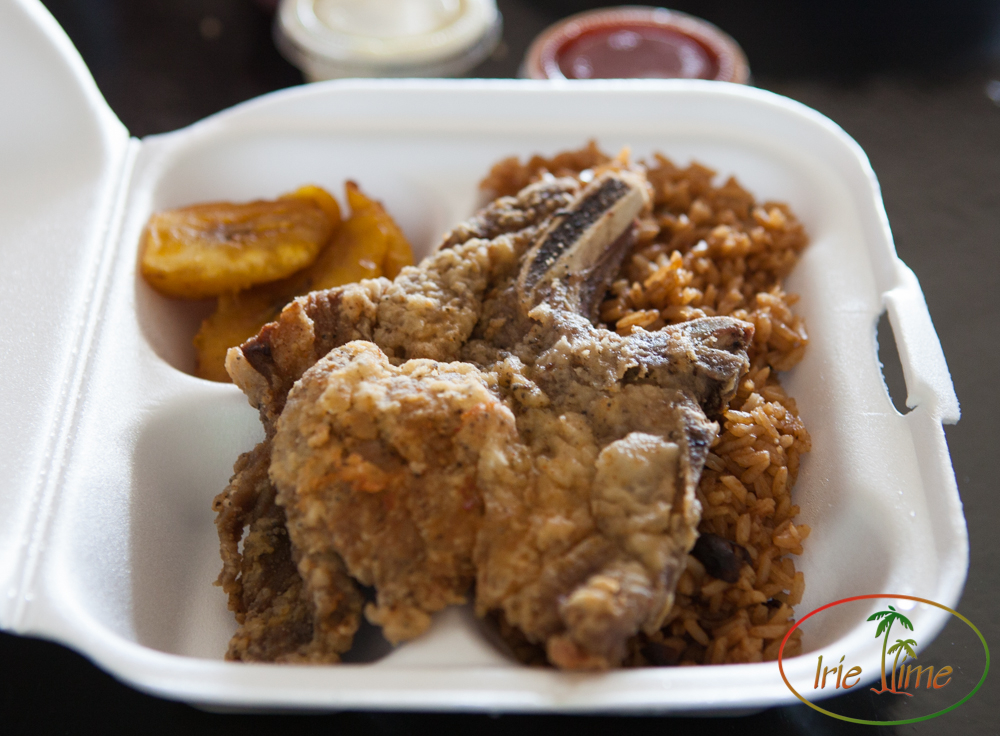 And the cracked conch with plantains…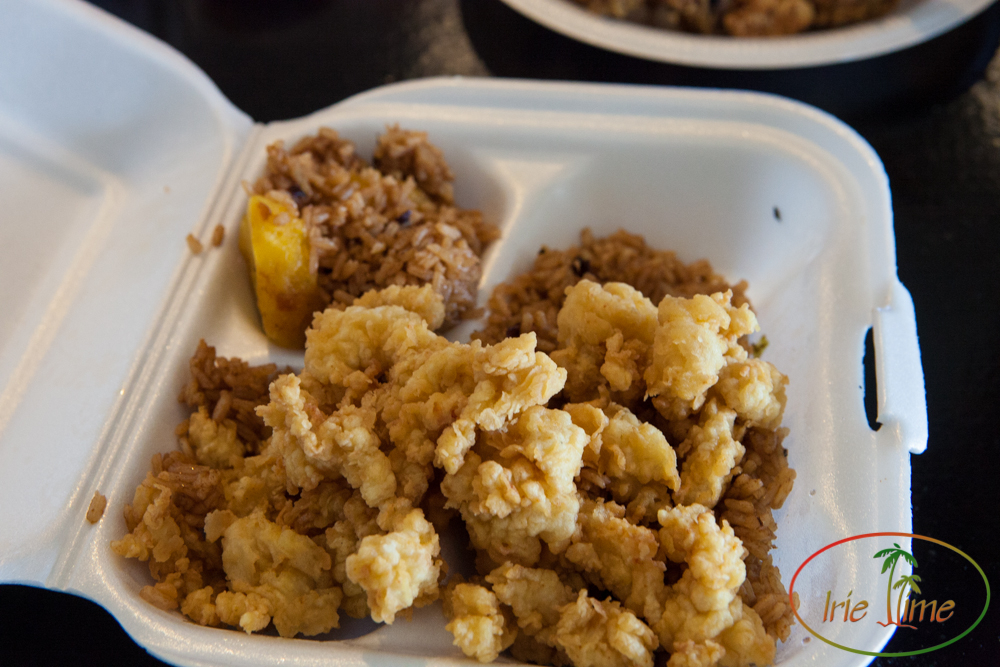 And chicken wings and fries for our son.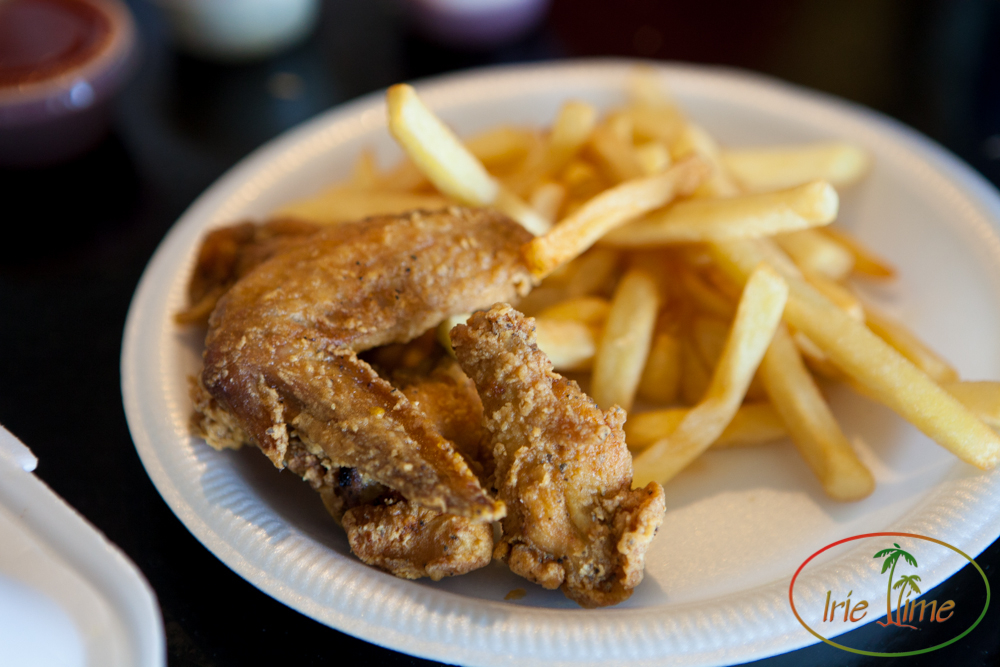 As you can tell, there are no small meals on Eleuthera.  I have to say my favorite was the cracked conch.  The sweet conch was perfectly complimented by the fried coating.
Da Perk, Governor's Harbour, Eleuthera
On your left, you will find Da Perk which not only offers coffee and breakfast items, but a full range of sandwiches and beverages, "and other tings!"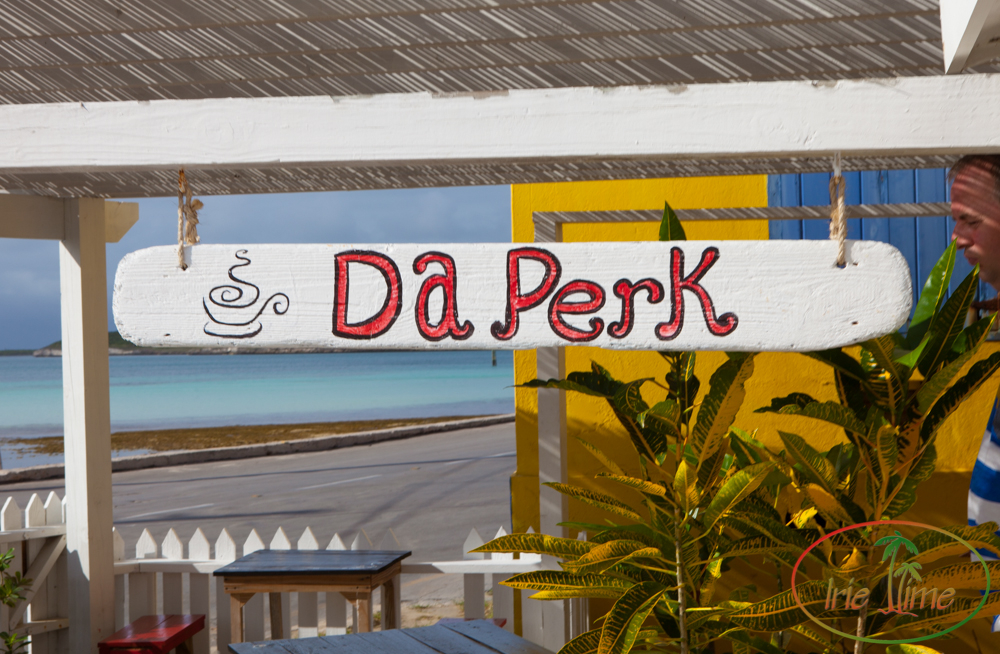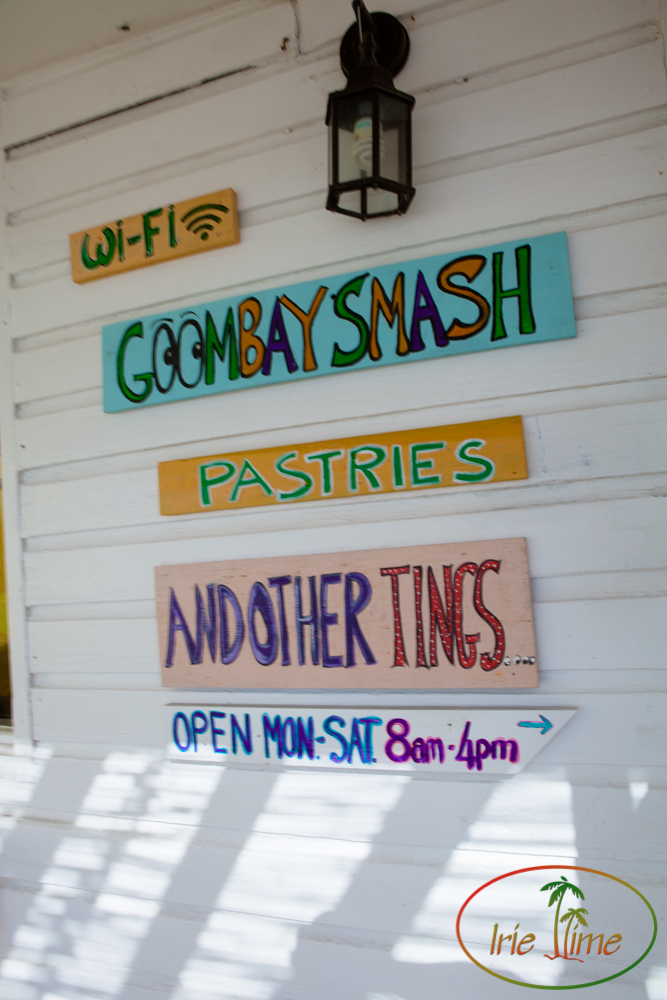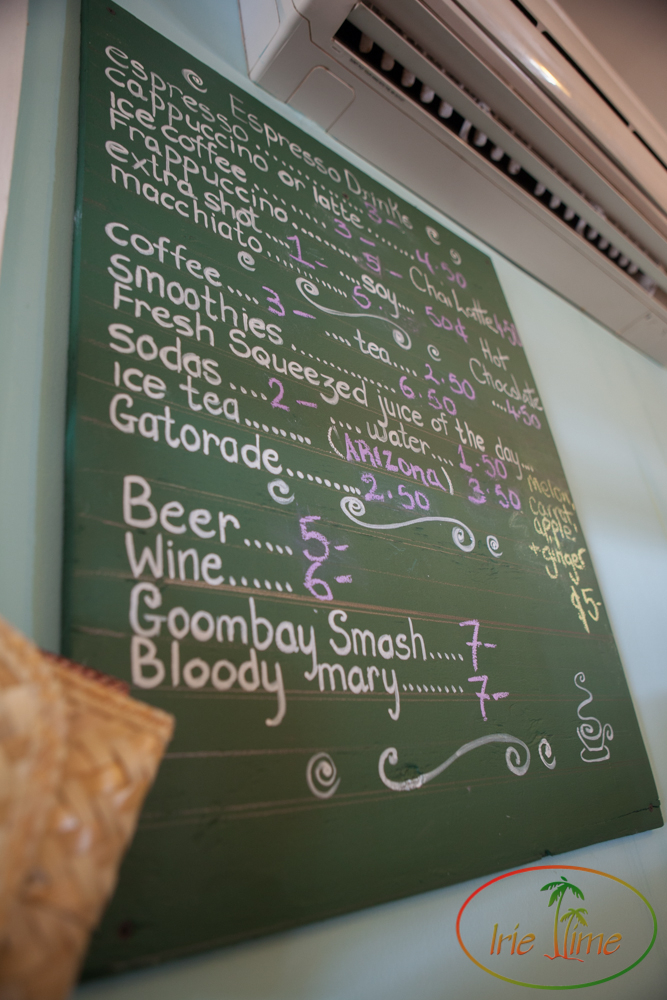 Our barrista, Allison, whipped up a mango smoothie which was delicious.  In addition to grabbing your morning coffee and "brekkie," you can catch up at home with the free wireless.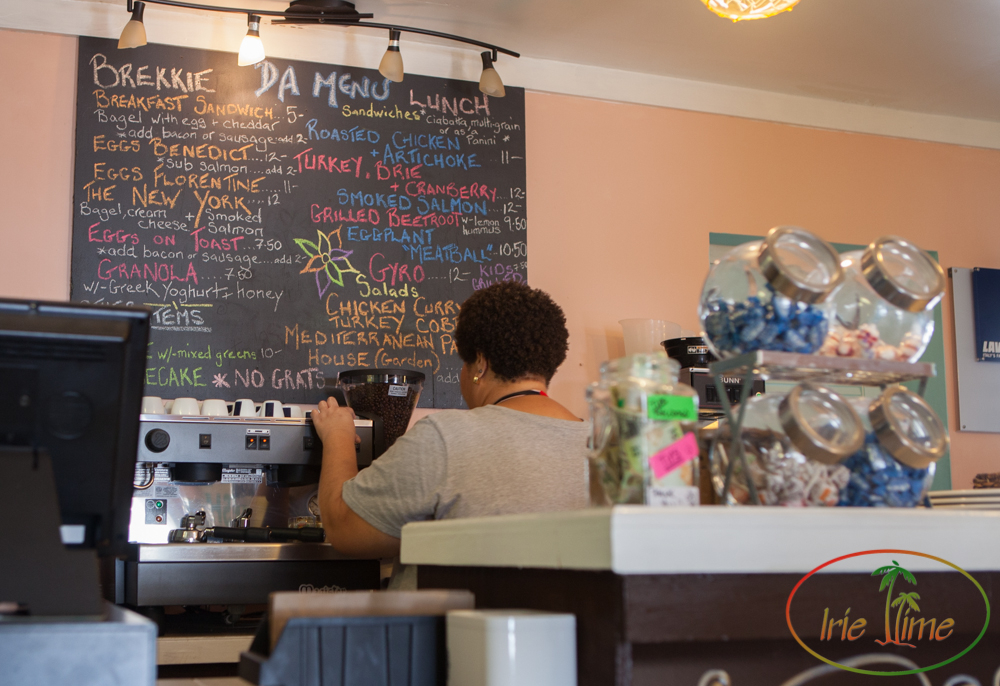 Local Fishermen, French Leave Beach, Eleuthera
Before the local fisherman deliver their catch to the restaurants or in town, you can catch them at the beach.  One morning, we were out for an early swim on French Leave Beach, when we saw these gentlemen going out for the day.  After a chat, they told us to come back around 3:00 p.m.  We came back at the appointed hour and saw that they had quite a good day, with coolers loaded with lobsters.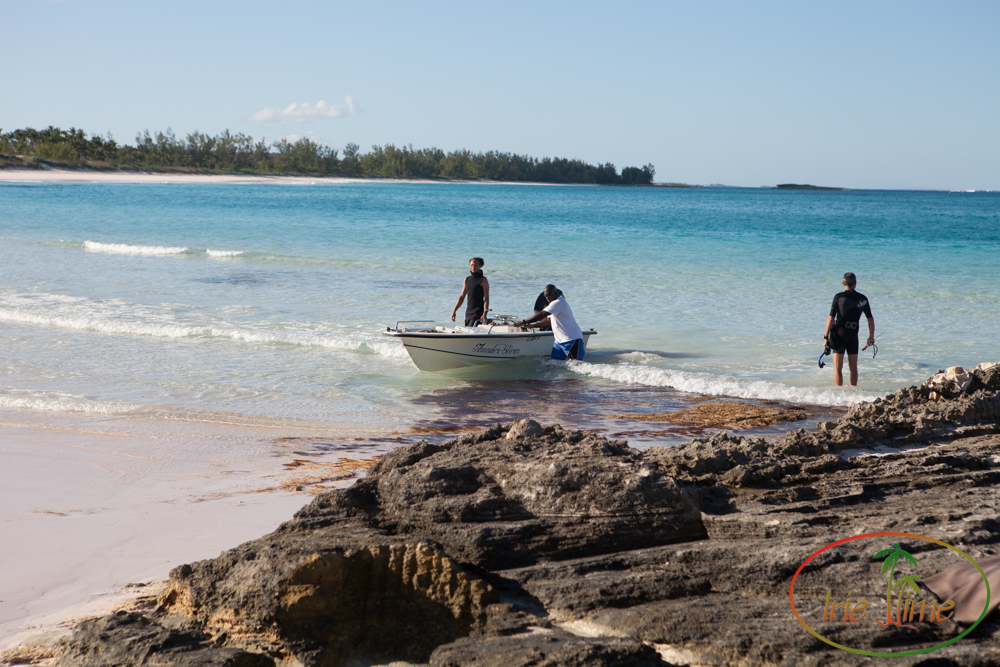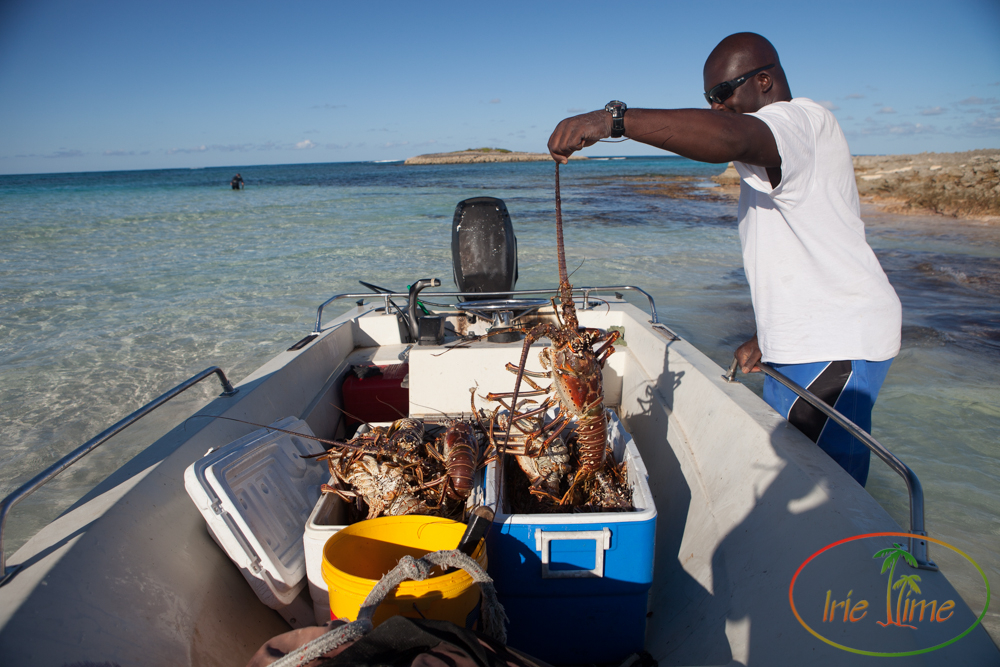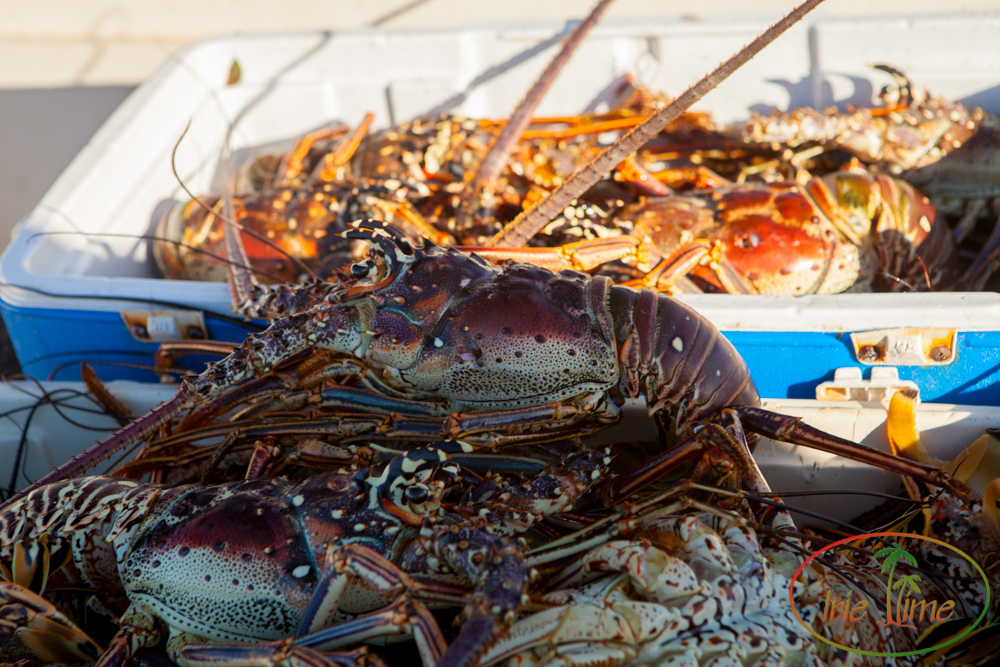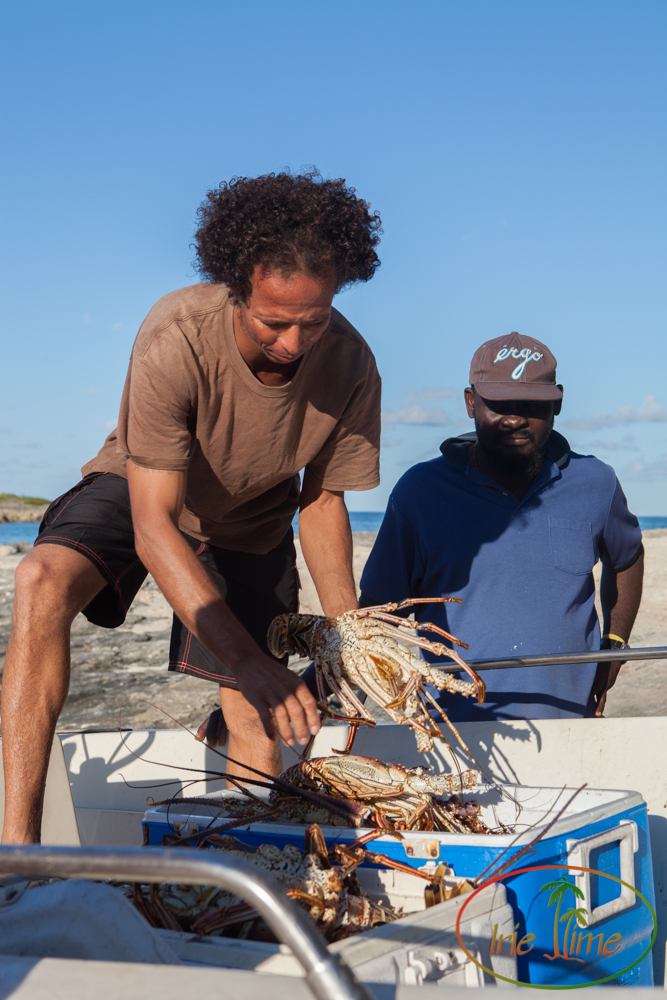 A little bit of time in the kitchen, and dinner is served!
If you miss them at the beach, you can catch them in Governor's Harbour, across Queen's Highway from the blue and yellow Kalik building (formerly Pyfrom's Liquor), between roughly 2:30 and 3:30 in the afternoon.  Treat yourself to a meal fresh from the sea!
Island Farm, Palmetto Point, Eleuthera
To prepare for the catch of the day, we went to Island Farm to pick up some fresh-baked bread, seafood seasoning, fresh thyme, and veg. Even if you aren't going to prepare your own meals, Island Farm is a great stop for sauces, jams, and other seasonings to take home as gifts.
Island Farm is located in Palmetto Point, just south of the crossing, on the east side of Queen's Highway.  Look for the sign!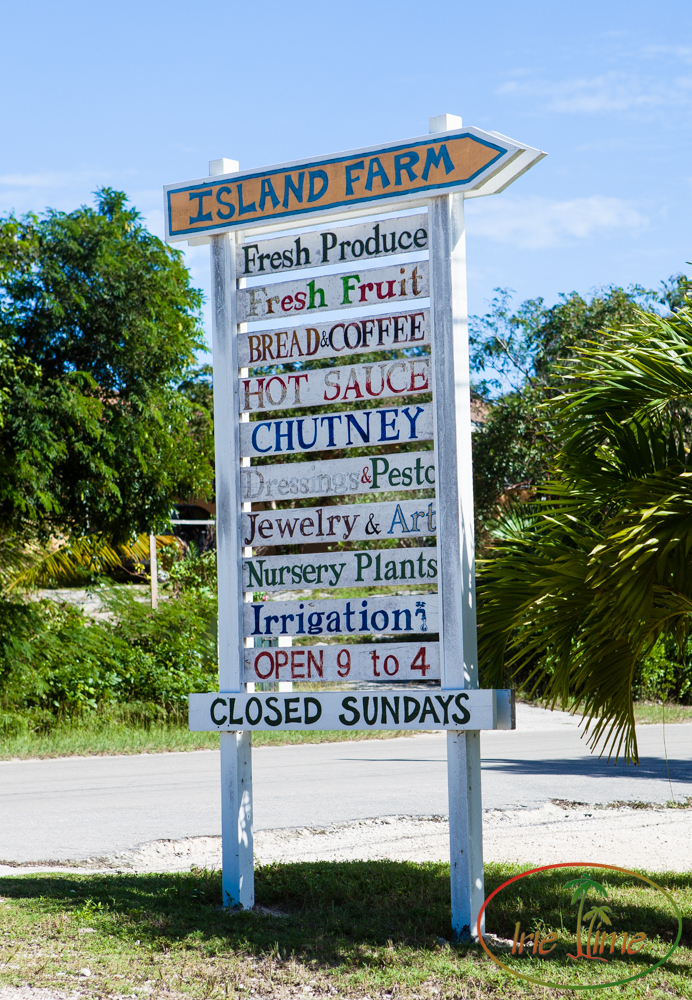 Stop in and take a look around.  There are plenty of choices to round out your meal and take care of those gifts for the folks back home.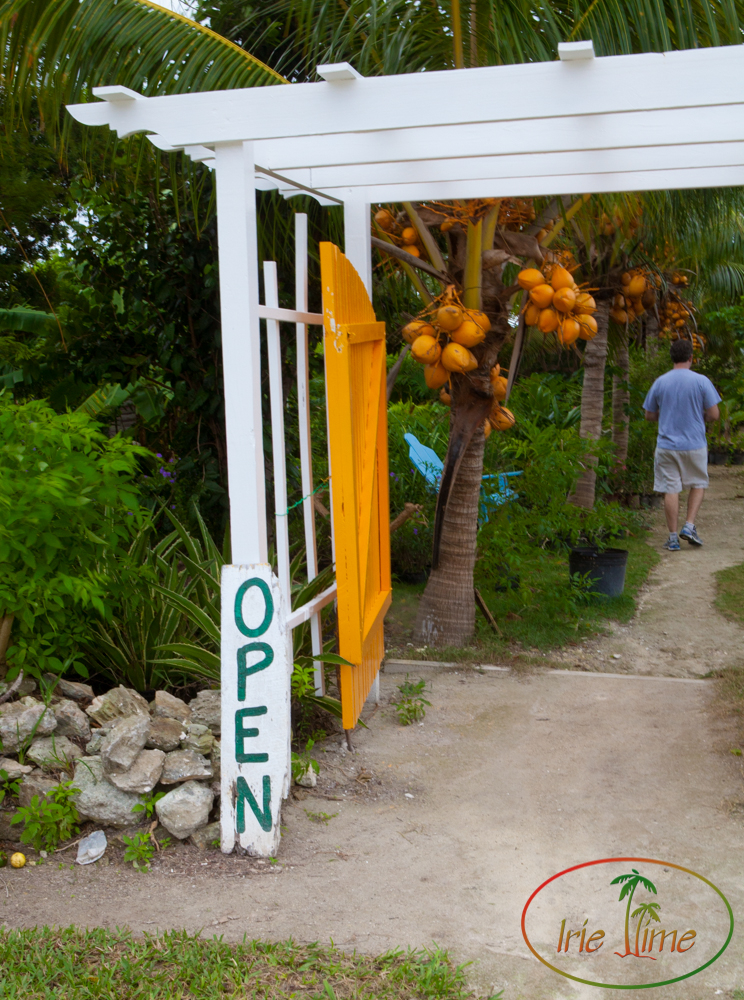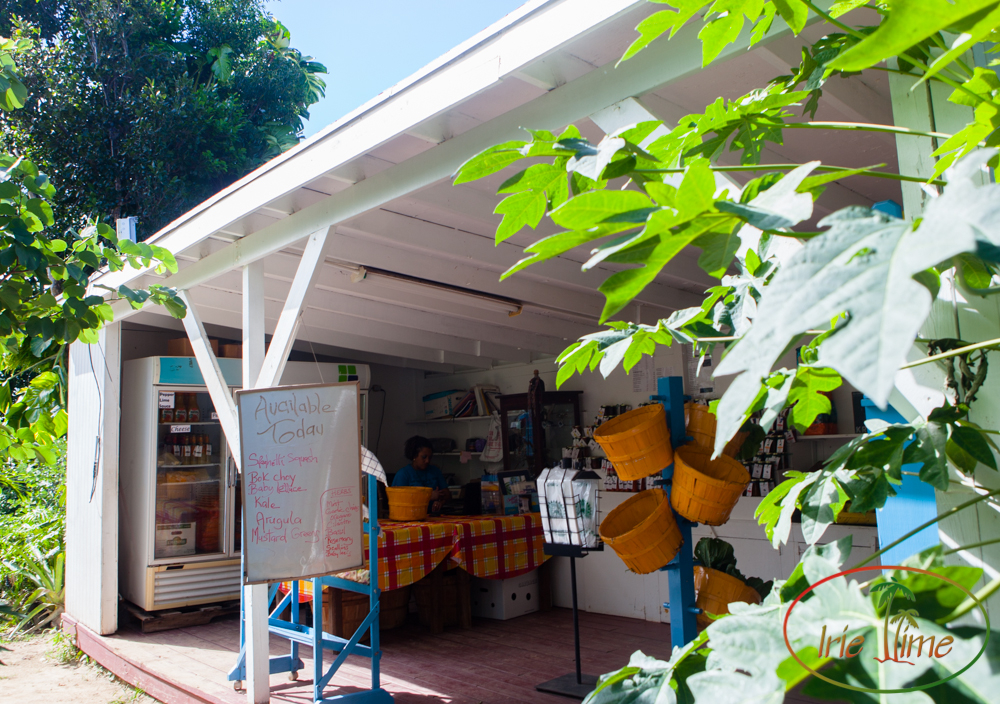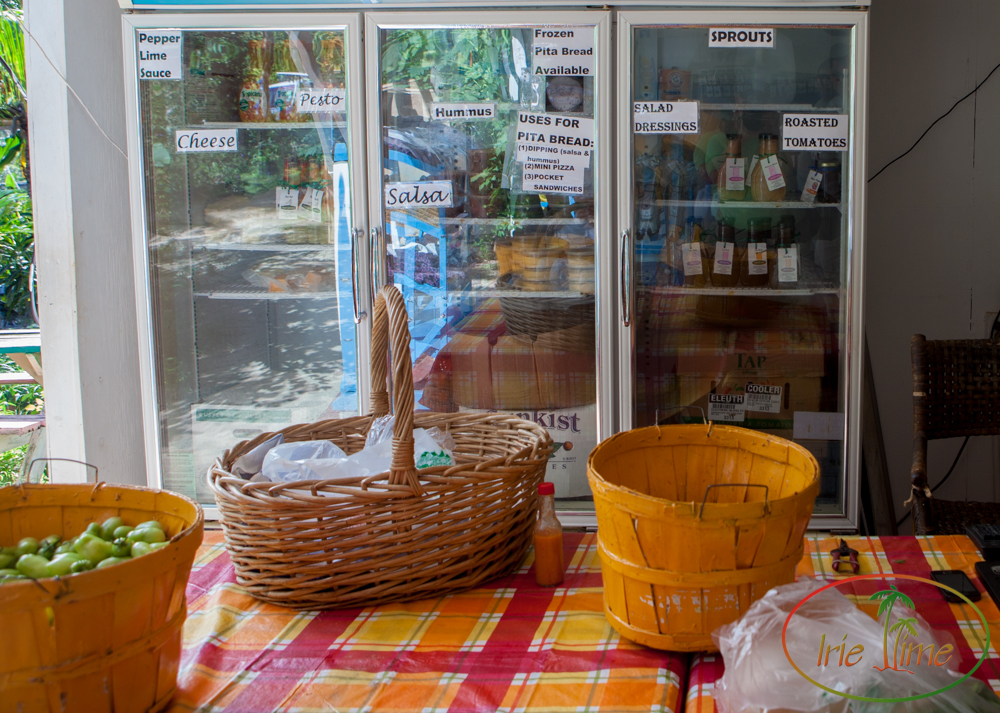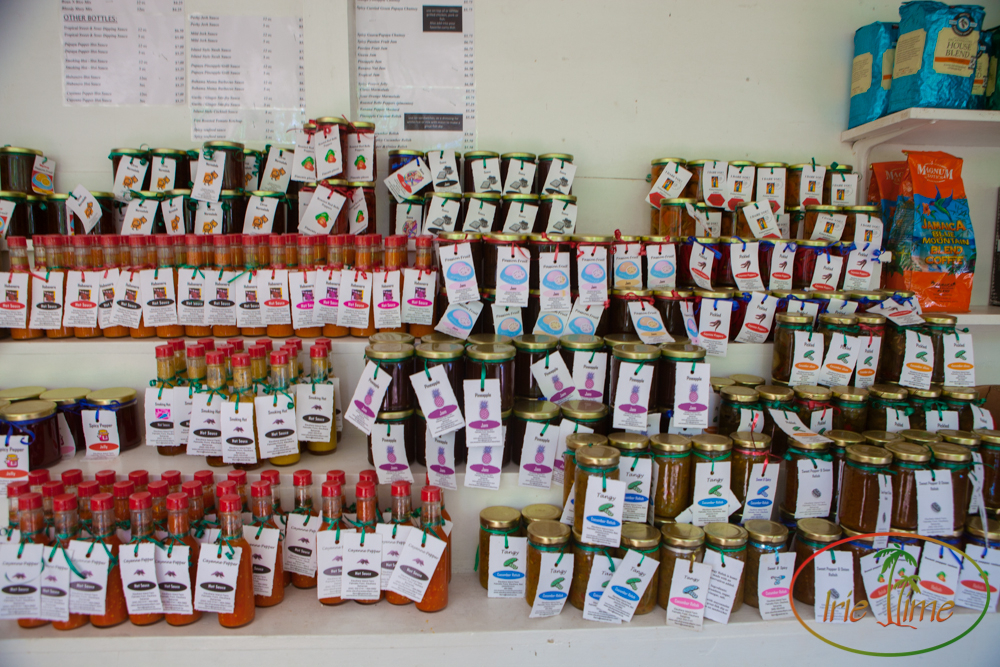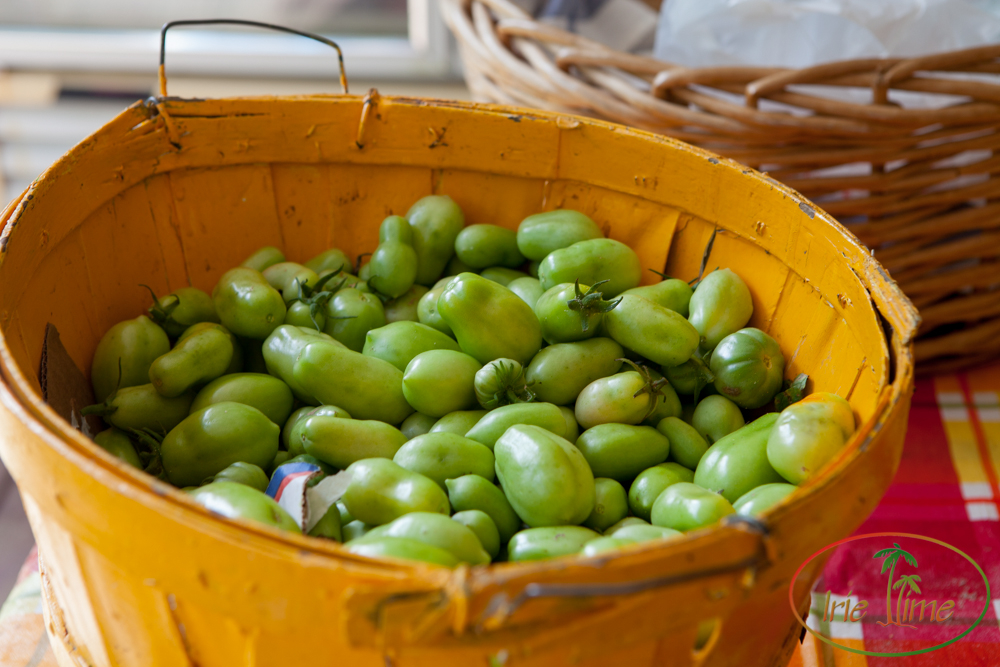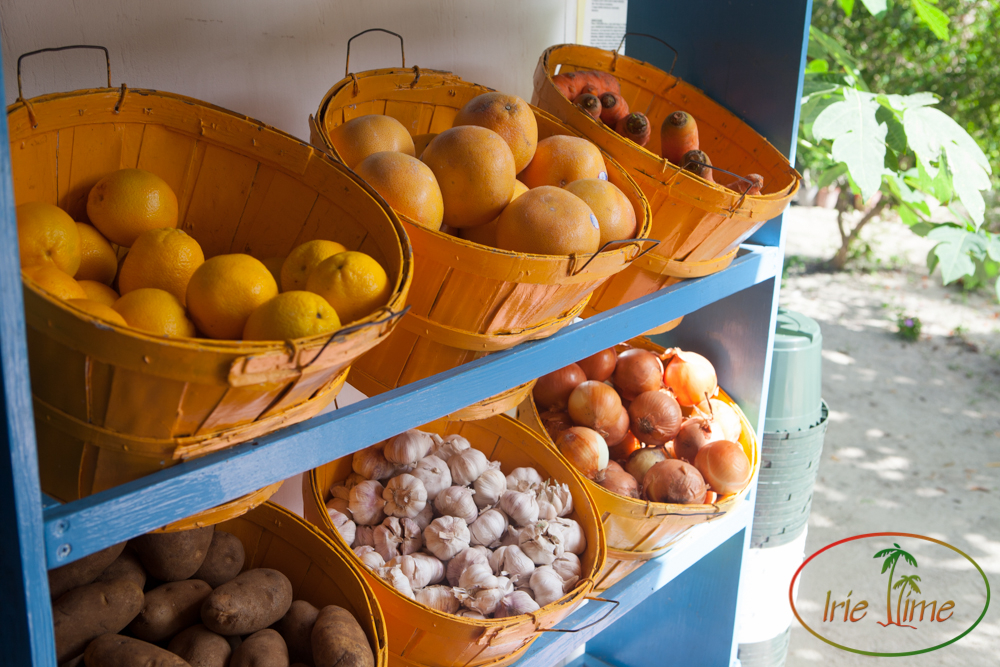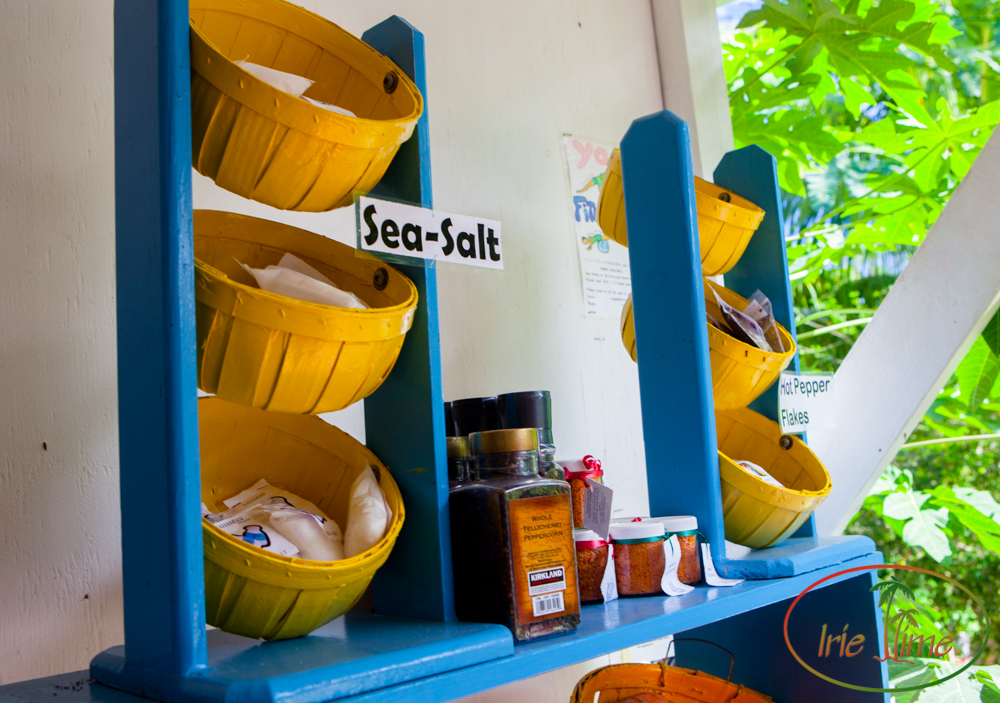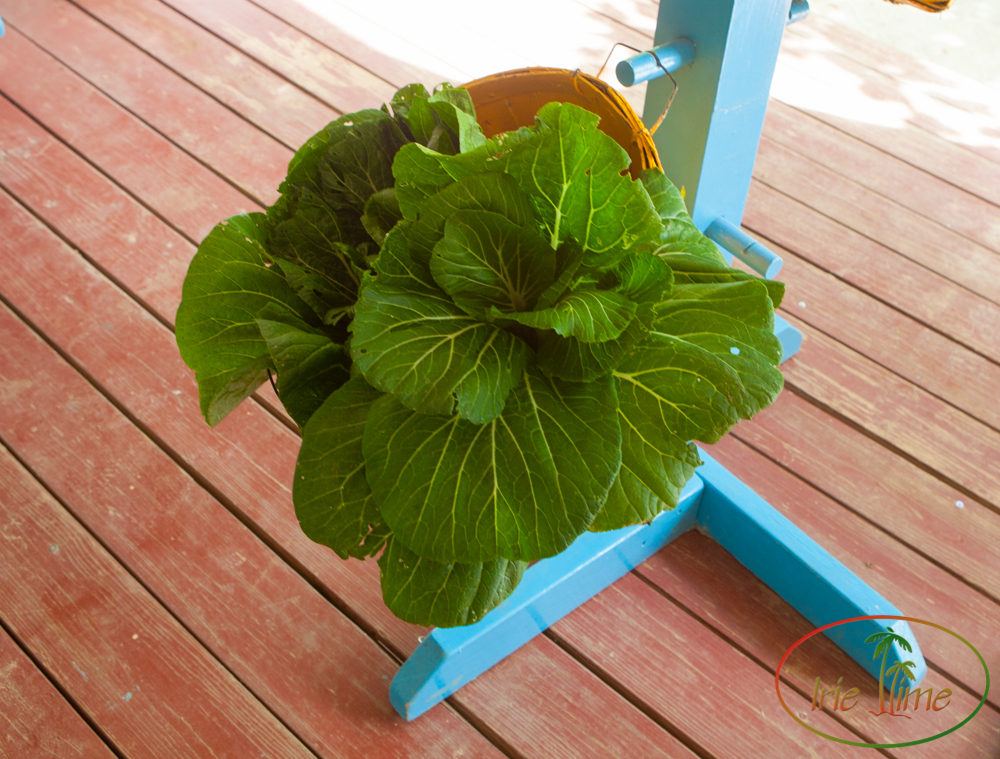 Sip Sip, Harbour Island
Are you headed to Harbour Island.  Don't miss lunch at Sip Sip!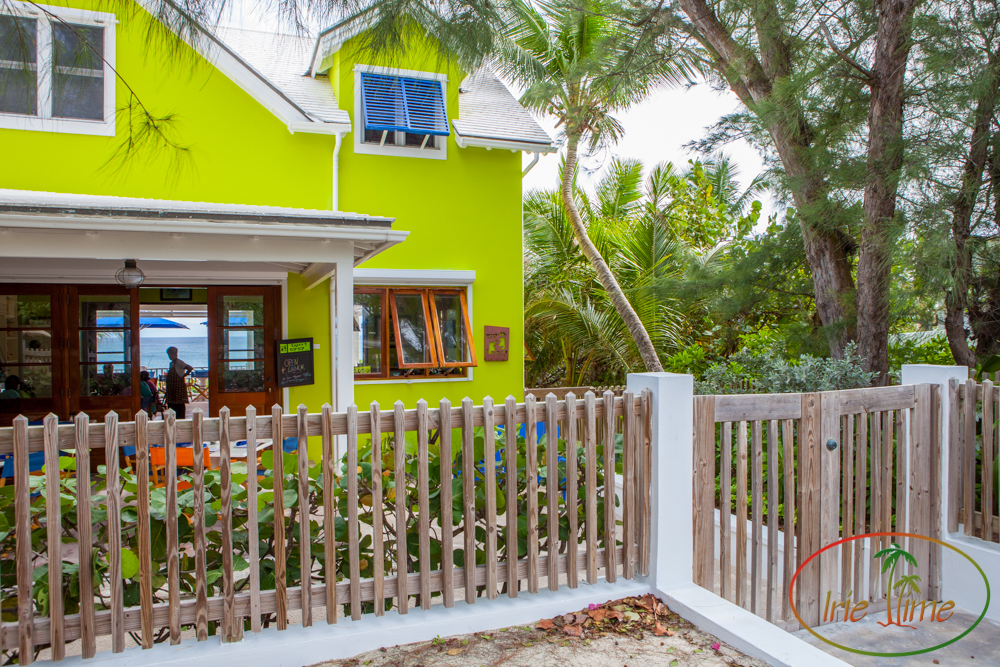 Sip Sip is beautifully decorated with bright colors and natural wood trim.  The name, it is said, comes from the local slang for "gossip."  A little sip of rum, a little sip sip.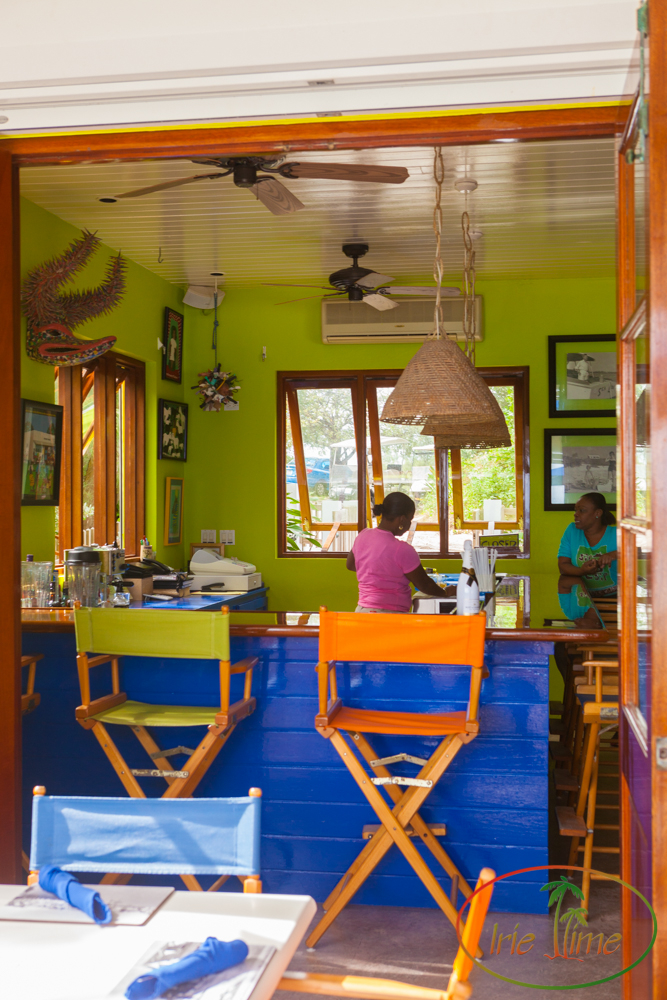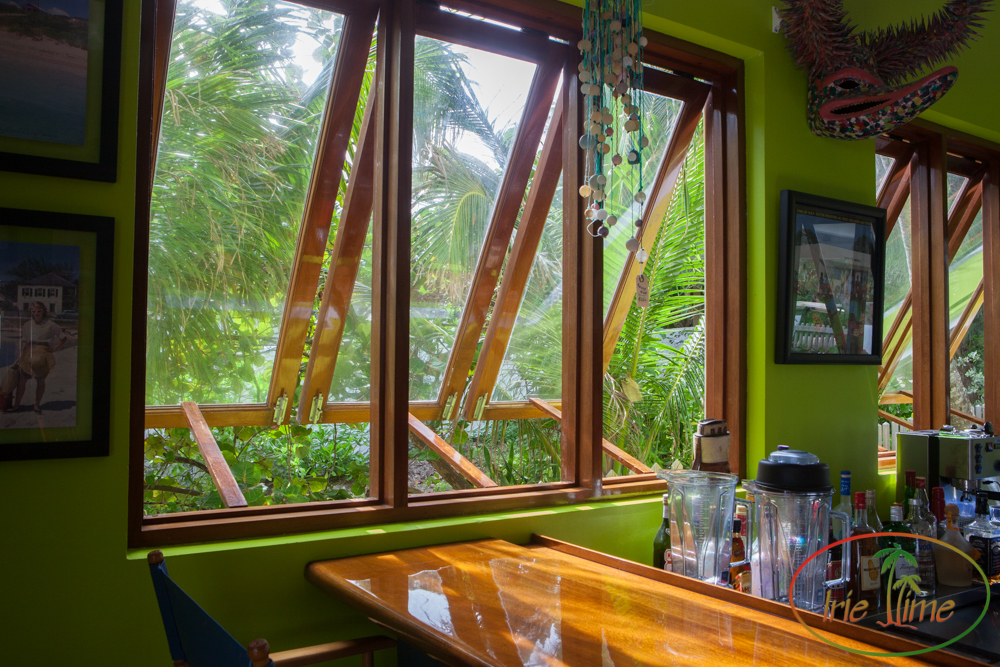 I found this interesting sculpture of what appears to be treasures that washed up on the beach or stuff they found in my basement.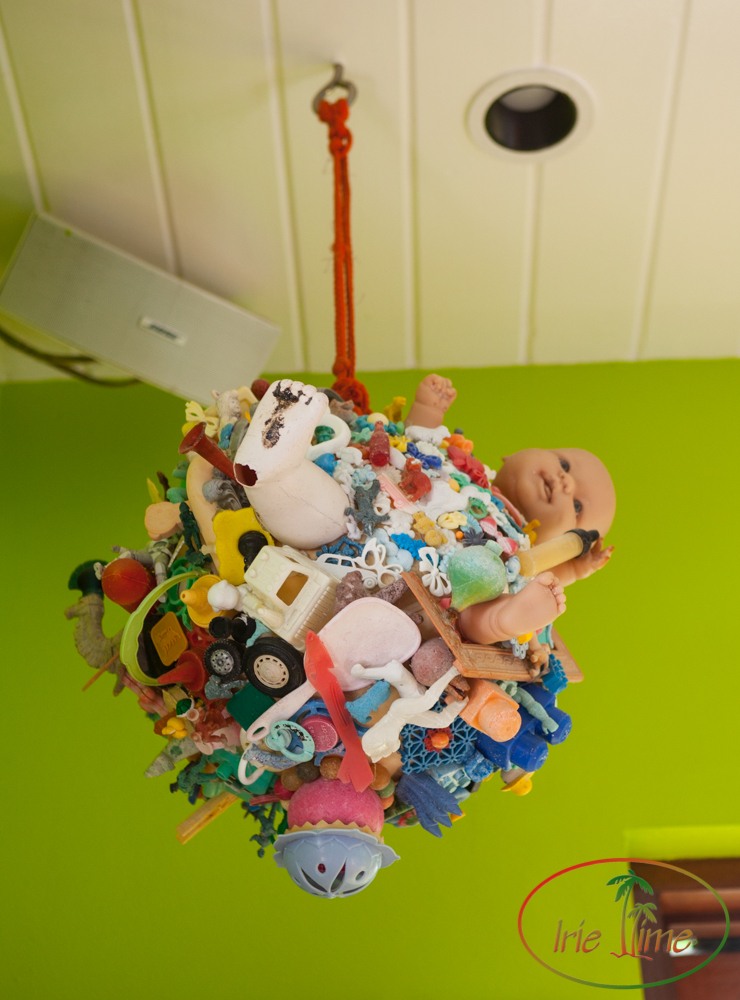 Sip Sip has a beautiful view, looking out over the pink sand beach.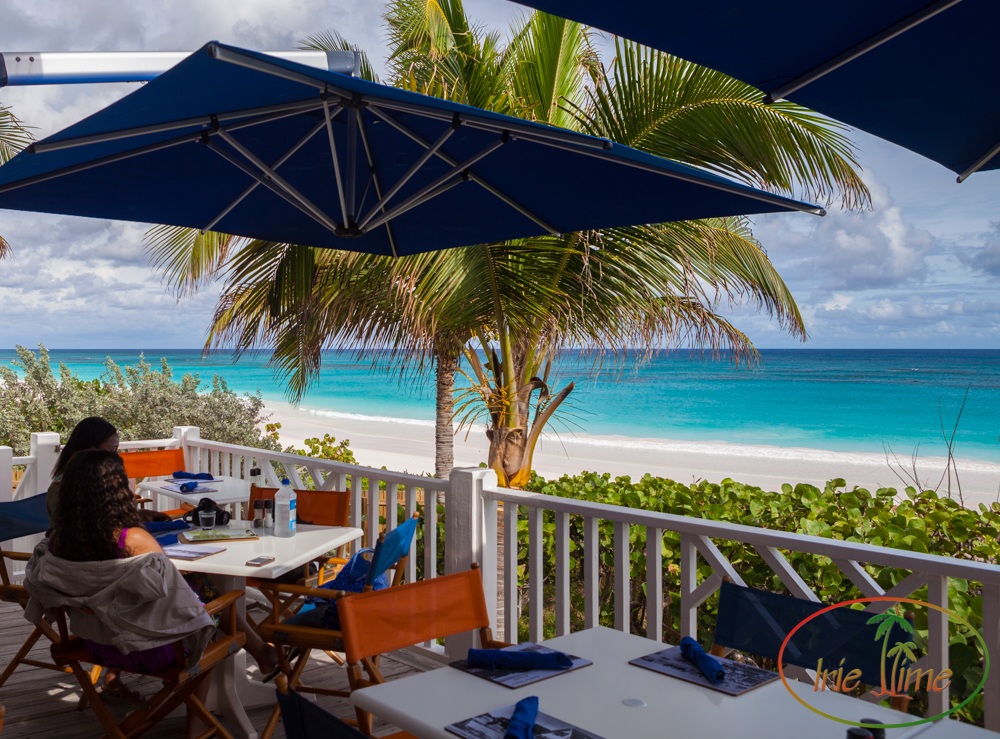 When you walk in, there is a board with today's specials.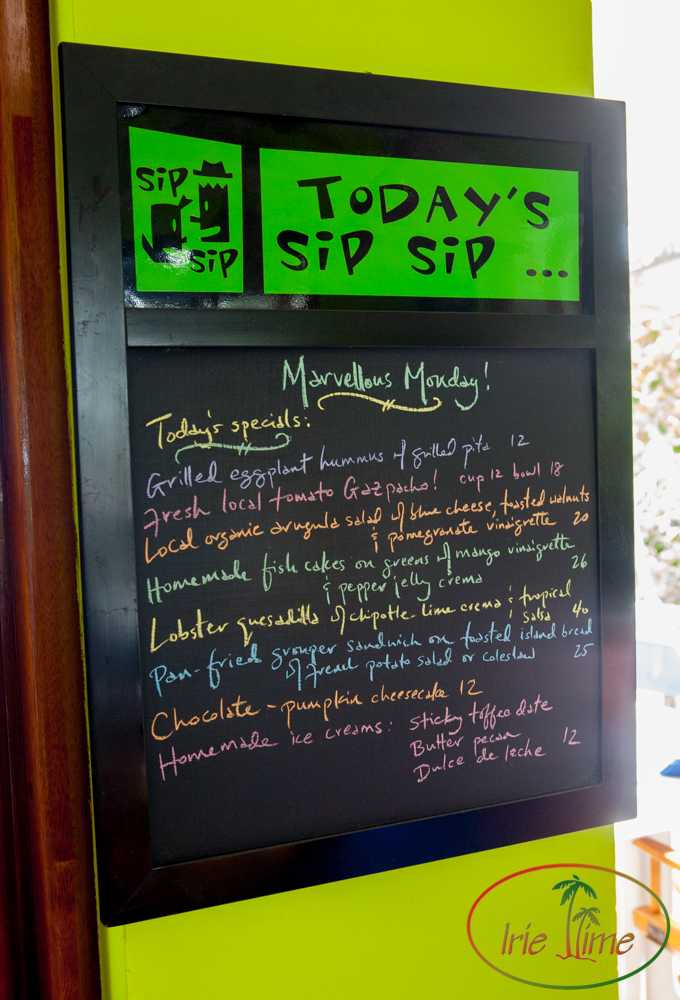 Lots of tasty offerings, but first things first, let's check out the drink menu.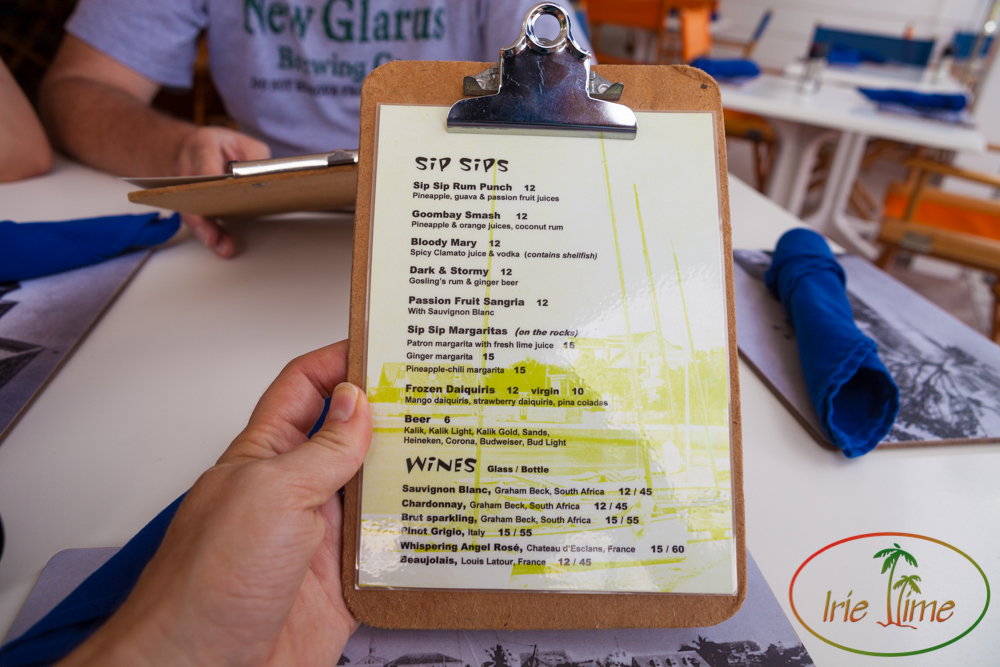 Show me a rum punch and I'm all over it.  No regrets here.  I am declaring this the best rum punch I've ever had, made with a mix of pineapple, quava, and passion fruit juices. I had two.  I could have had more, but it would be pretty embarrassing to fall out of a golf cart.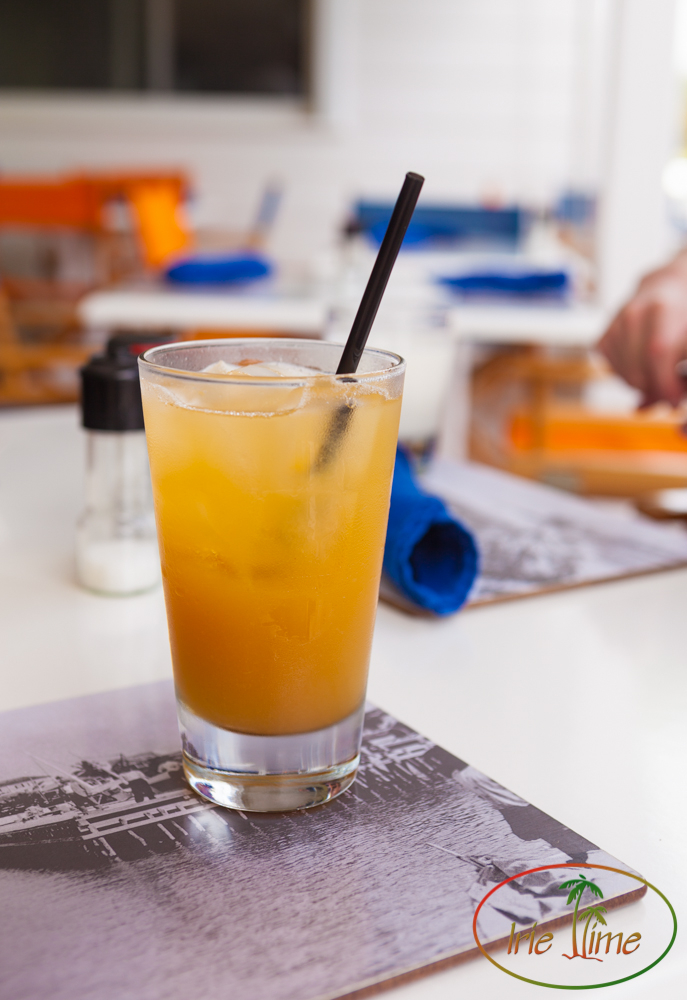 Hey, they have food here too!  Let's take a look at the regular menu…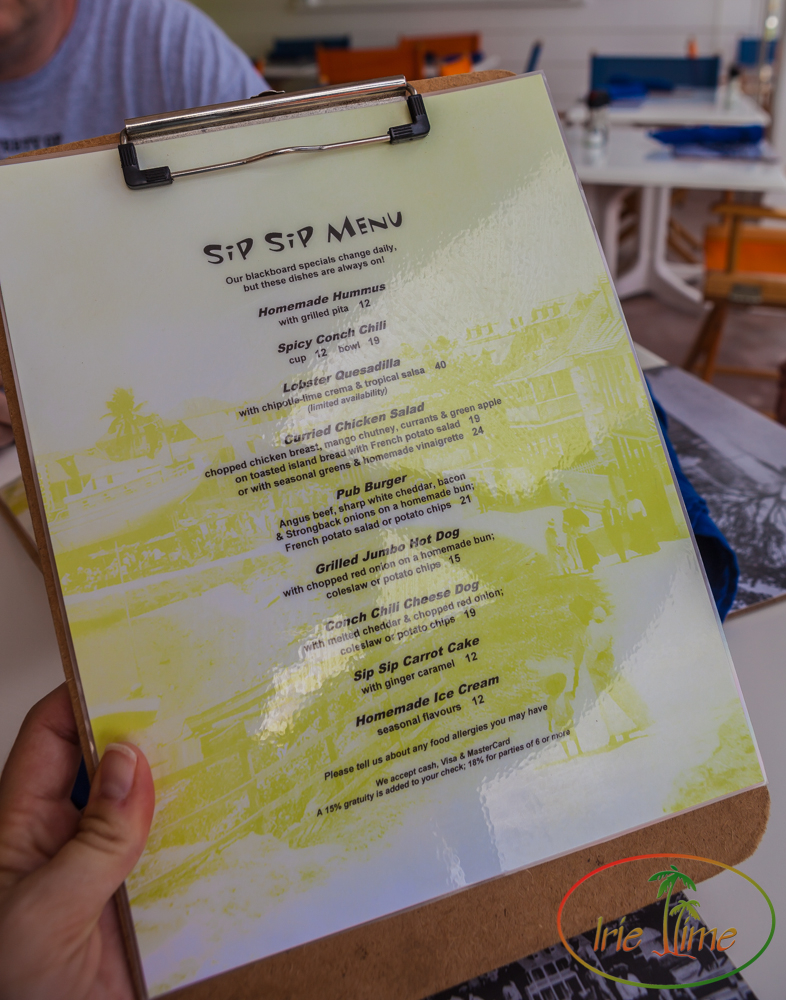 Spicy conch chili? Sold!  It was delicious!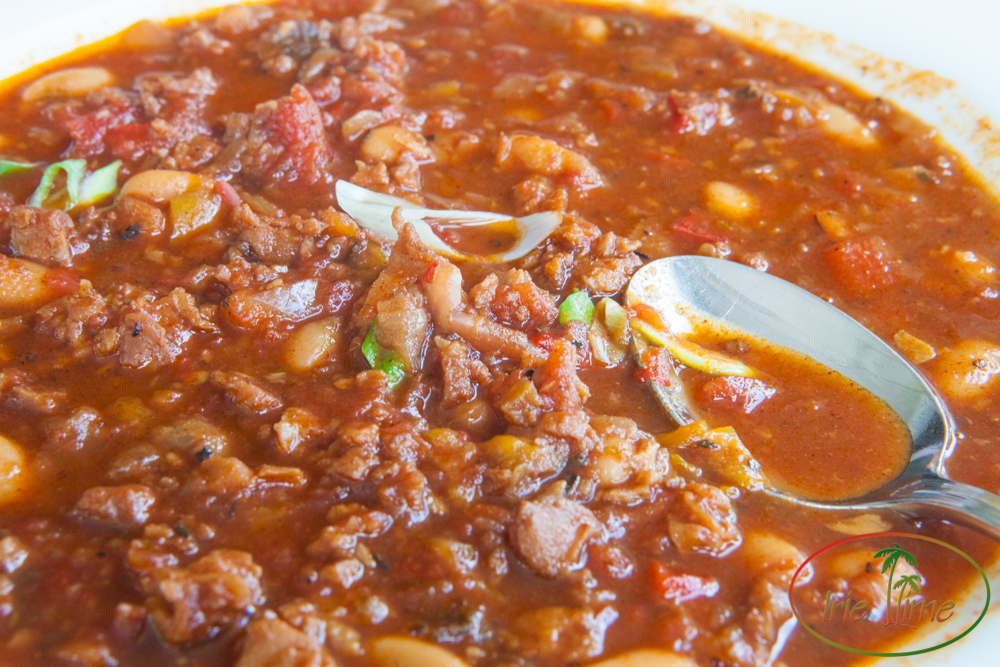 My daughter picked what was my runner-up, the homemade fish cakes from the specials menu.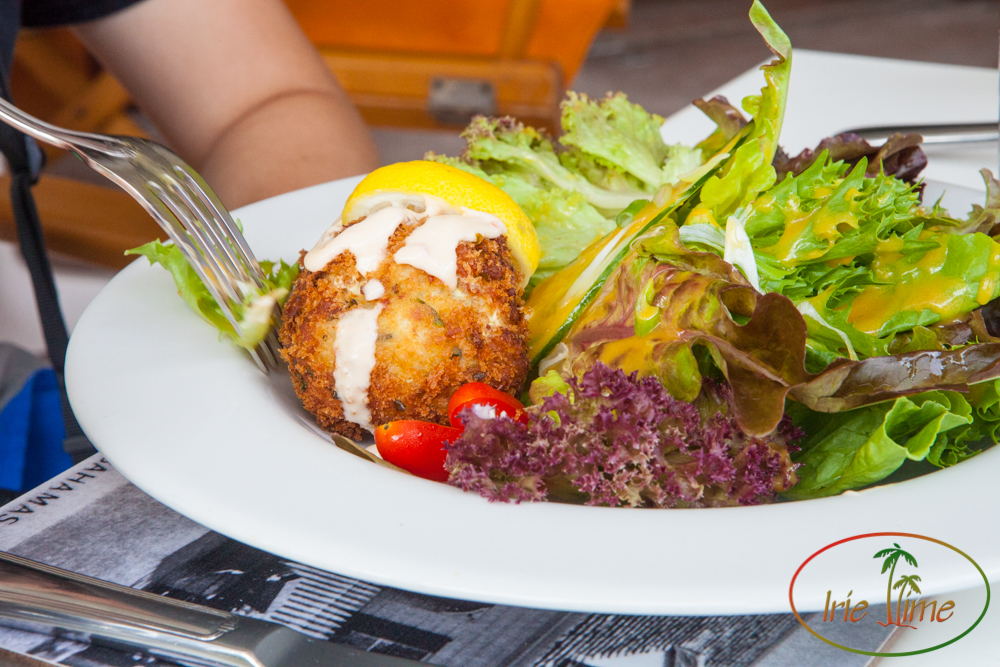 And my husband had the grouper sandwich.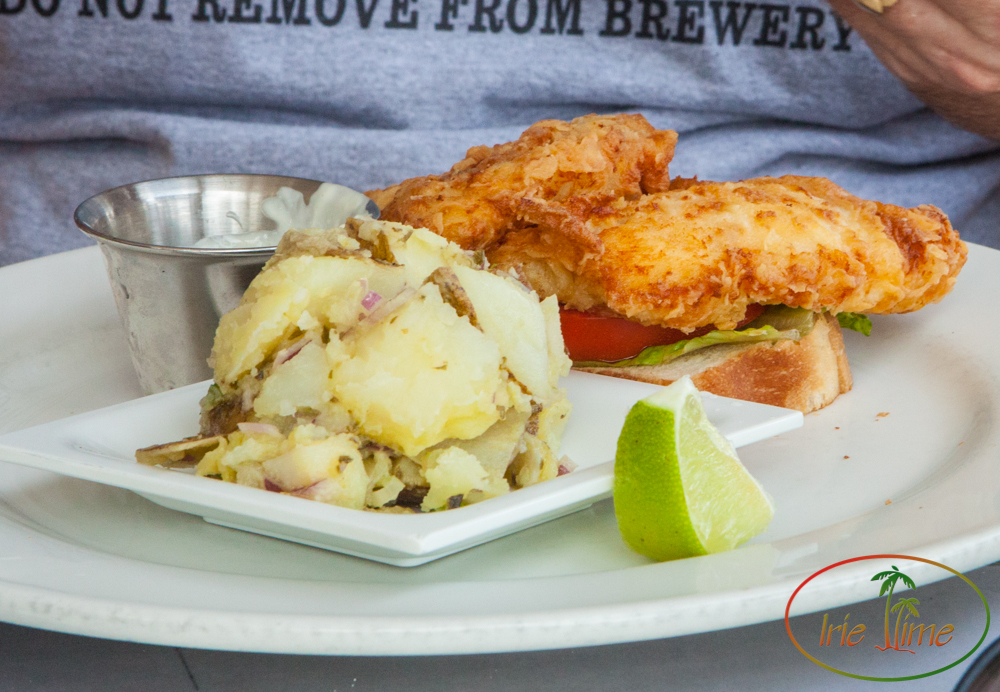 All the food was amazing.  Keep in mind that Sip Sip is only open for lunch, and is closed Tuesday and Wednesday.  Don't miss it.  Plan ahead!
When we finished our meal, our server gave to us a postcard with a black & white photo on it.  The photo was of the chef and owner, Julie Lightbourn, and her mother on the beach when she was just a small child.   It was such a personal touch.  You can tell she really cares about everything here from the placemats, to the menus, to the postcards that come with your check, and in every detail of the service and the food.  I am so glad we didn't miss it!
Rumor goes that Julie Lightbourn will be coming out with a cookbook soon!  Watch for it!
Rum Tasting at The Landing, Harbour Island
While on Harbour Island, be sure to stop at The Landing for a rum tasting!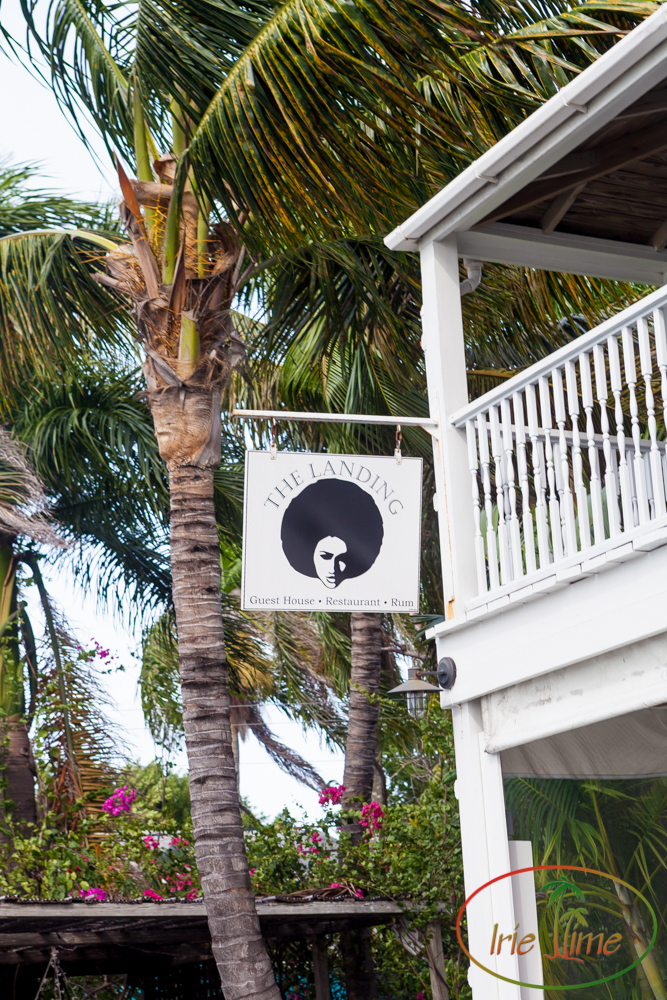 The Landing, a hotel and restaurant, is housed in one of the oldest buildings in town, once owned by the family of the Bahamas' first doctor, Thomas W. Johnson.  After Hurricane Floyd in 1999, the building was completely renovated, with the interiors designed by India Hicks.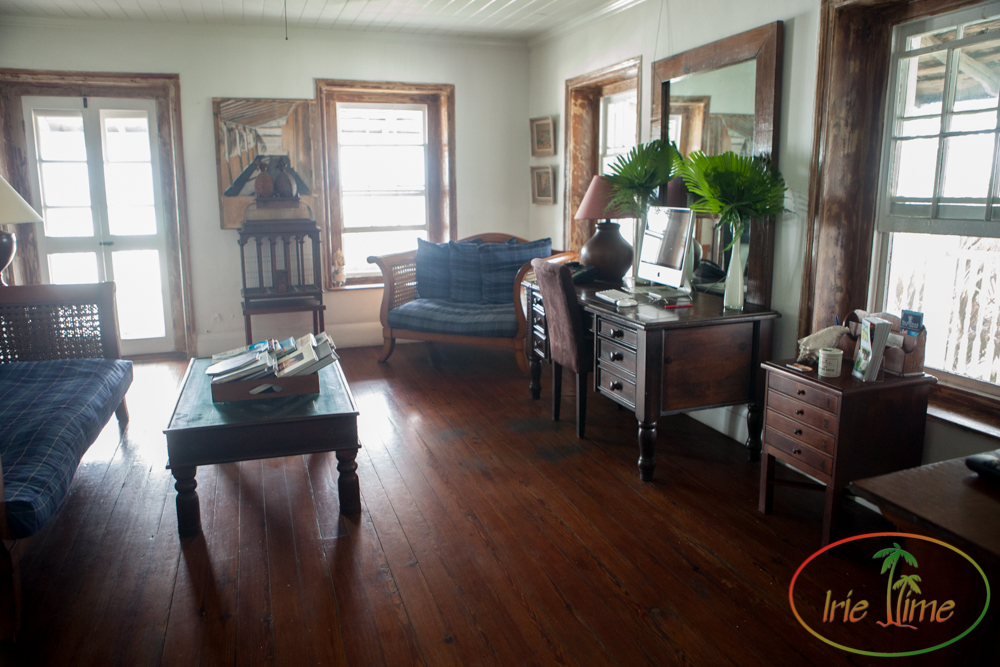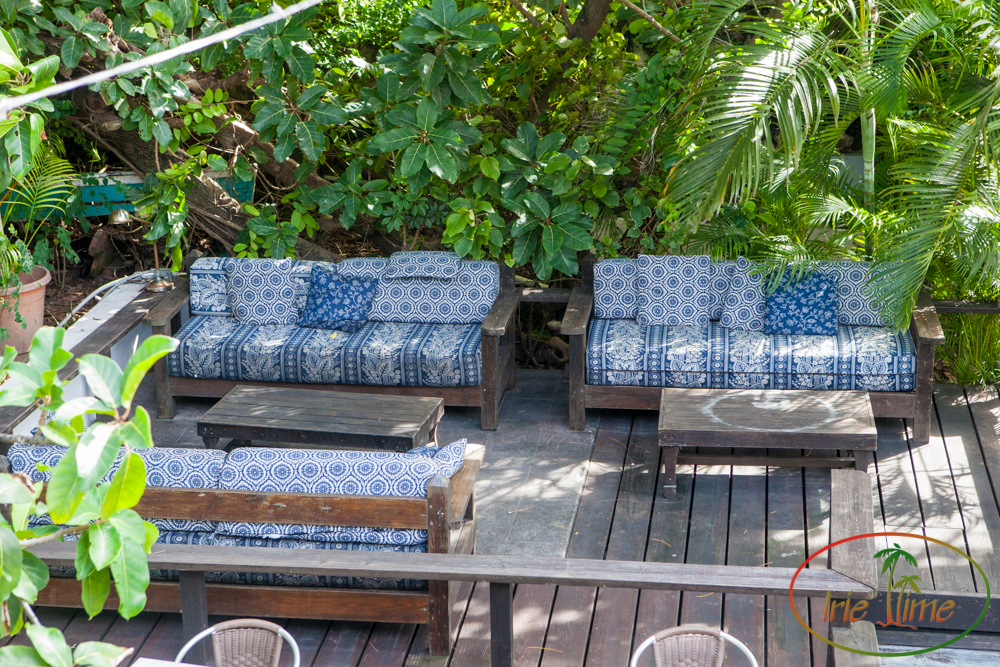 The Landing boasts its own line of wine, vodka, and rum, under the name "Afro Head."  One of the owners of the property is Brenda Barry, the first woman crowned Miss Bahamas in 1961.  Her image has become the logo for the Afro Head brand, and can be seen on the labels and packaging, and throughout the hotel.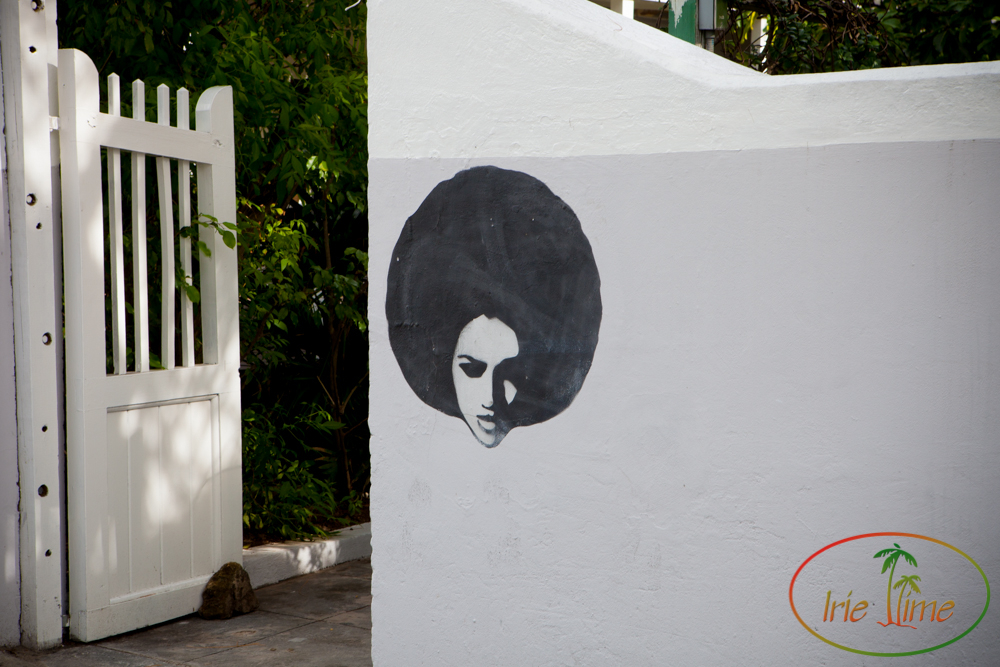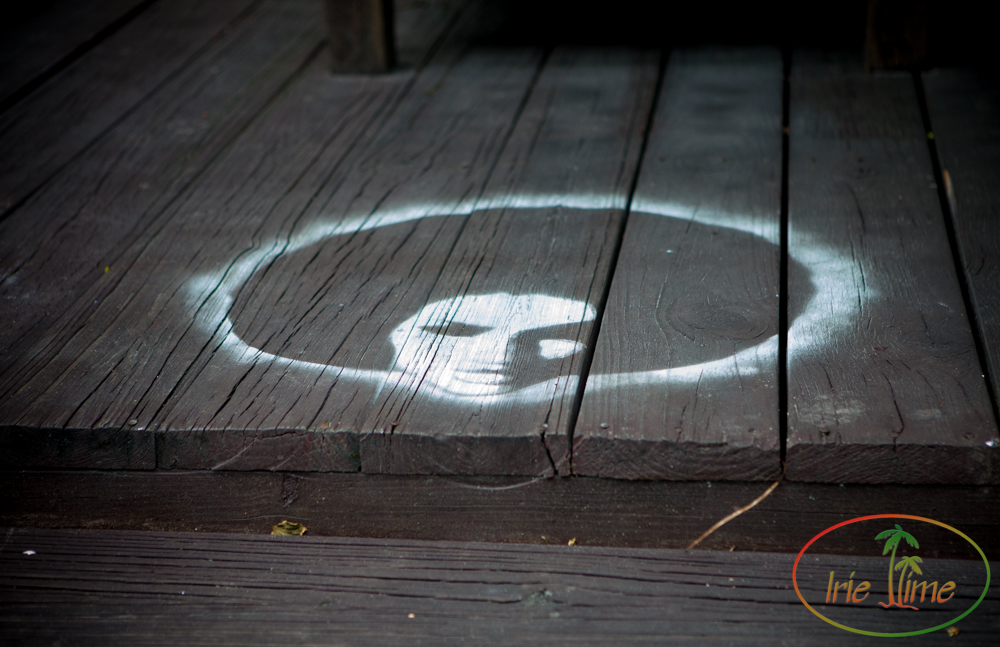 Let's taste some rum!  Our kind host, Tina, filled us in on the different rums, including the 7-year, the 15-year, and the Signature Rum.  They were all delicious in very different ways.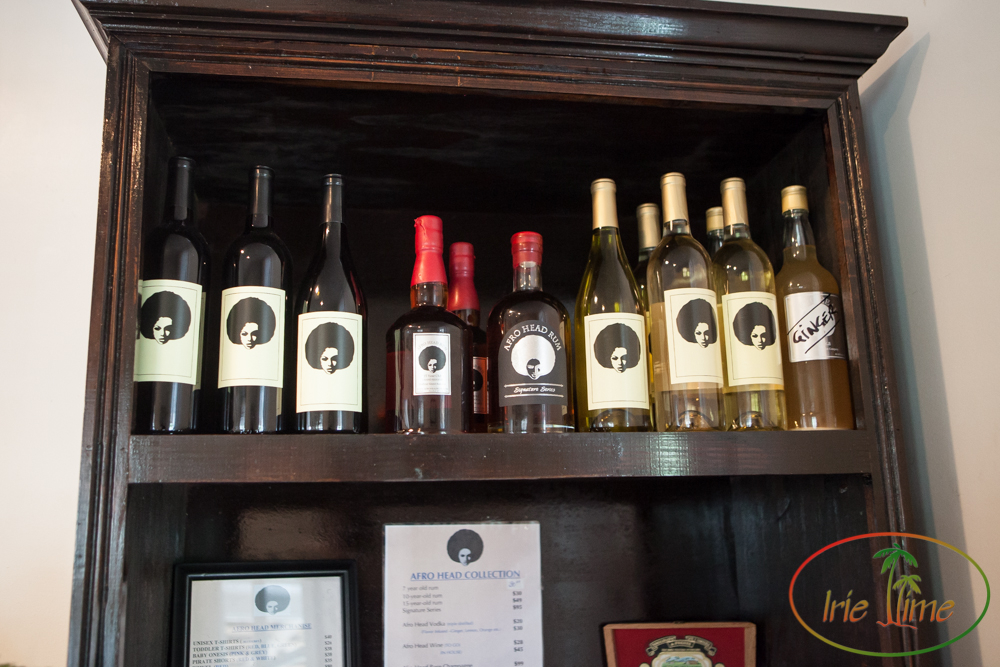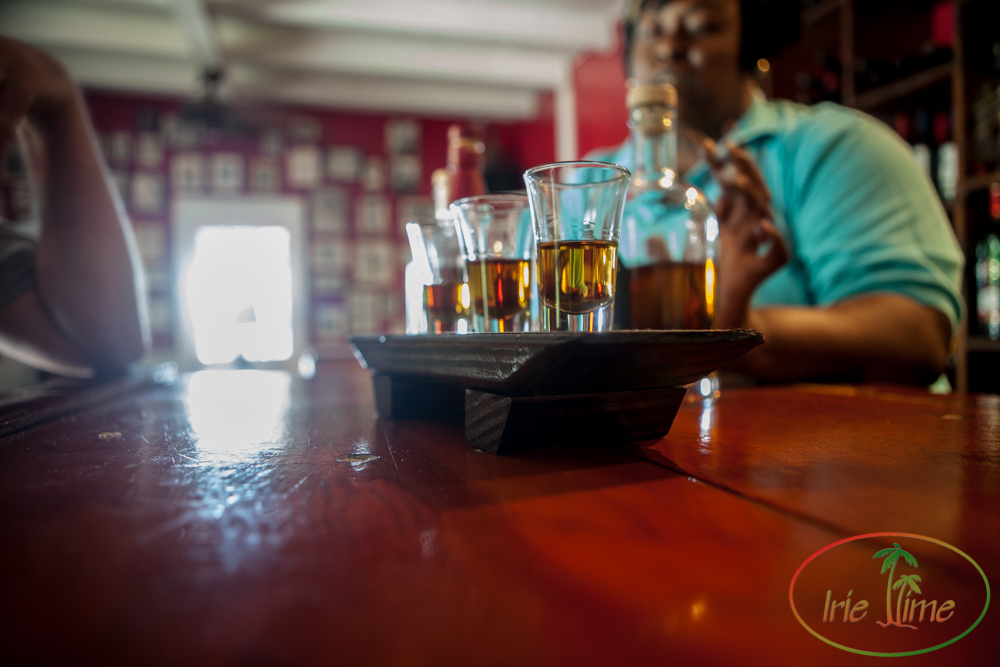 While you're there, pick up a bottle to take home to share.  You won't find this rum at home!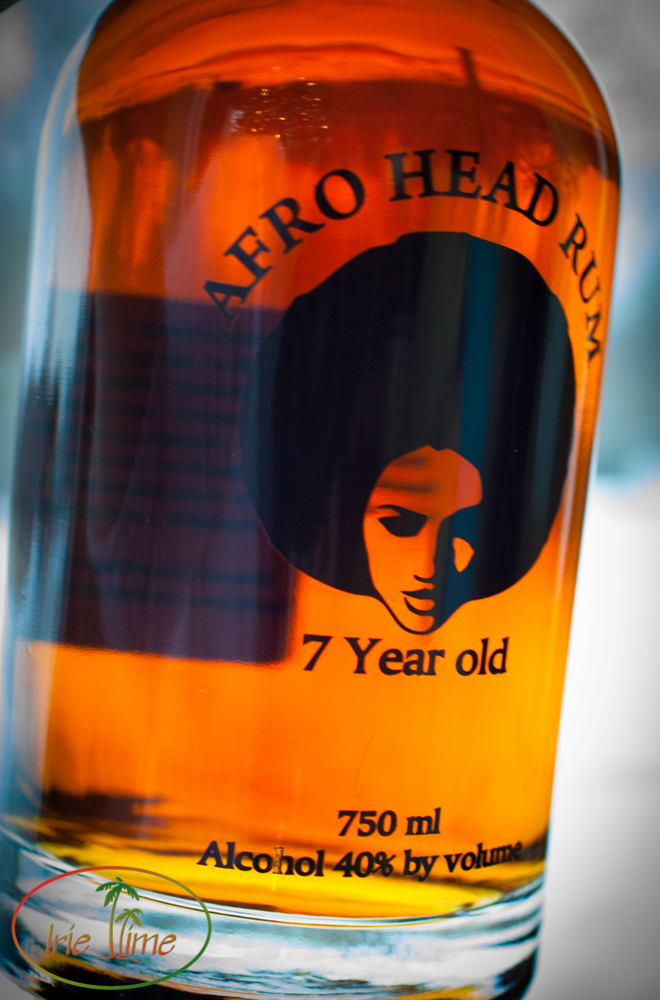 Sunset Inn, Governor's Harbour, Eleuthera
For classic island fare, stop in at the Sunset Inn, located on the southern end of Governor's Harbour, on the west side of Queen's Highway.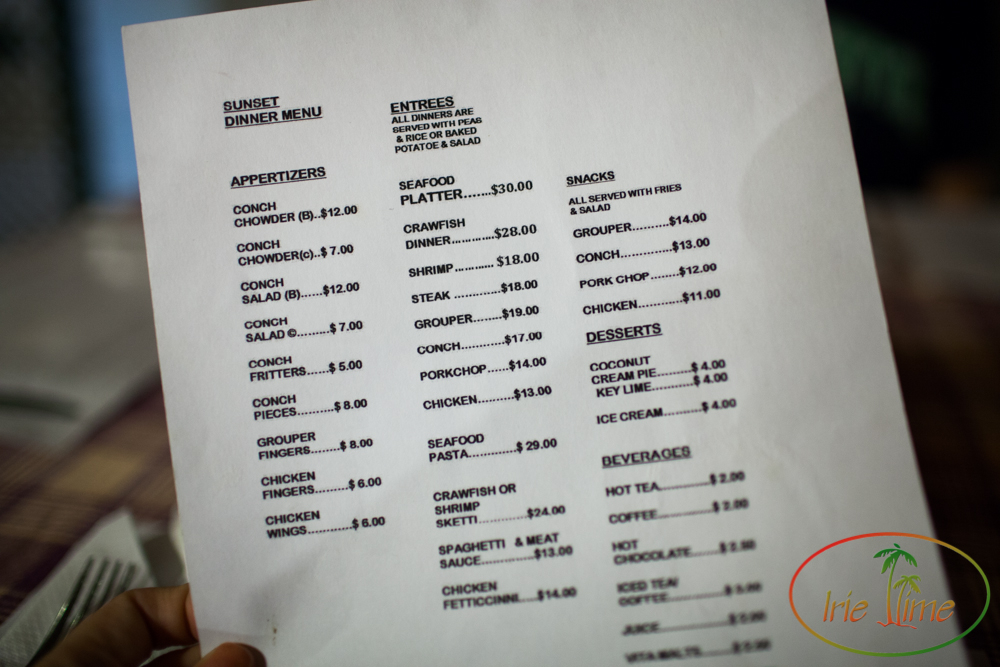 We had the bowl, "(B)" of conch salad as an appetizer.  The fact that it was gone before I could take a photo tells you how good it was.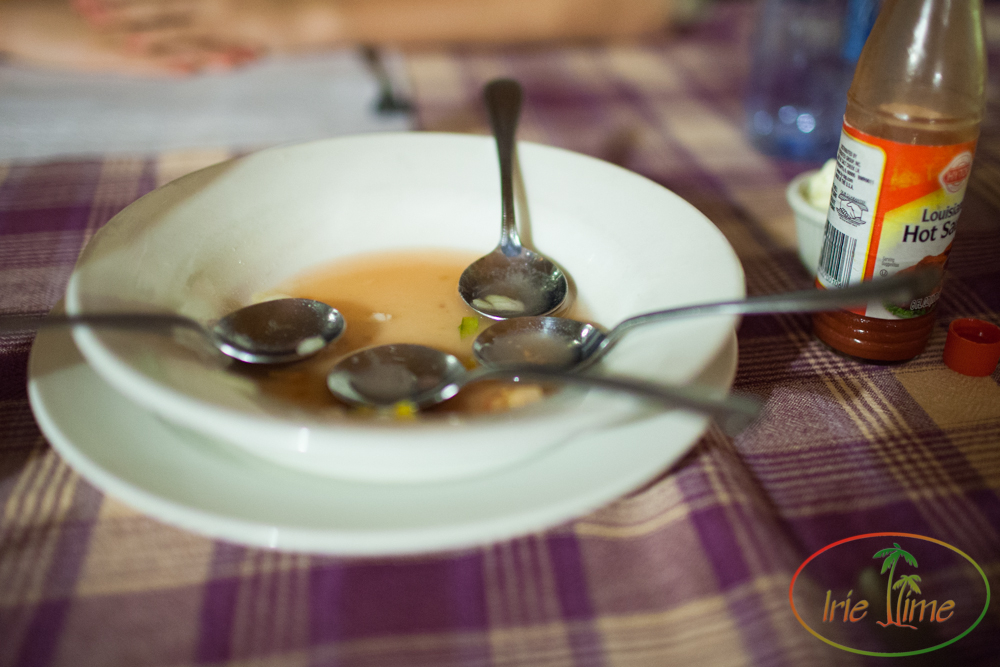 I had the cracked conch, accompanied by a cold Kalik.  The perfect island combination!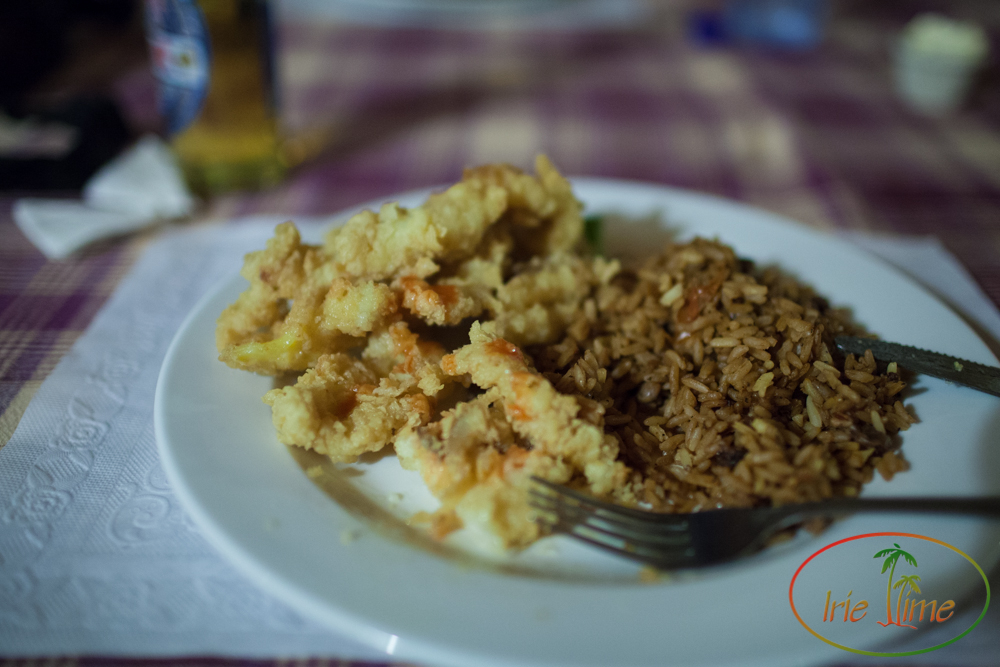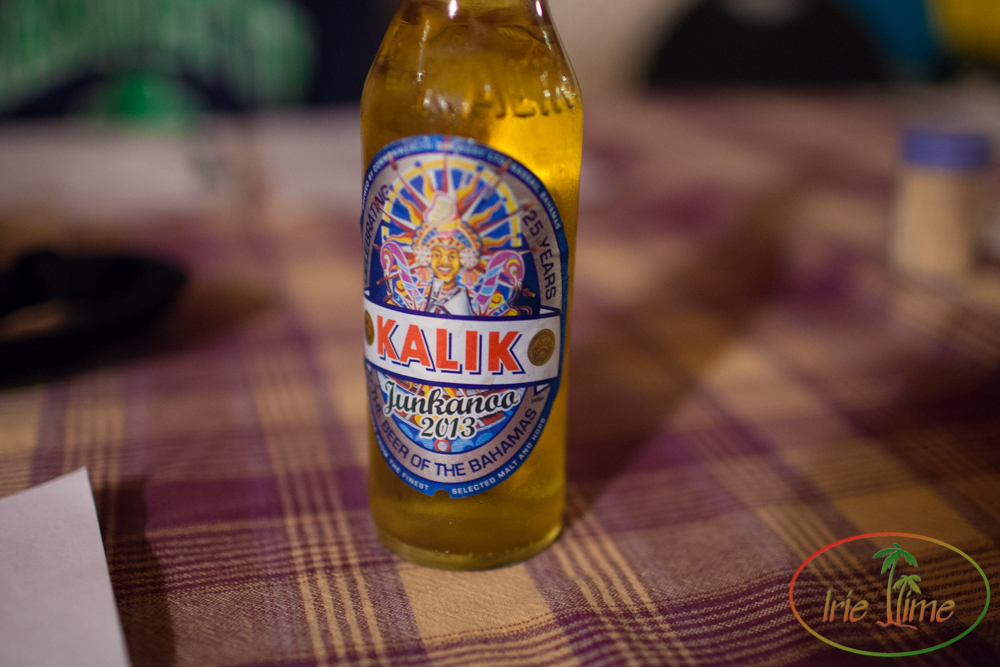 The Beach House, Governor's Harbour, Eleuthera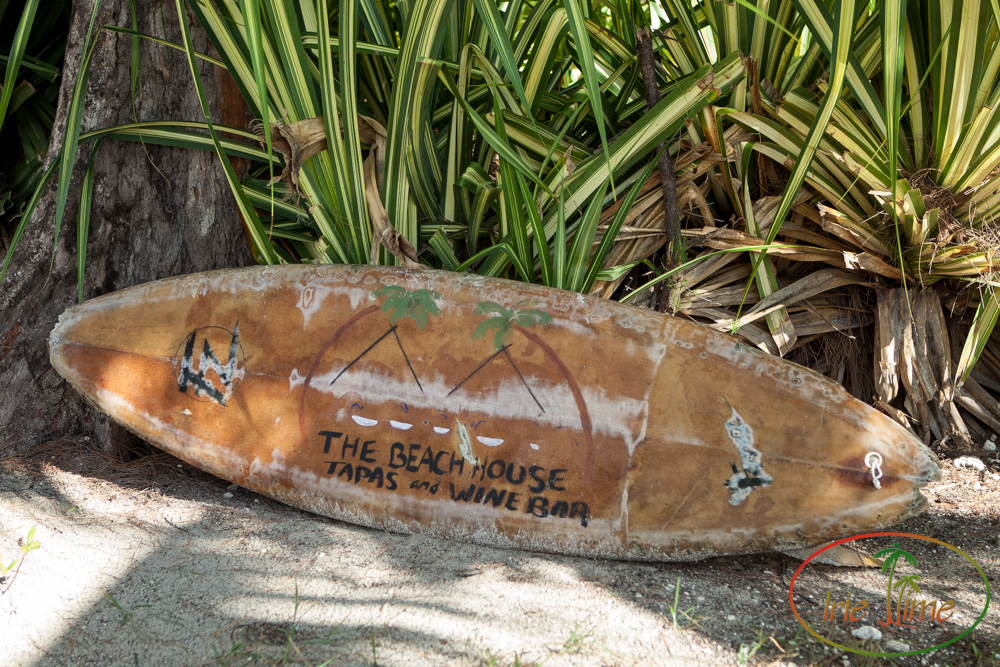 Even better than finding a great new beach bar is finding a great new beach bar a short walk down the road from the house where you are staying.  The Beach House, located on Banks Road in Governors Harbour, Eleuthera, is just steps from the pink sand of French Leave Beach and offers some of the tastiest food and drink on the island.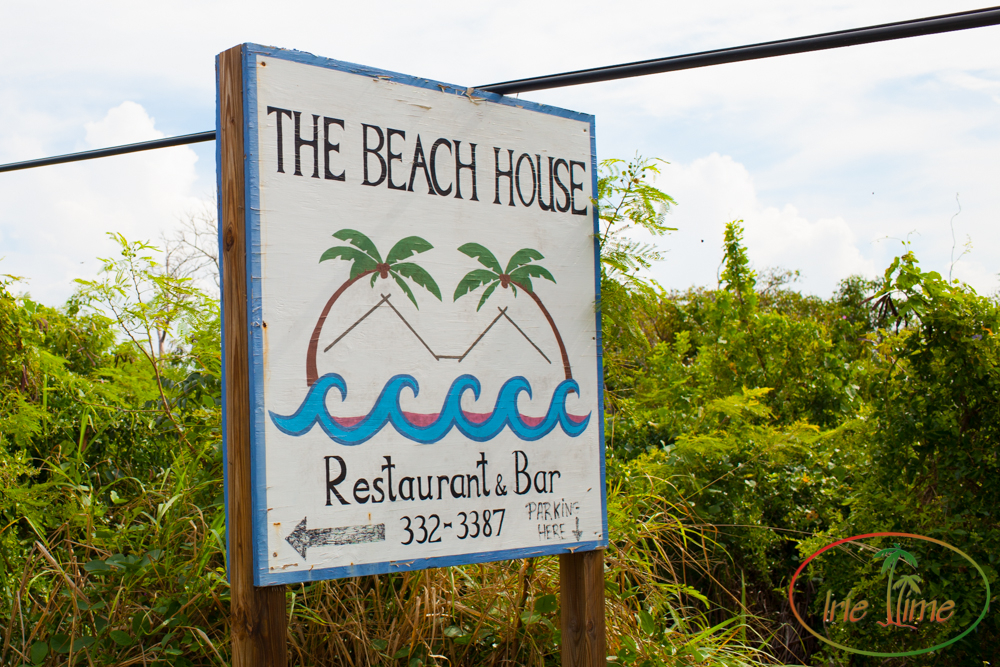 The Beach House is a comfortable place to kick back, with great views of the ocean.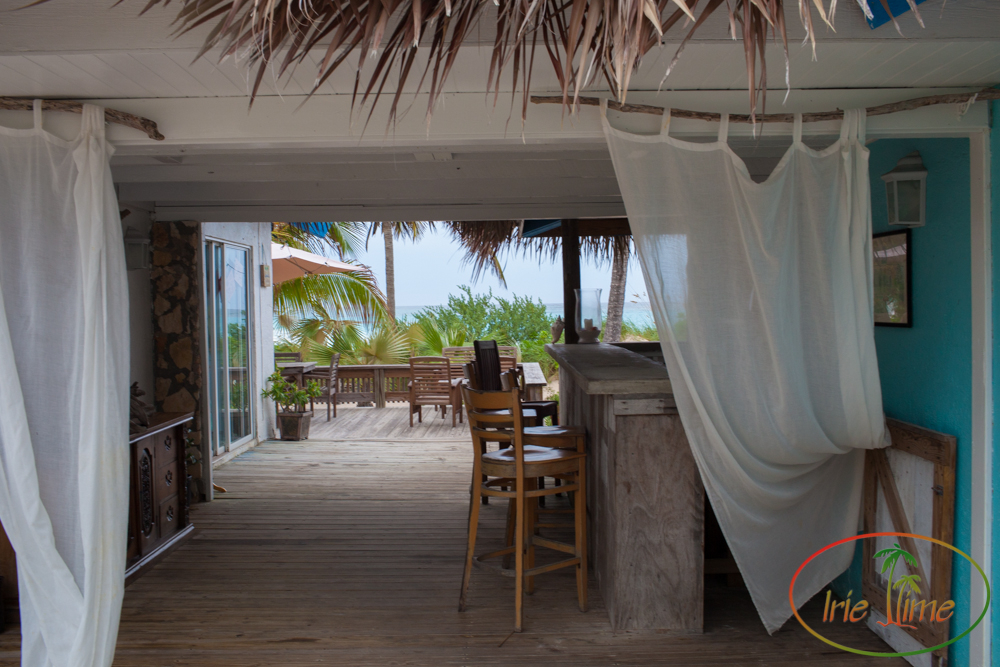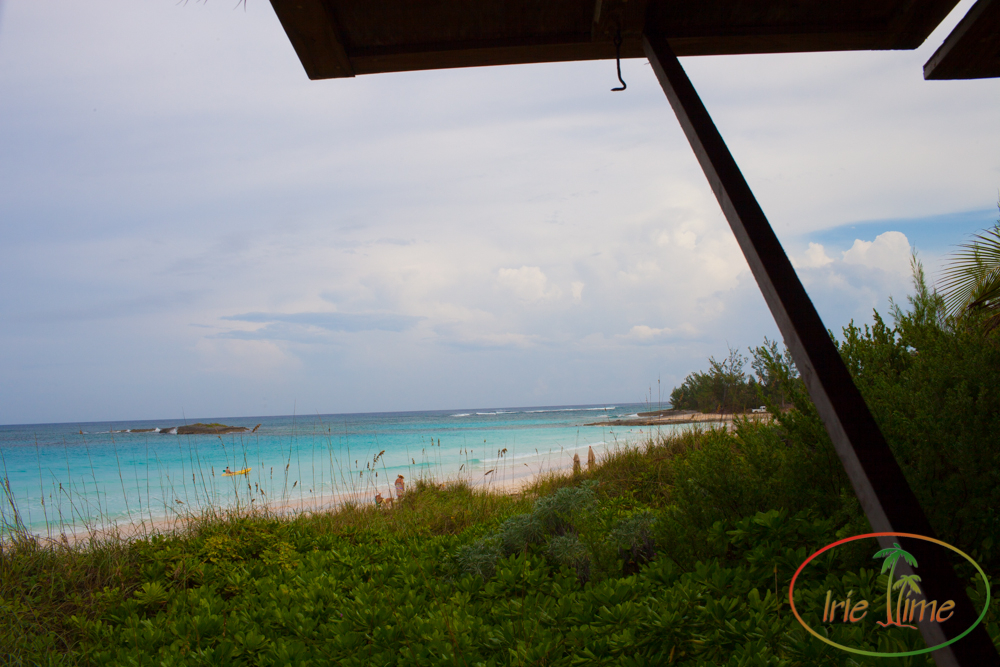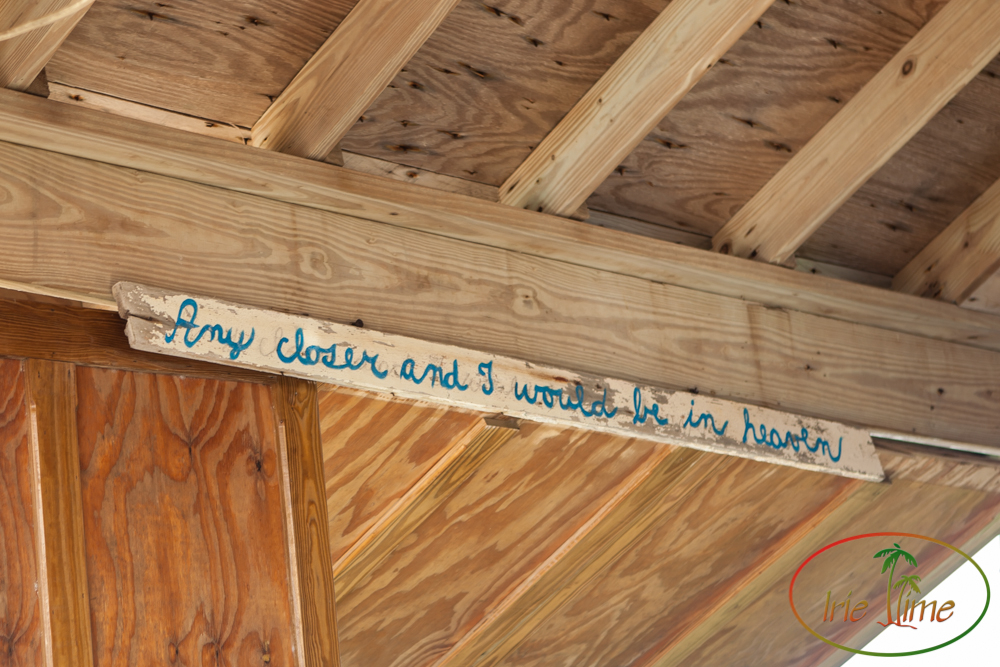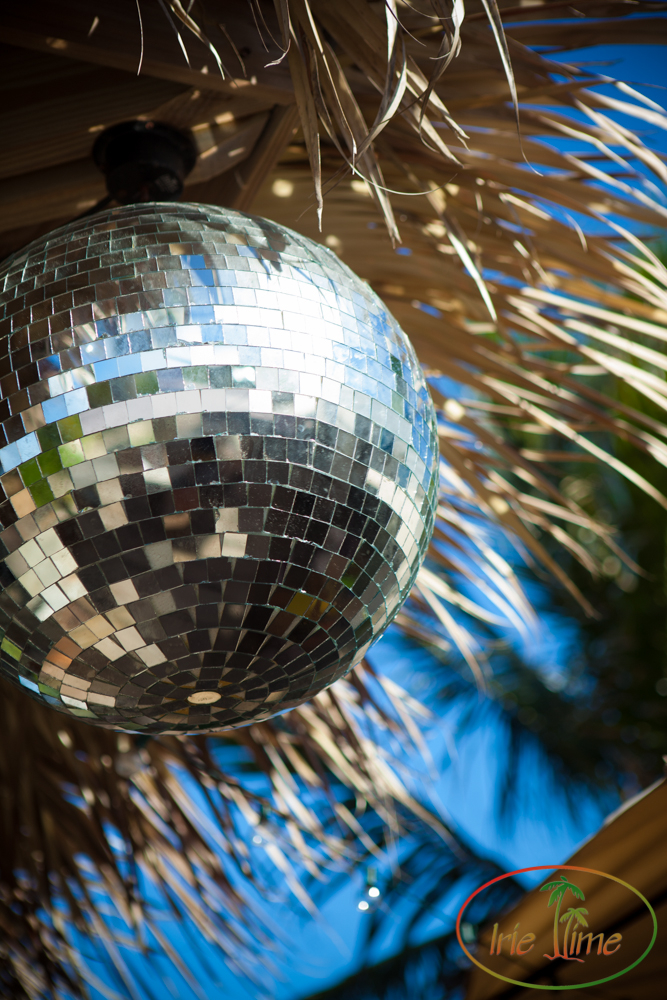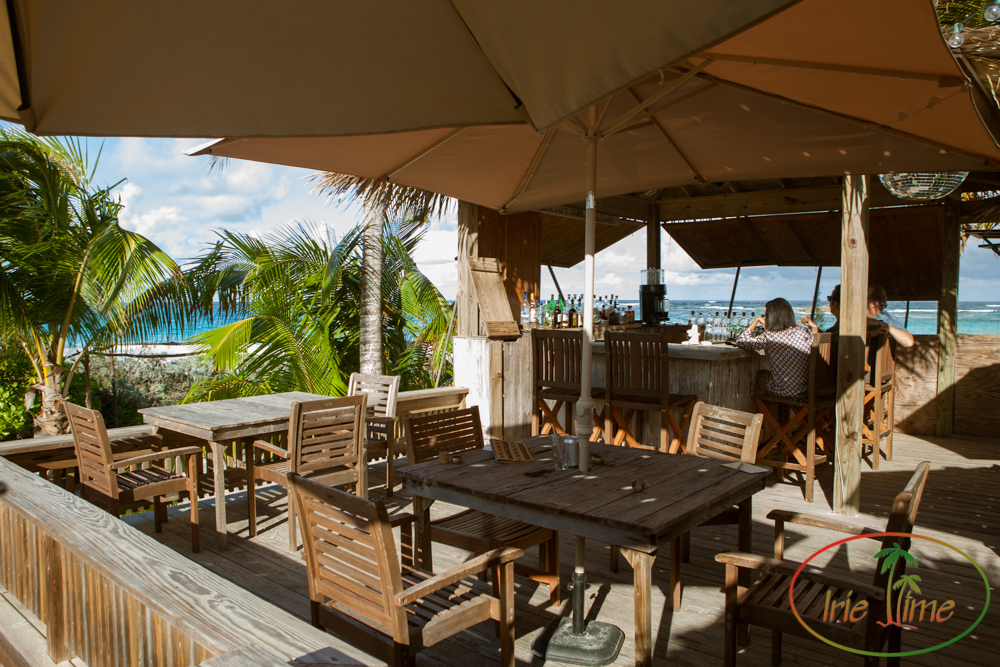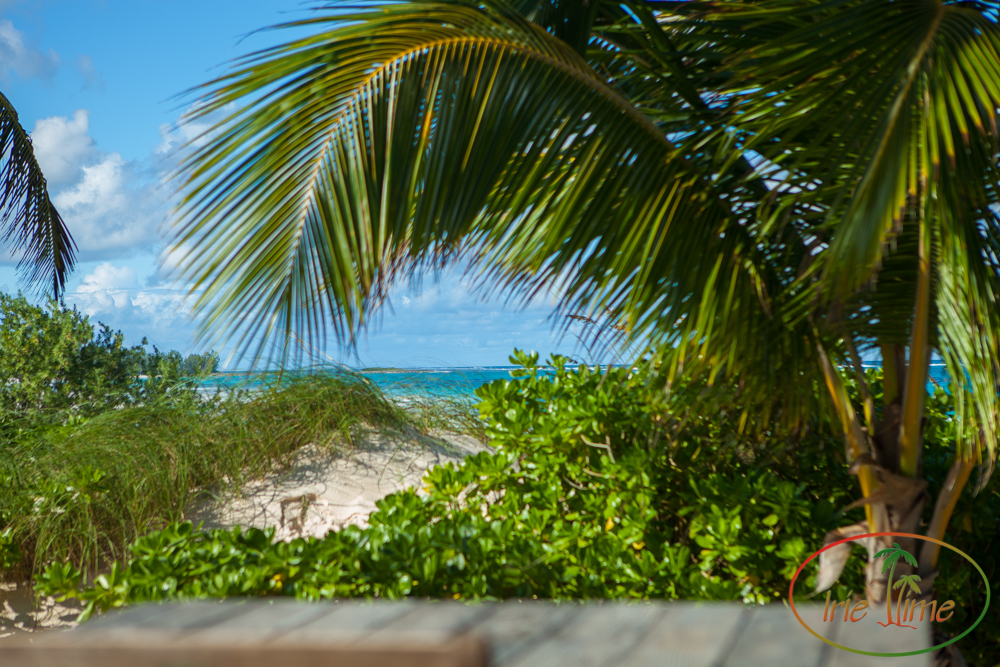 Our first visit there was for lunch our first full day on the island.  It was described to us as a tapas restaurant, and my experience with tapas is that it means "small plates."  So I ordered quite a few.  These were not small at all, but there were no regrets.  Everything was delicious. My favorite was the ceviche served on fried plantains.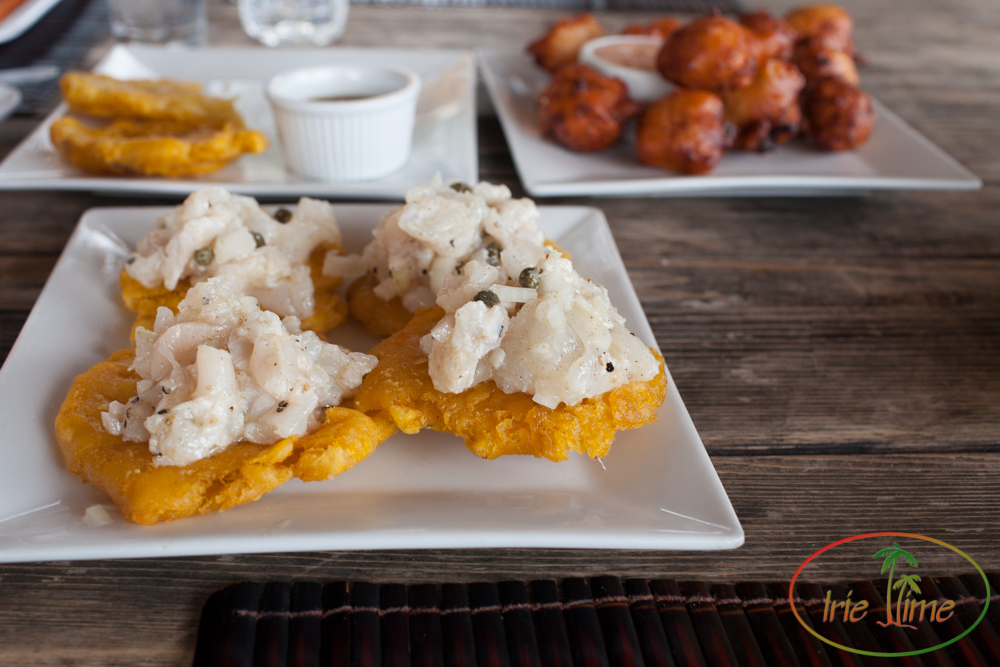 Check out the conch fritters…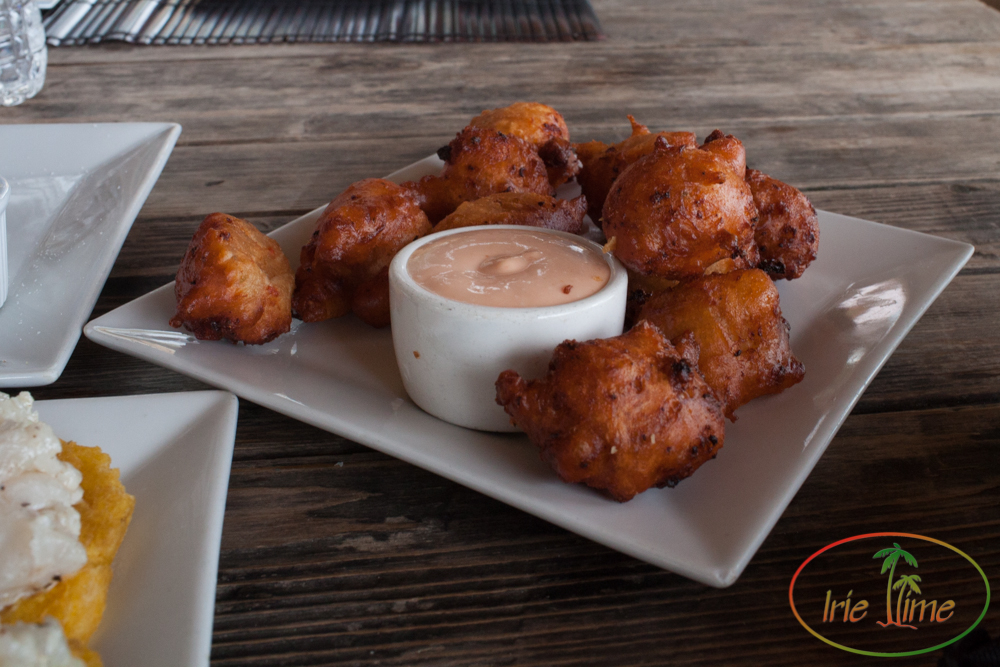 And the spicy shrimp…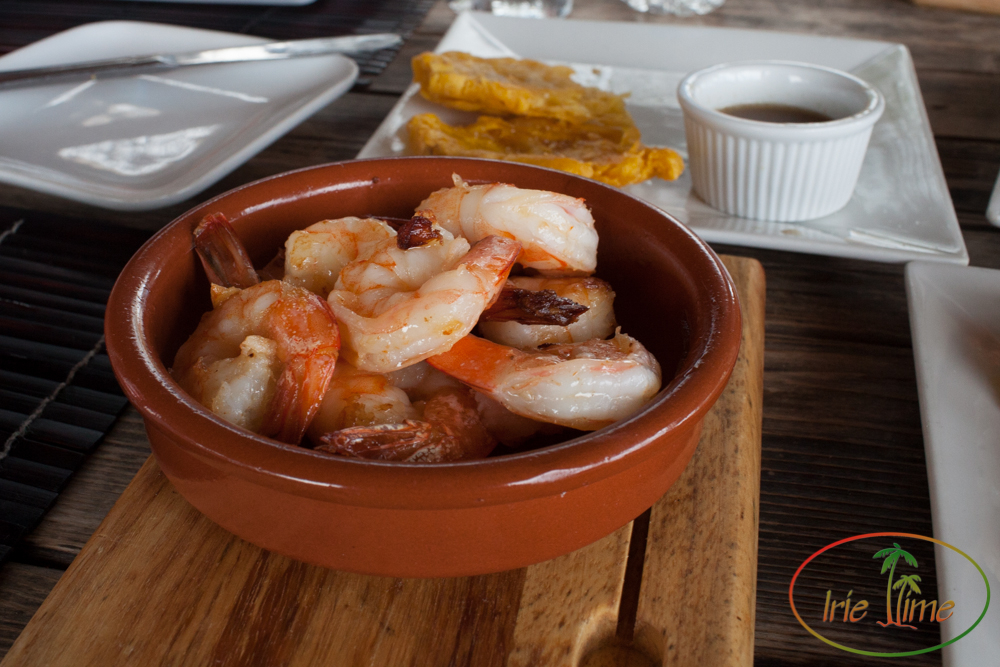 And my husband's grouper sandwich…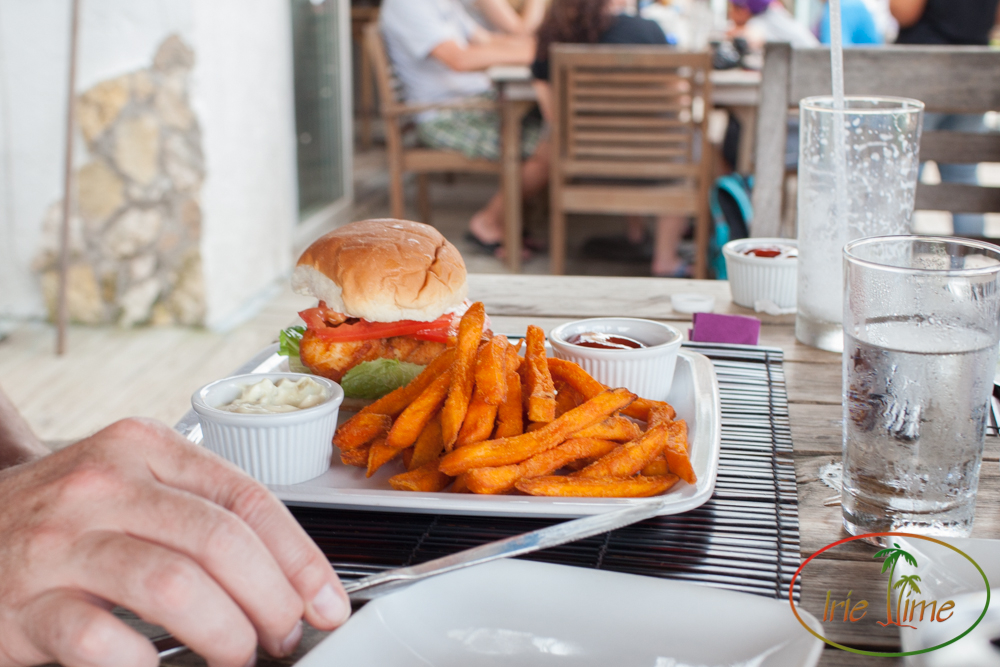 Throughout the week, we tried a number of different dishes, including the snapper…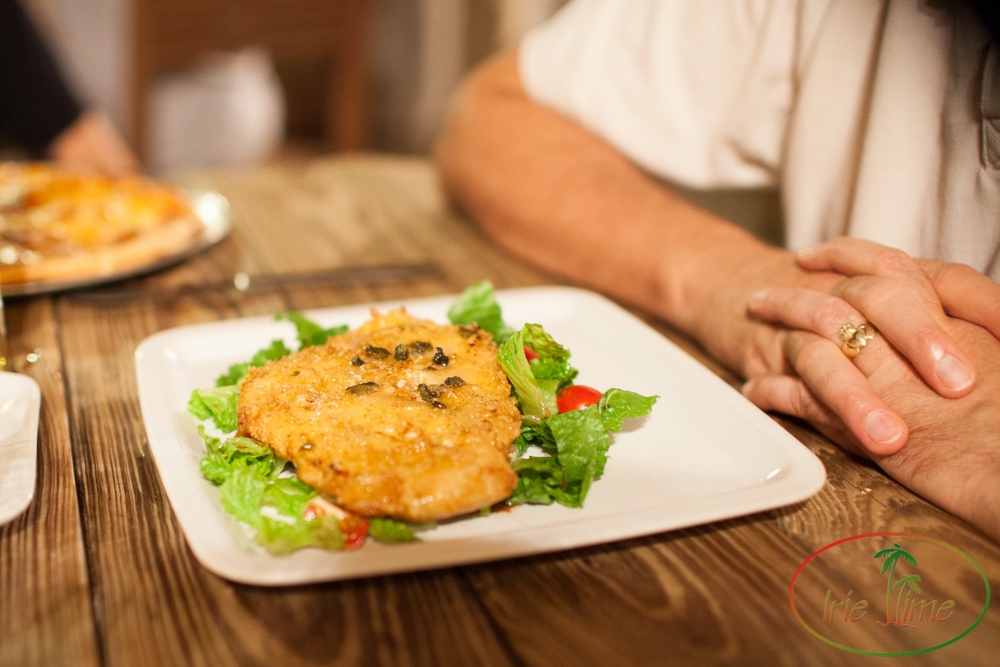 The crab and lobster ravioli…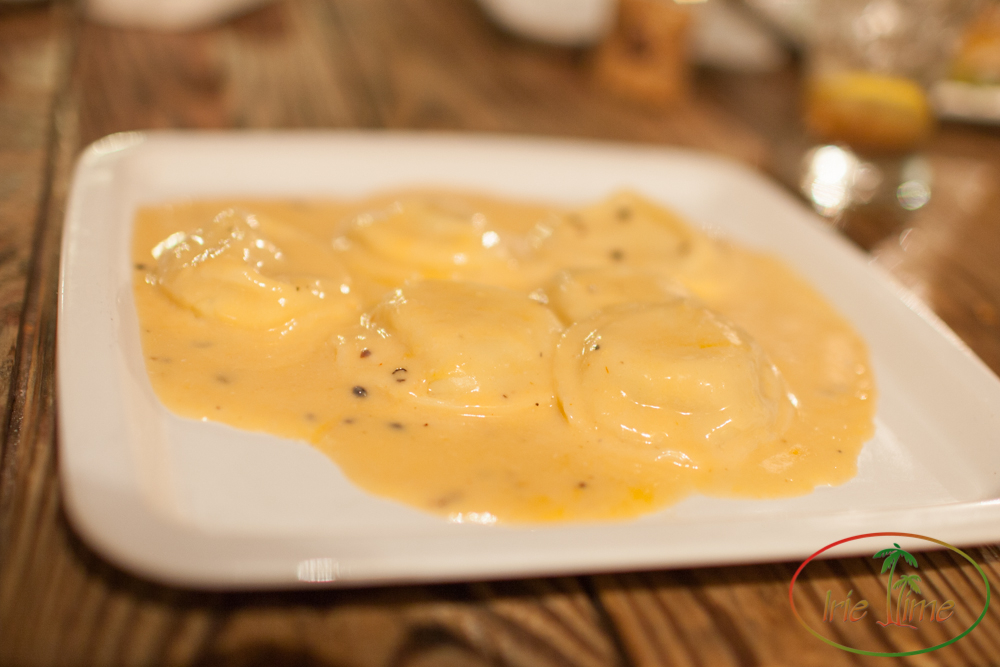 The empanadas…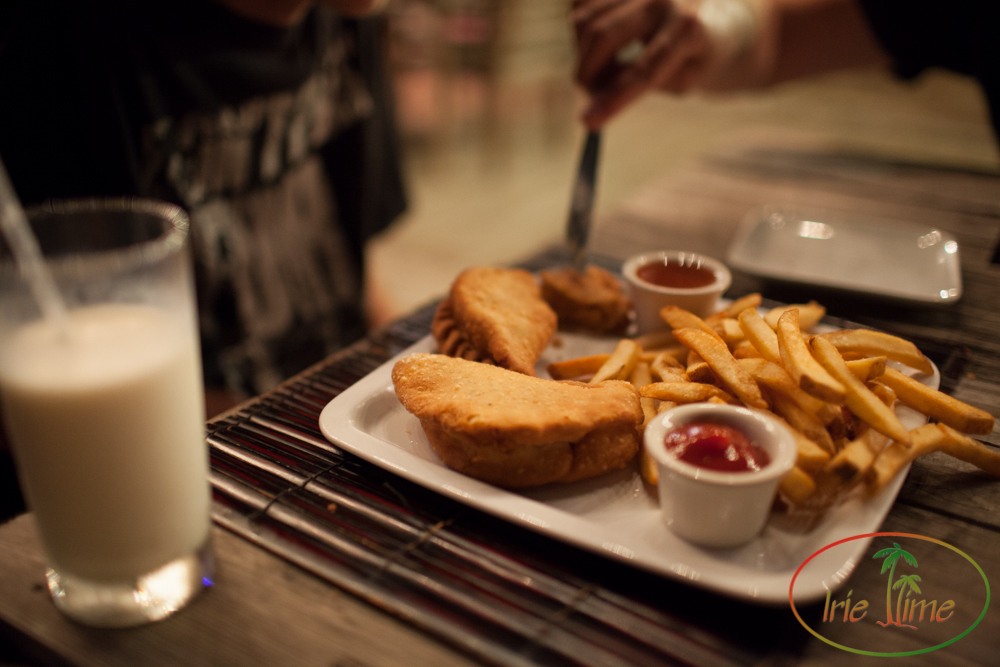 The jumbo shrimp…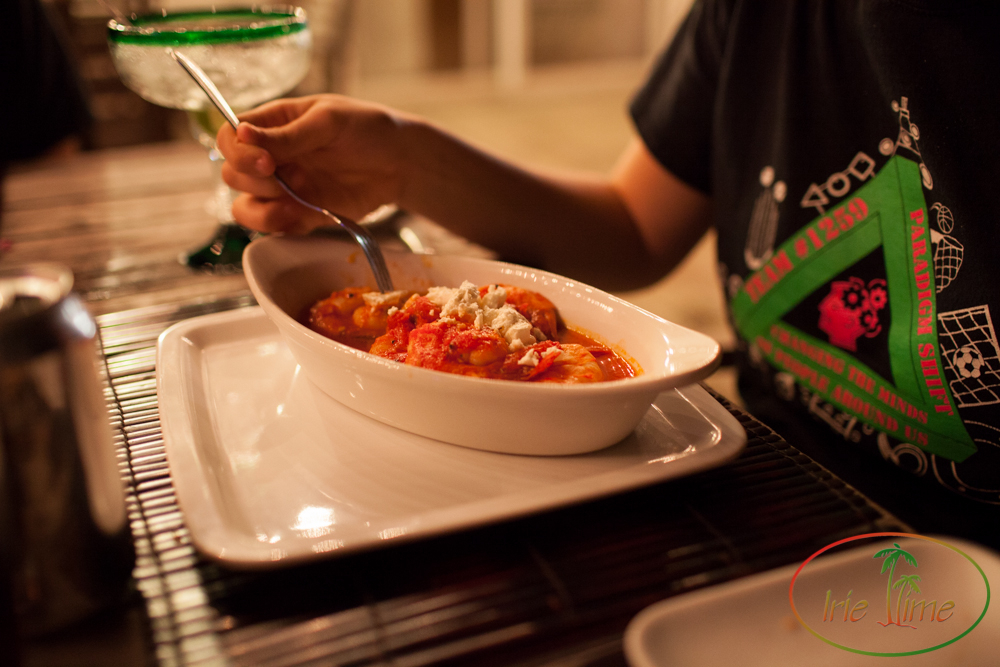 And the jerk grouper salad…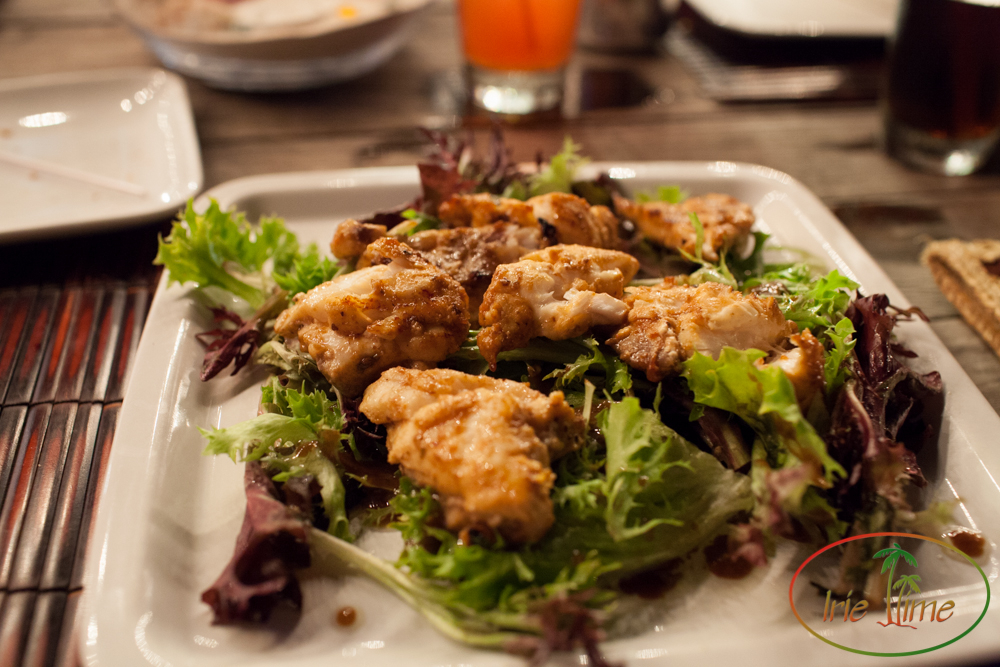 Oh, and the desserts.  This chocolate cake was one of our Thanksgiving treats…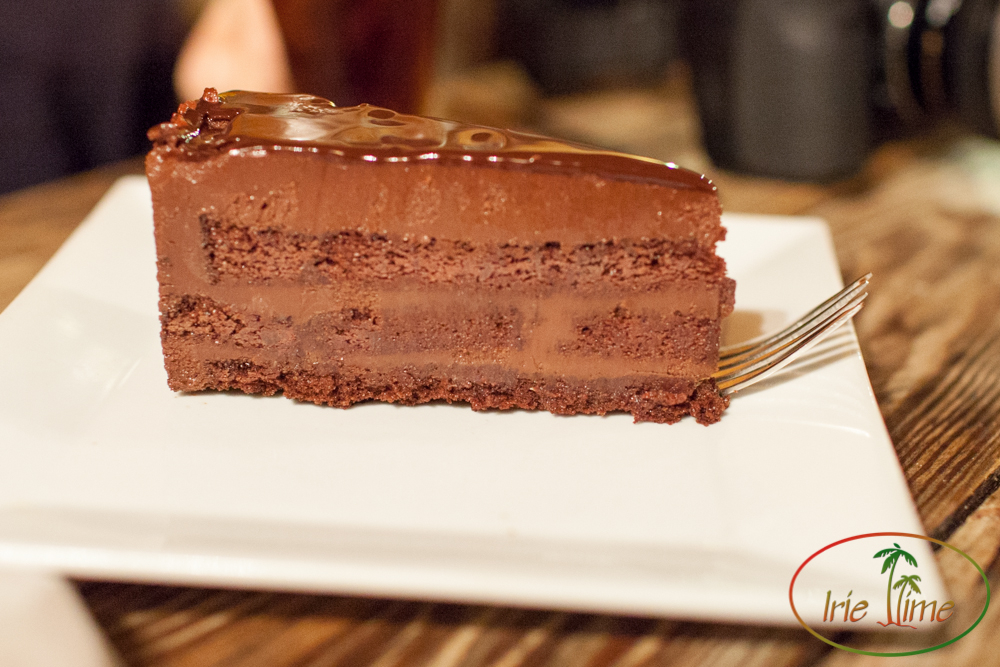 But my favorites were the sorbets, especially the mango sorbet in a mango shell.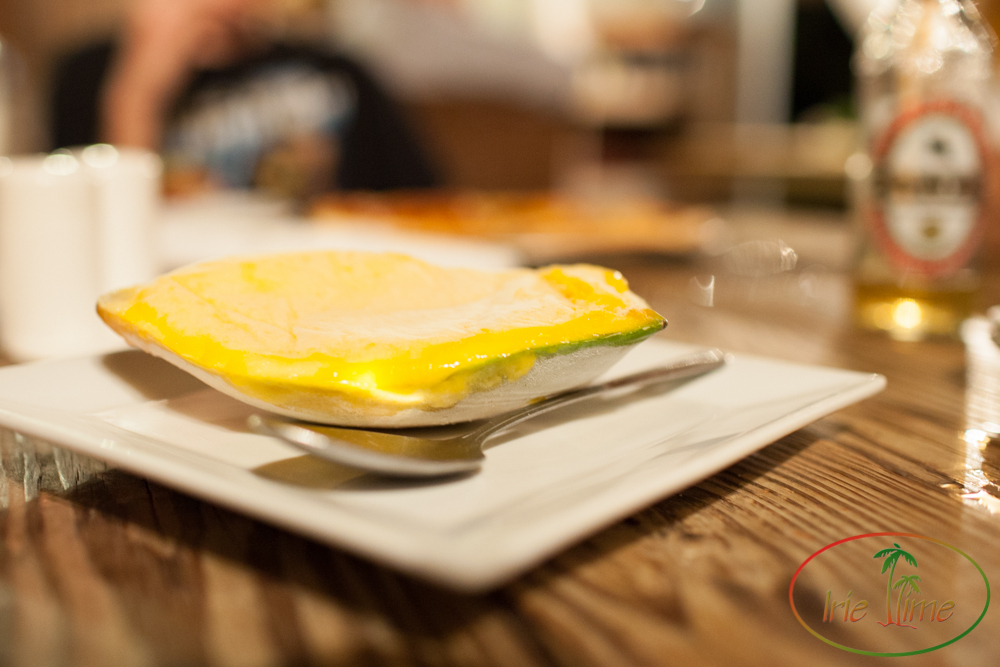 Let's talk about the cocktails.  When I saw the drink menu, I saw so many good choices.  Before the week was out, my goal was to try every drink on the menu.  I didn't quite make it, but there wasn't a clunker in the bunch.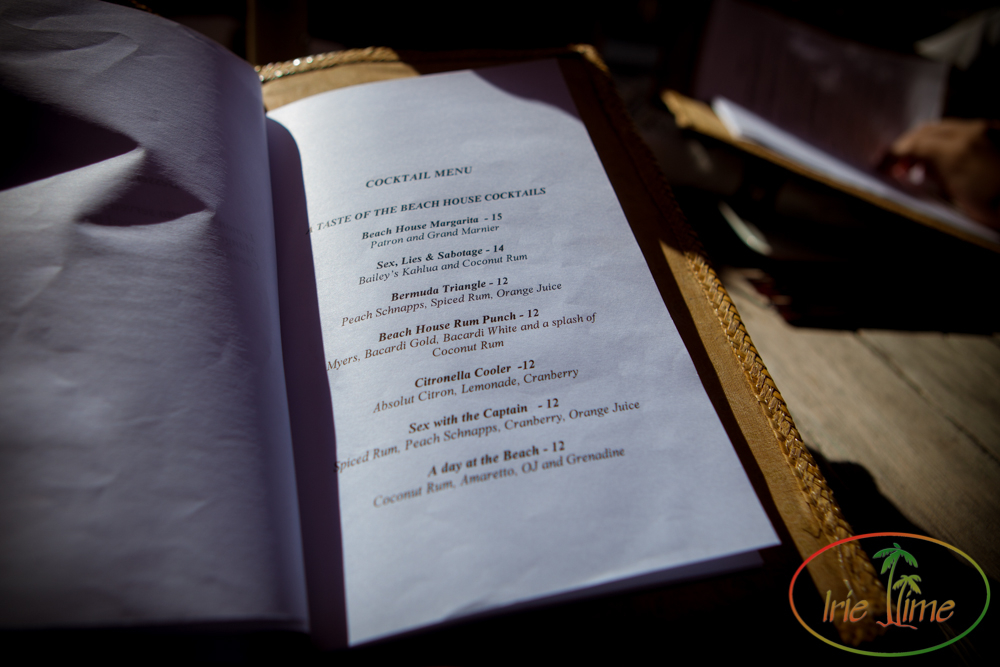 The Beach House Rum Punch…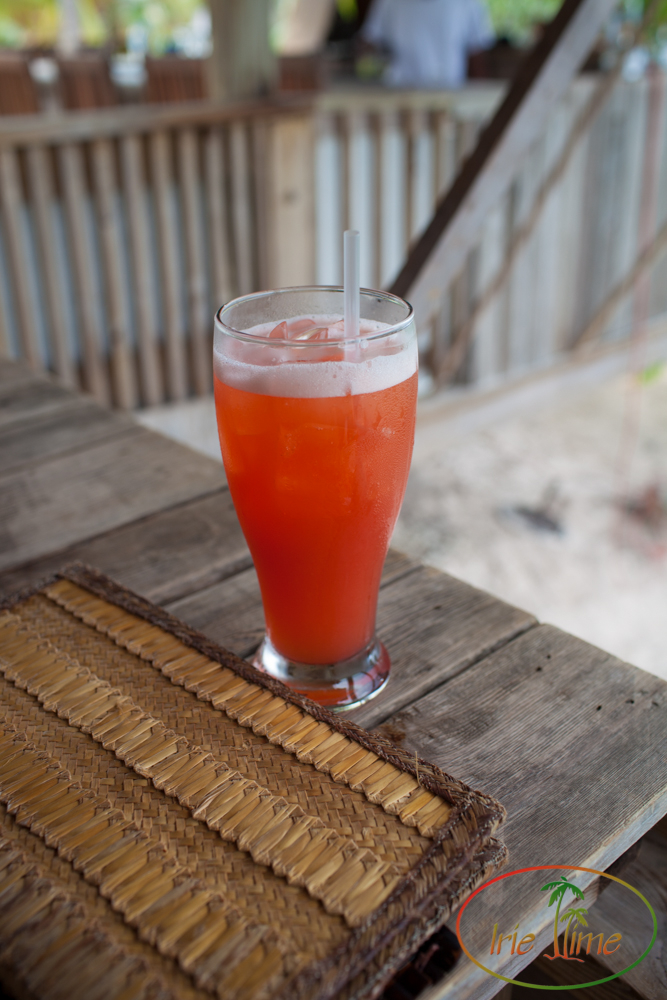 I wanted a little more pineapple, so on the second one, our kind bartender made up one especially for me!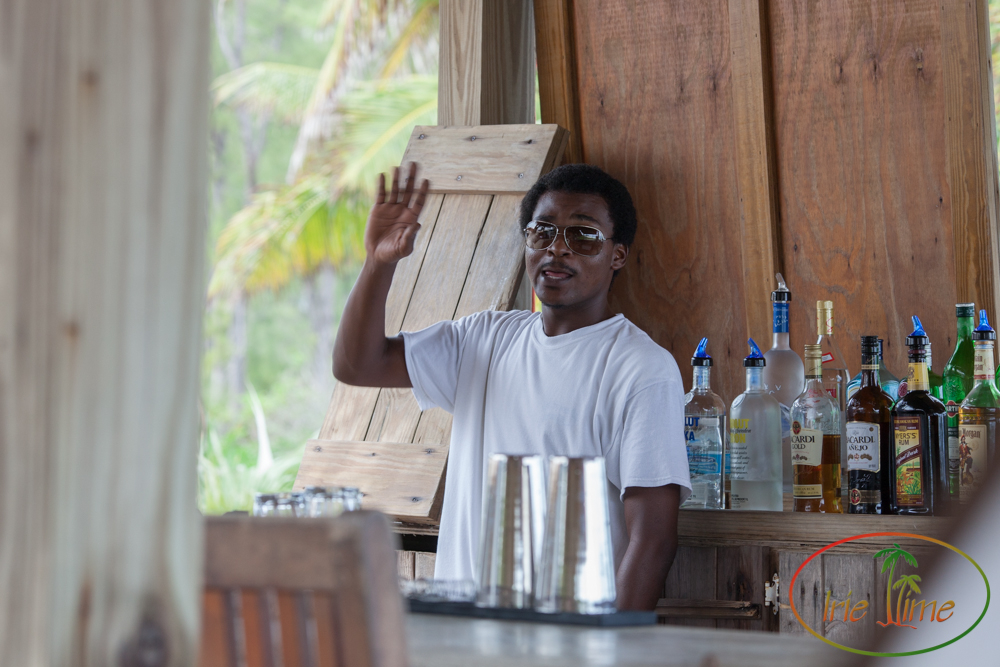 Then there was the Beach Bum, Bacardi Limon and Sprite…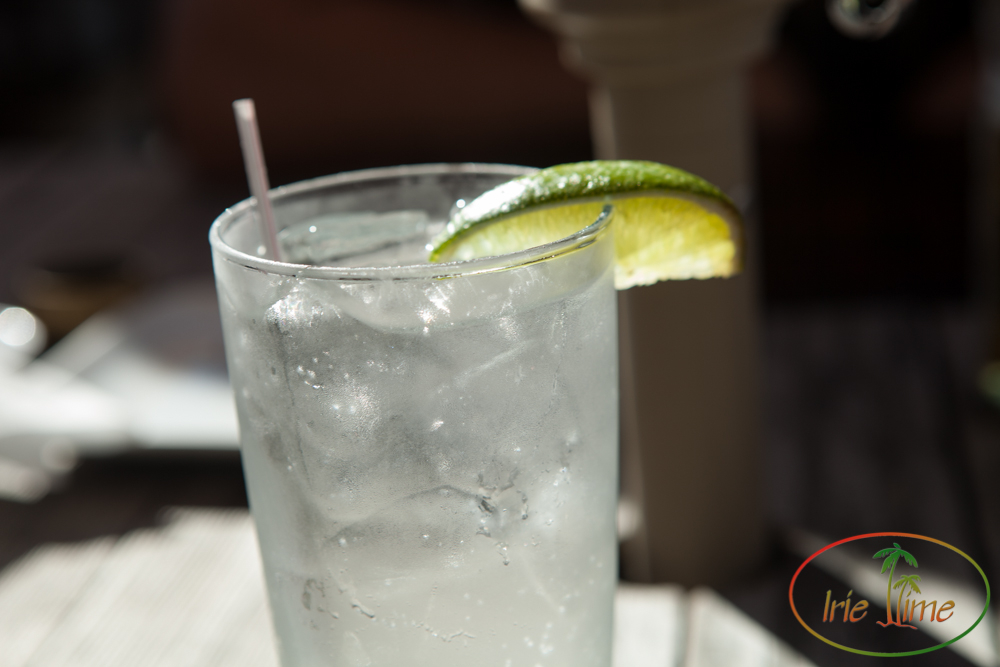 And the Lola, a mix of Campari, Pineapple Juice, Orange Juice, and Club Soda…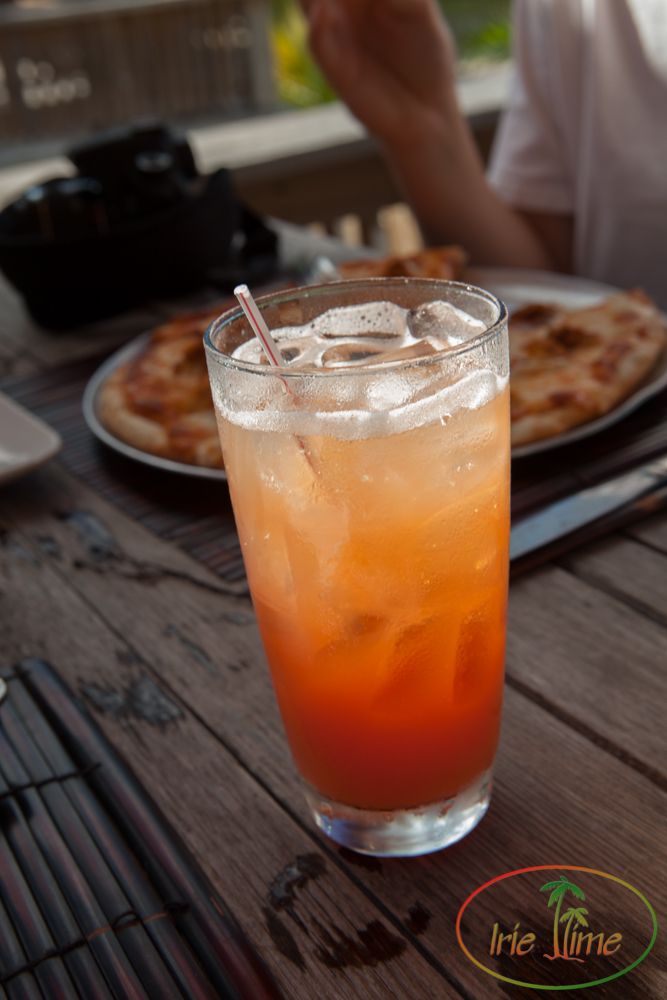 The Bermuda Triangle, peach schnapps, spiced rum, and orange juice…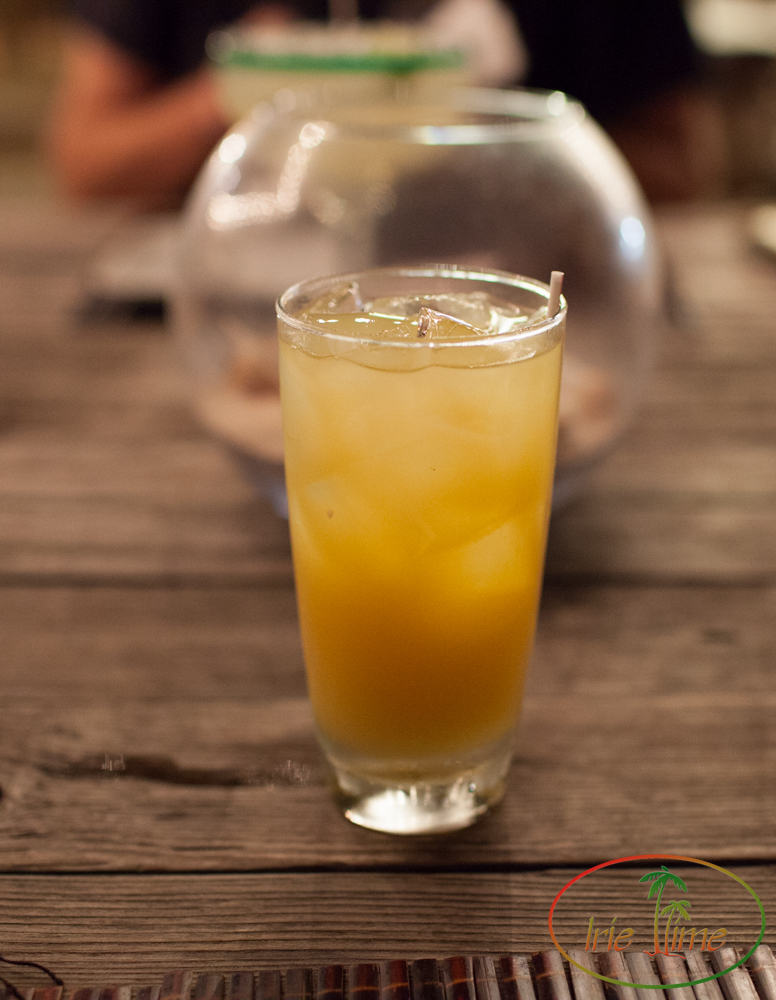 The Beach House Margarita…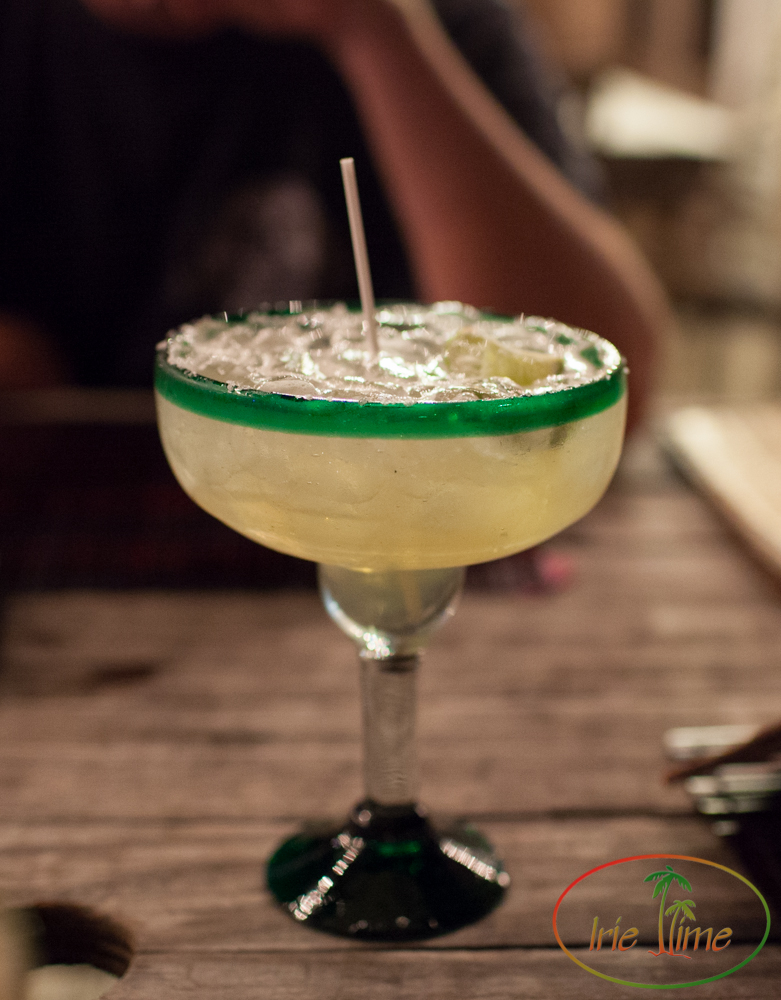 The Citronella Cooler, Absolut Citron, lemonade and cranberry juice…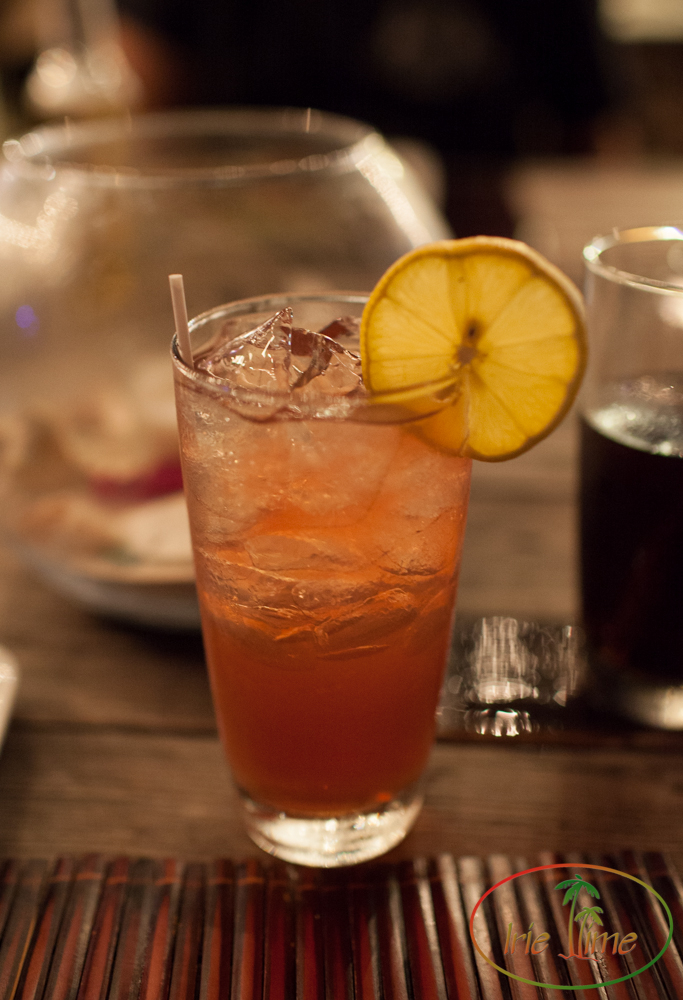 And a few more, but things are a bit hazy after that.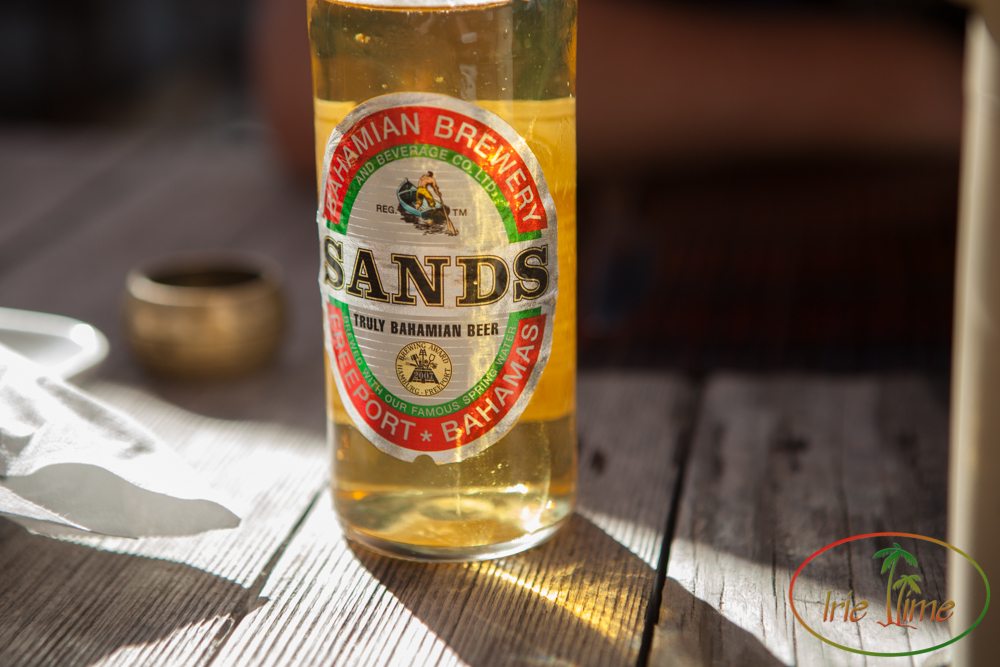 Let's not forget the music!  The Rum Runners play on Thursday night.  The wind was howling and there was a bit of rain, but they didn't miss a beat!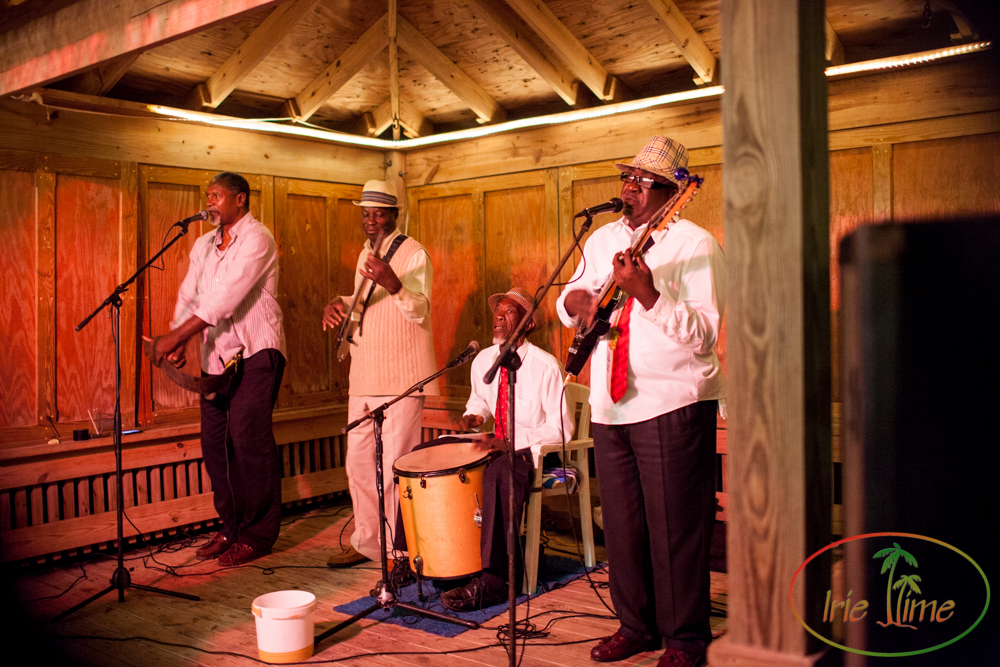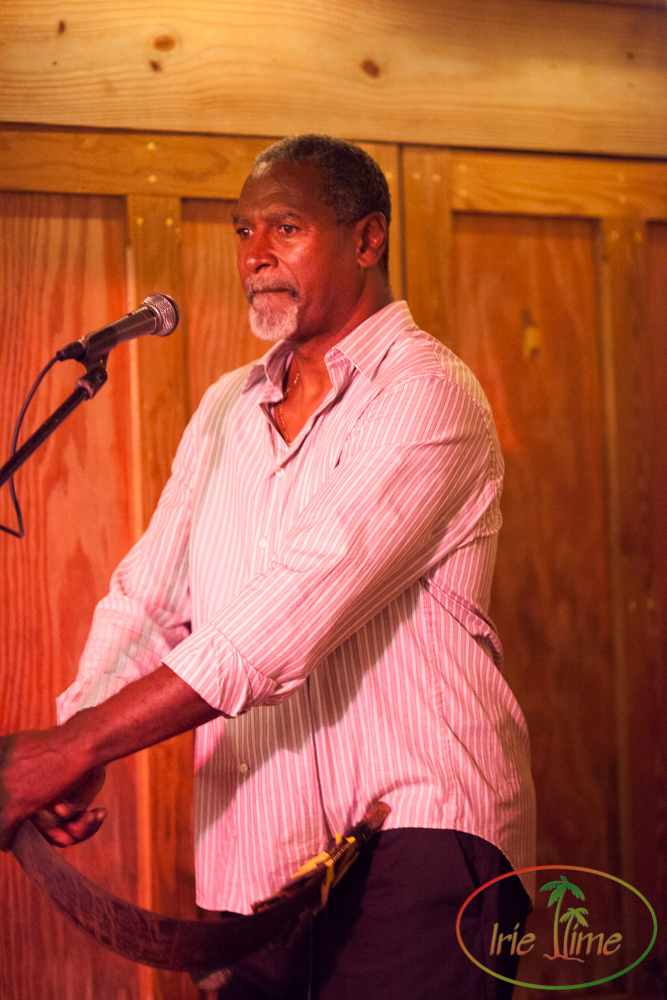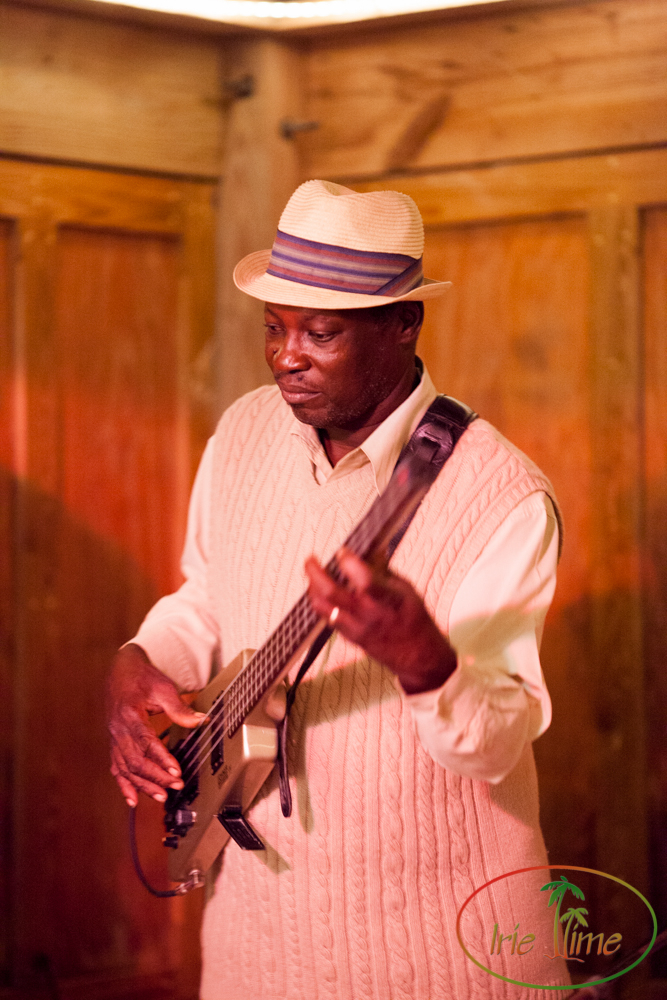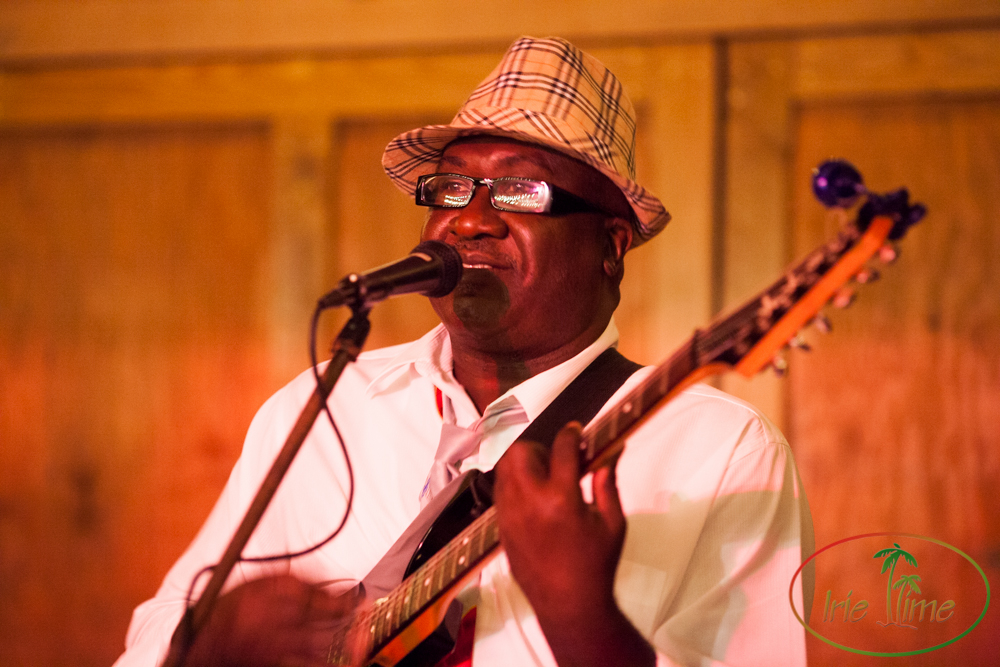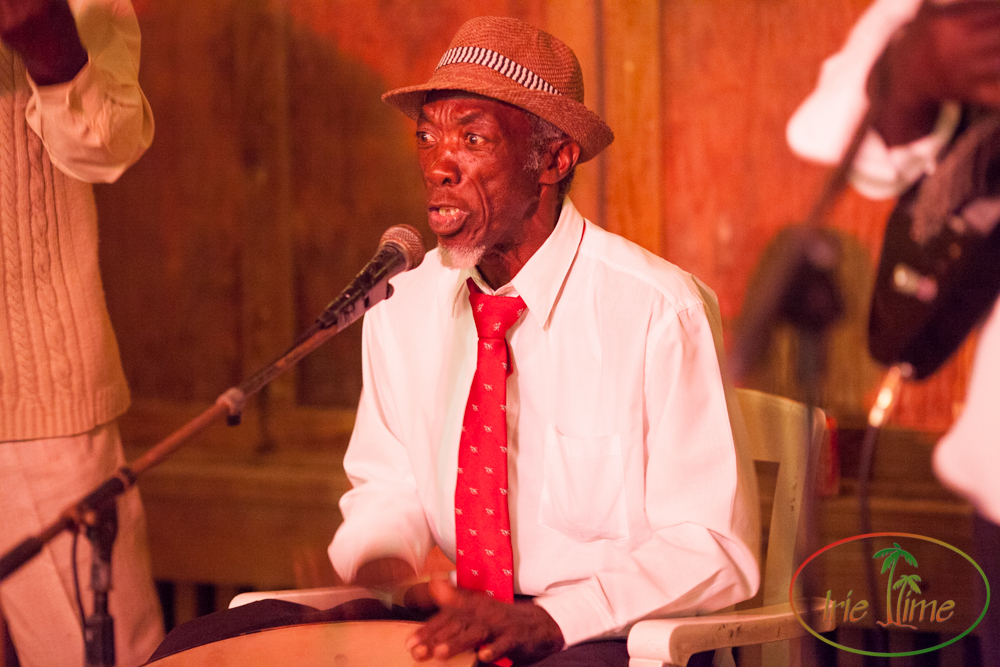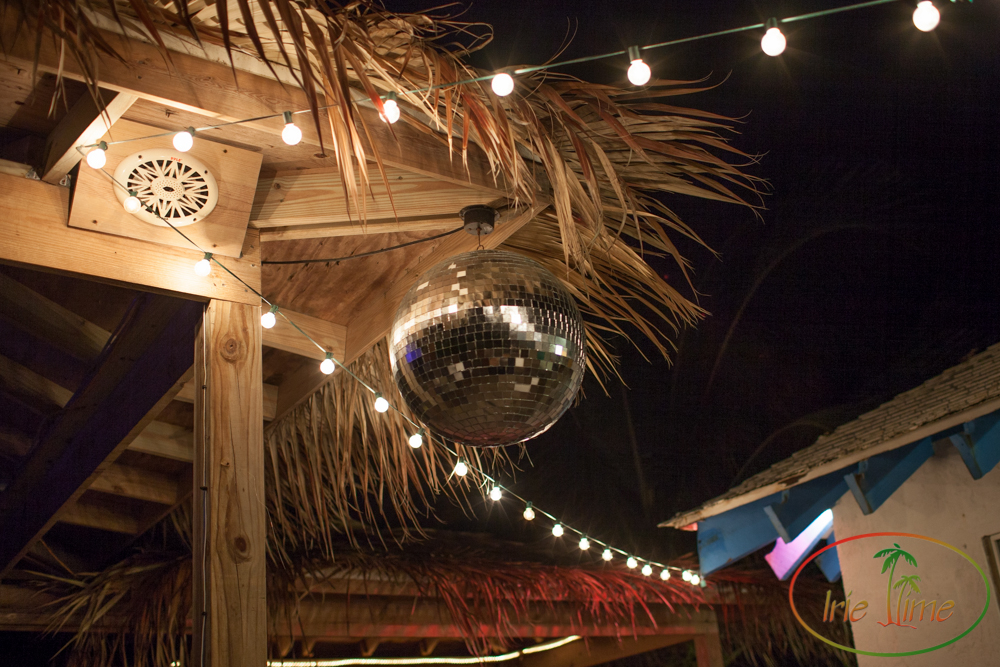 The Laughing Lizard Cafe, Gregory Town, Eleuthera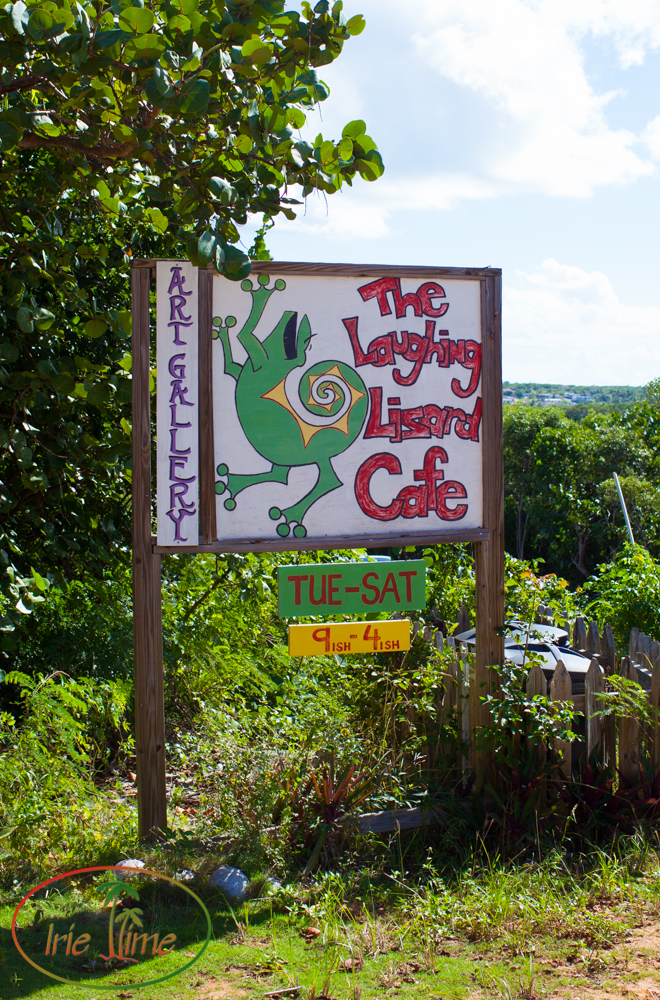 We didn't hit The Laughing Lizard until we were on our way to the airport to fly home, given the distance from our house in Governor's Harbour, but I'm glad we did. The menu had loads of choices.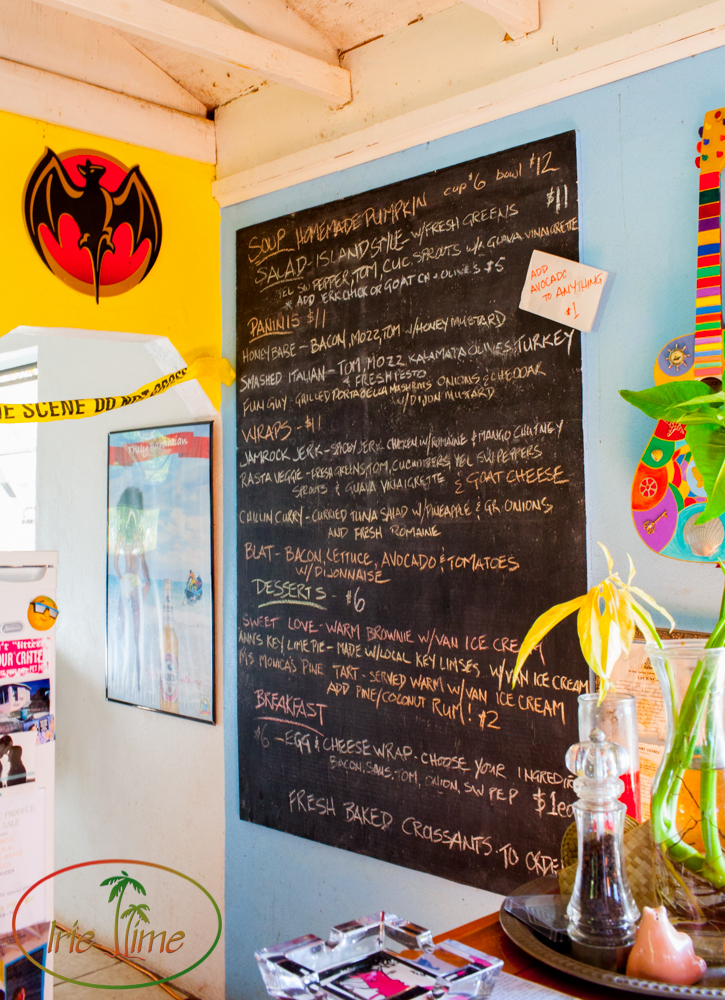 The funky decor will capture your interest while your meal is prepared.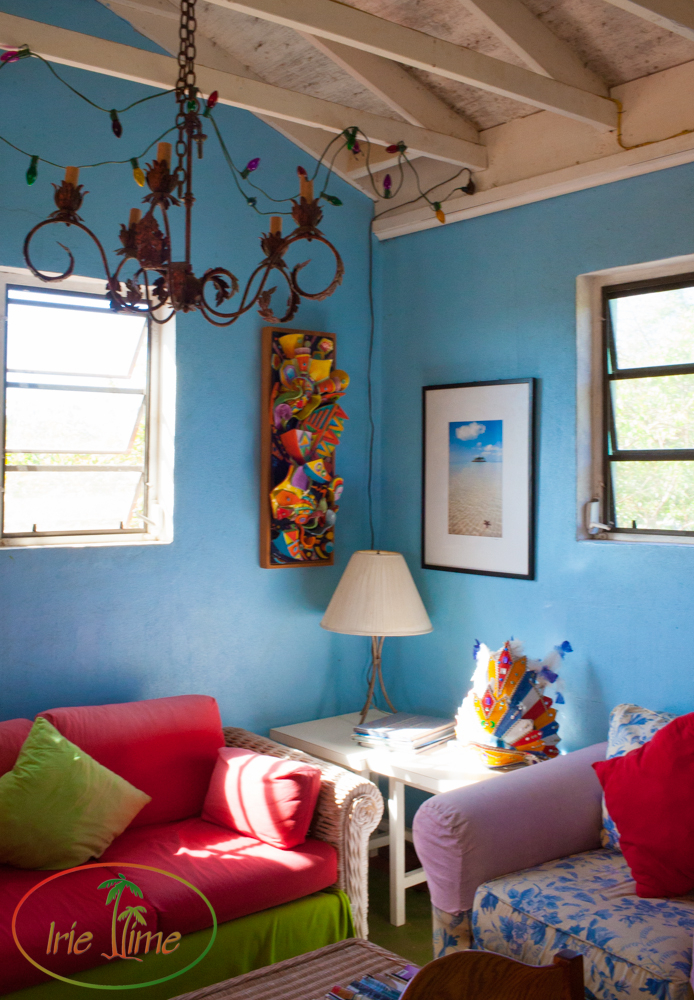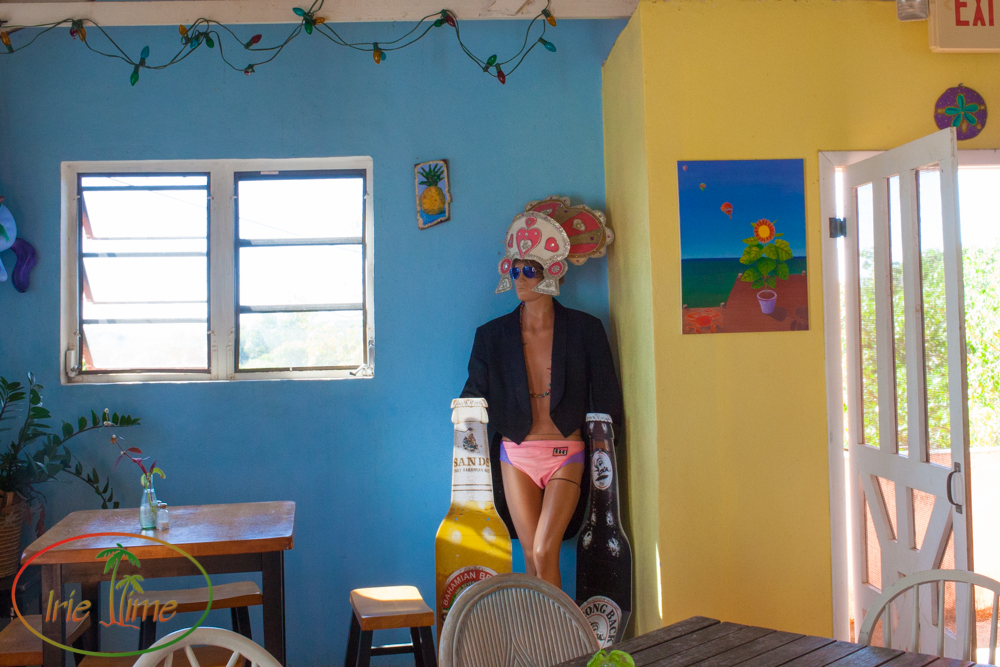 Or take advantage of the free wifi to pass the time.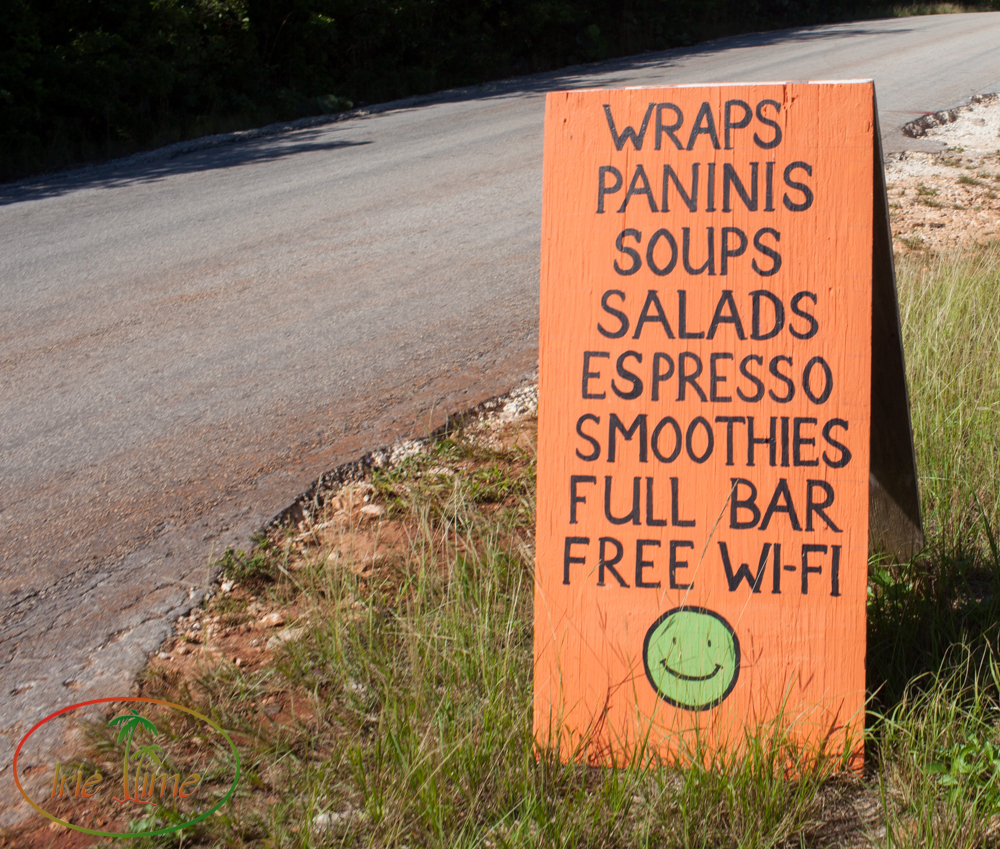 The wrap, made with anything you like, was a perfect breakfast for the long ride home.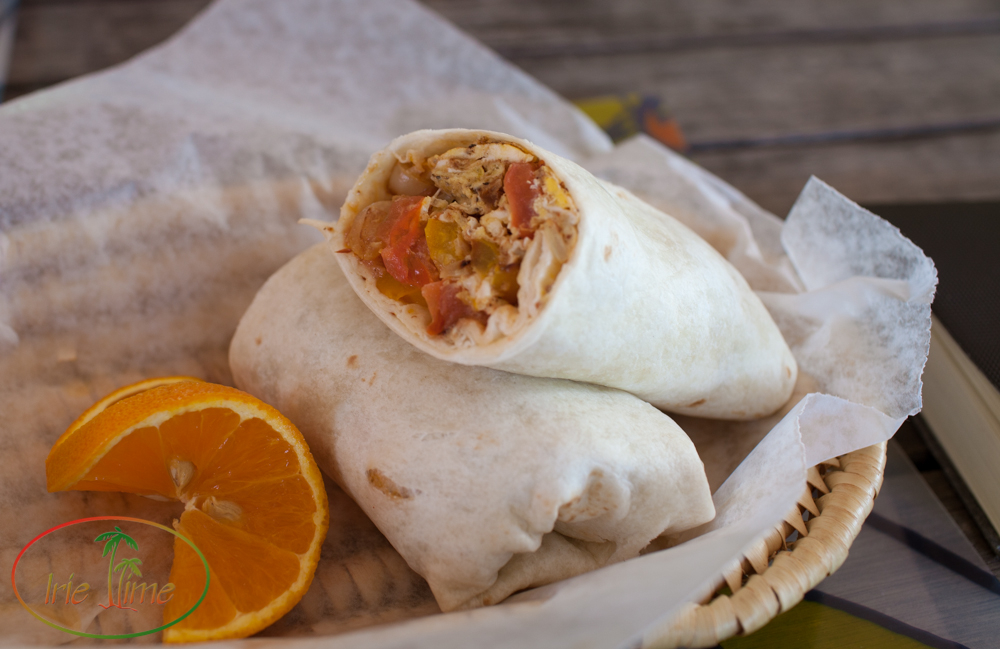 And the mango smoothie was refreshing and photo-worthy!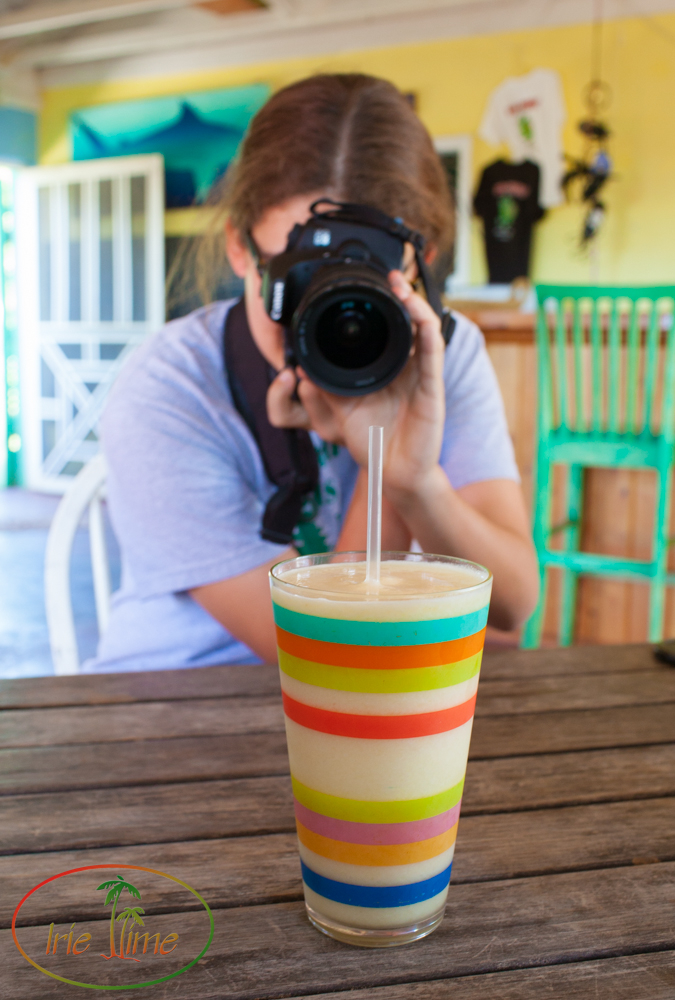 Tippy's, Governor's Harbour, Eleuthera
Last, but not least, is Tippy's.  Famous for their food and live music, Tippy's is a favorite of visitors to the island.  We visited twice, trying a variety of dishes.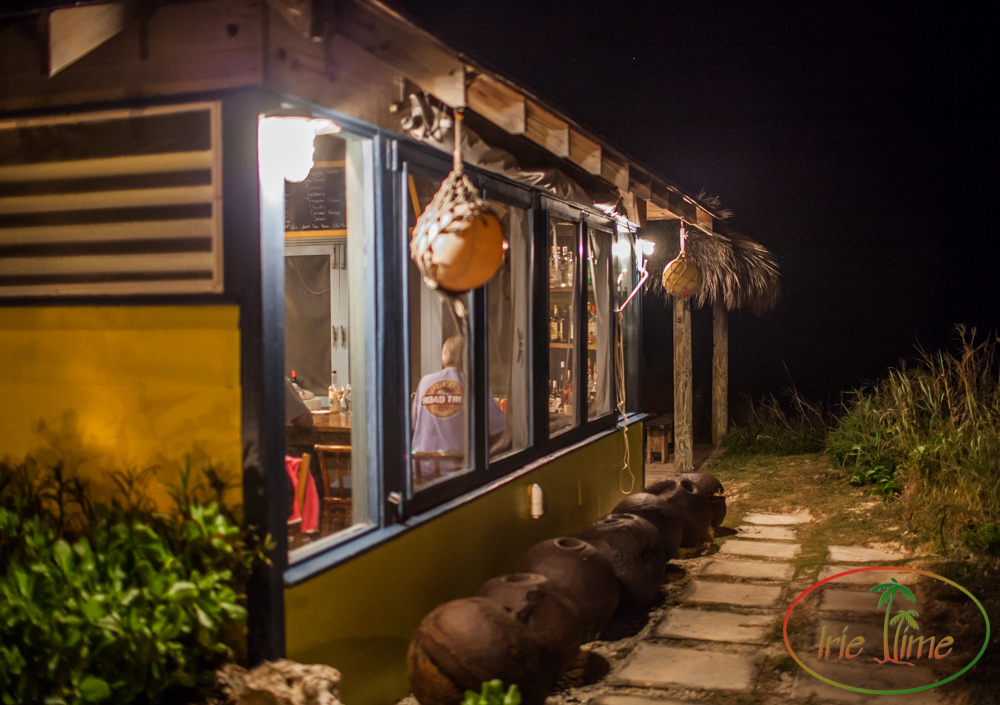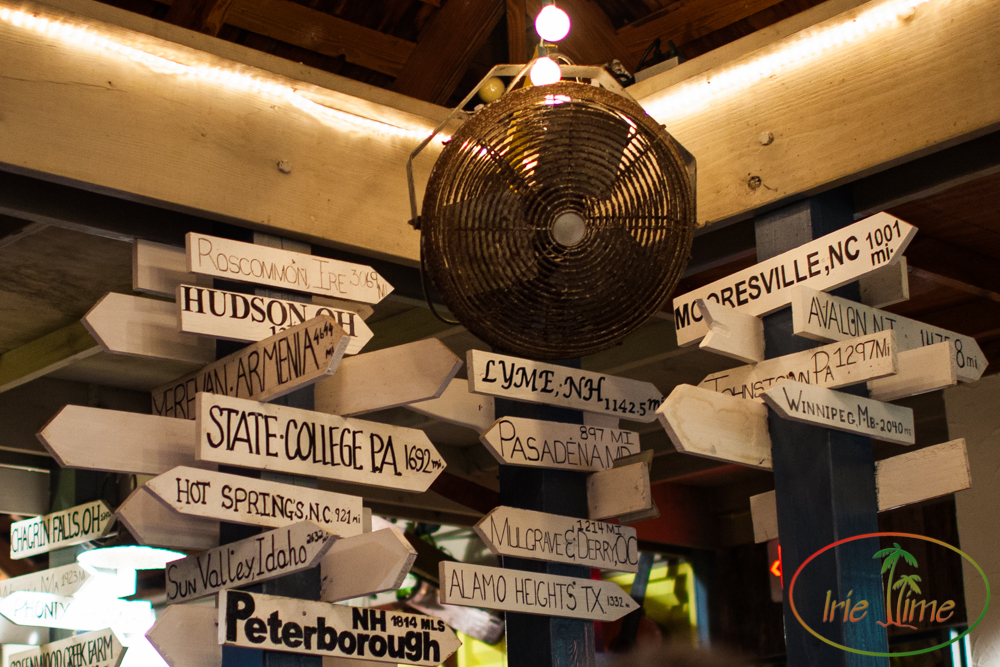 When you arrive, you will be presented with a large board of choices, along with a small specials chalkboard.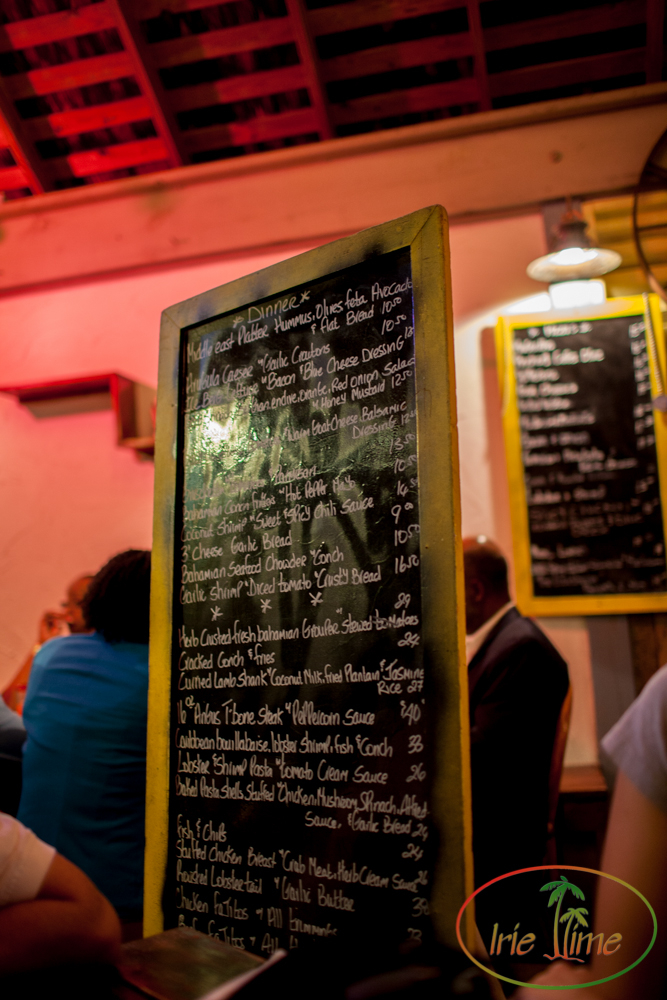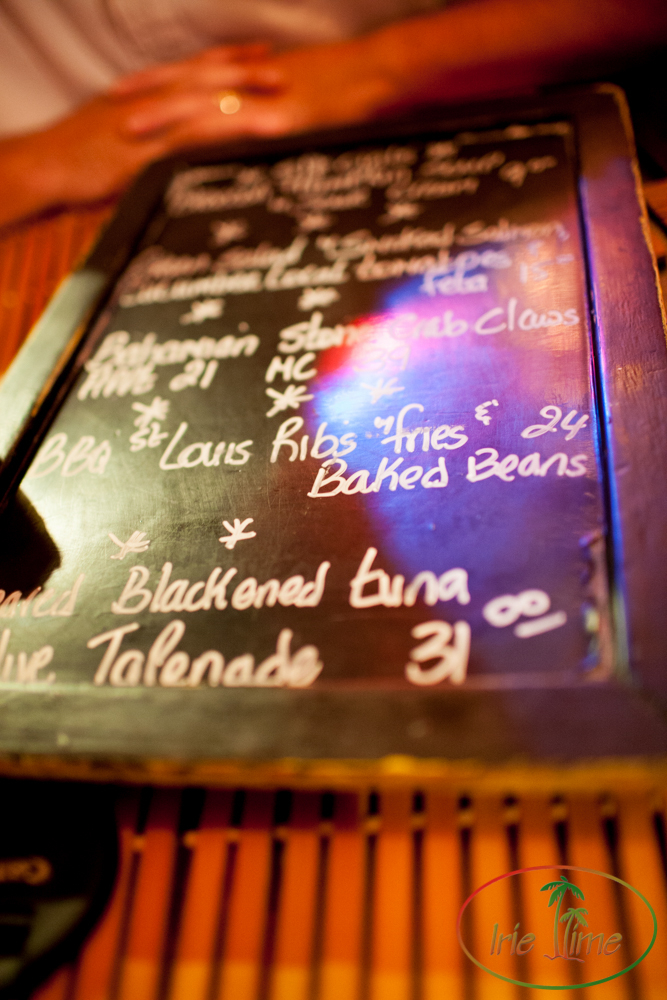 My favorite dish, by far, was the stone crab claws.  A real treat.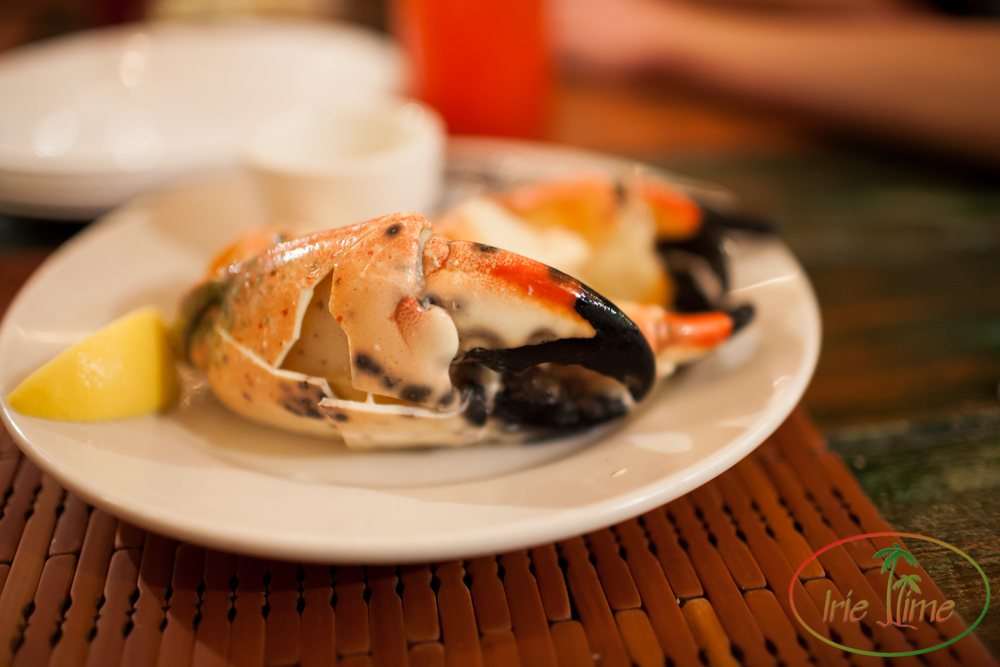 We also tried the herb-crusted grouper…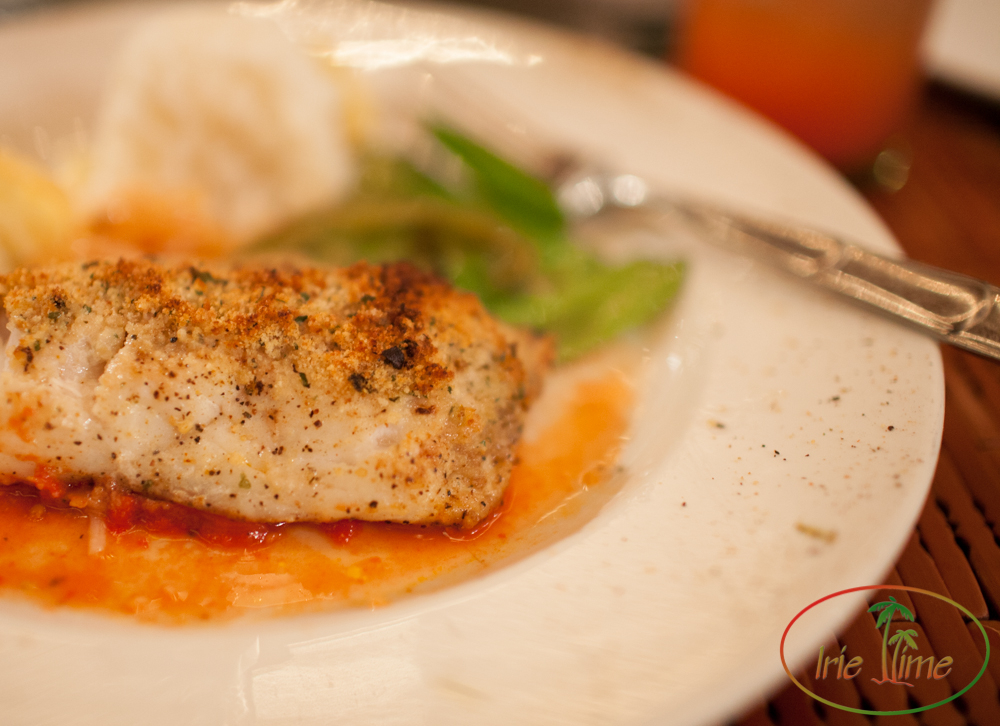 And the Caribbean Bouillabaisse…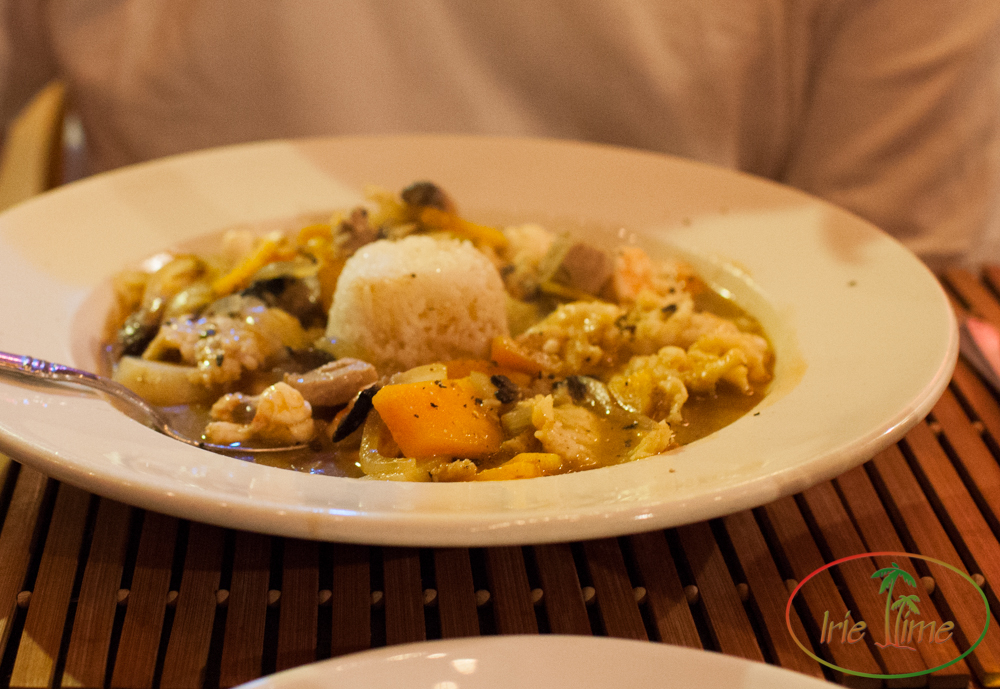 And the lobster and crab pasta…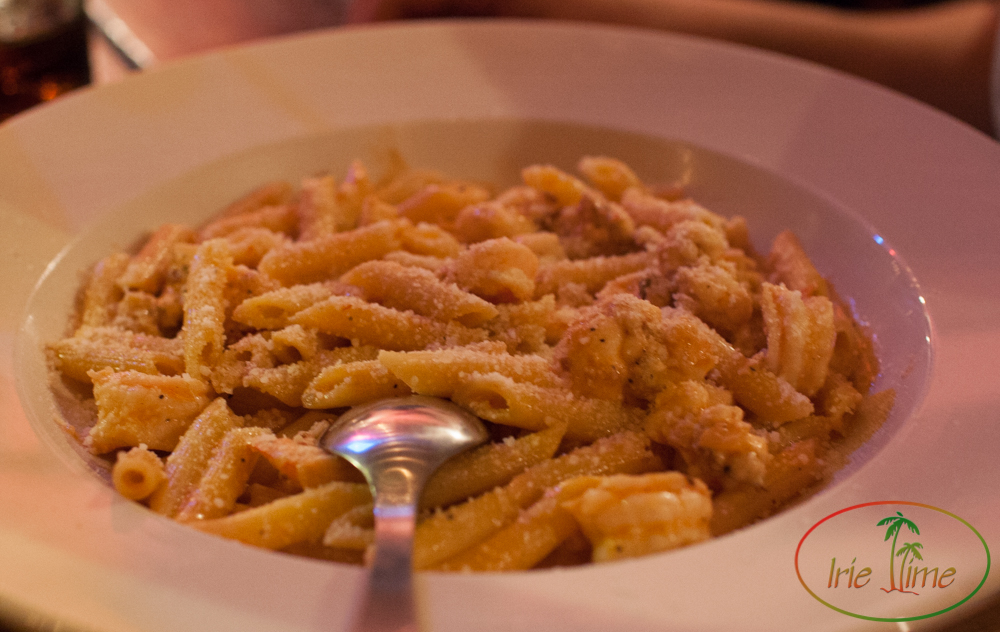 The chicken and spinach stuffed shells…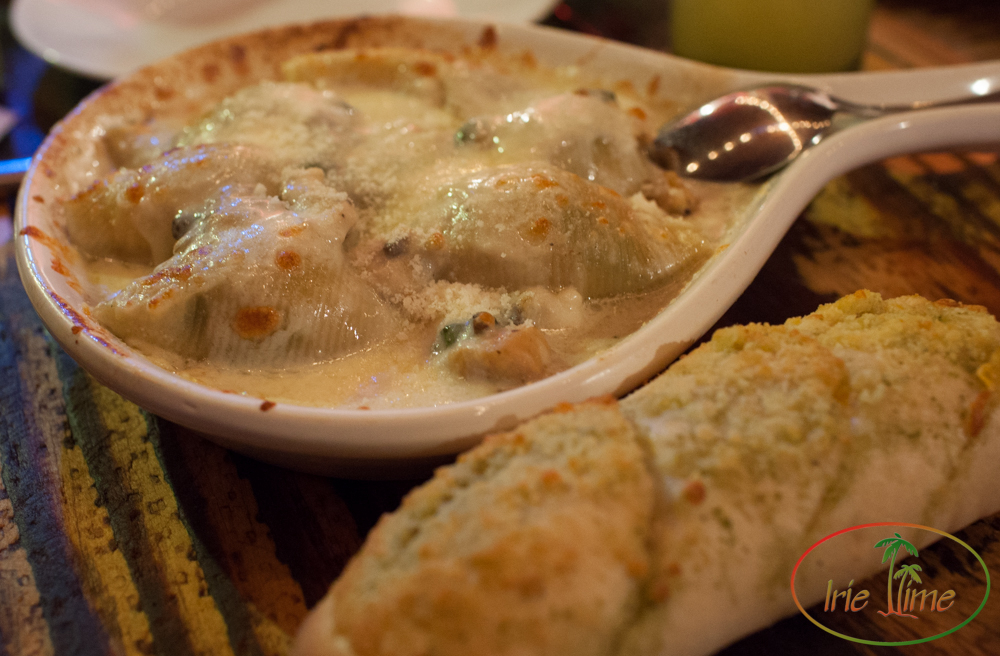 And the four-cheese pizza!  The pizza was huge, but it was also great for breakfast.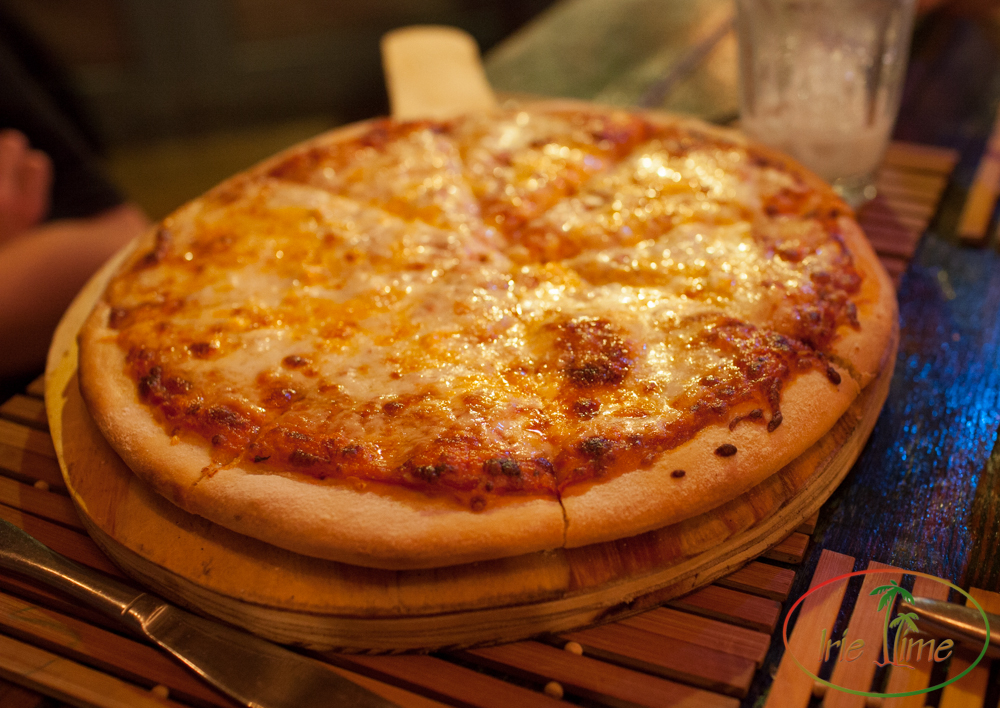 Of course, we had to taste a few cocktails, including Tippy's rum punch…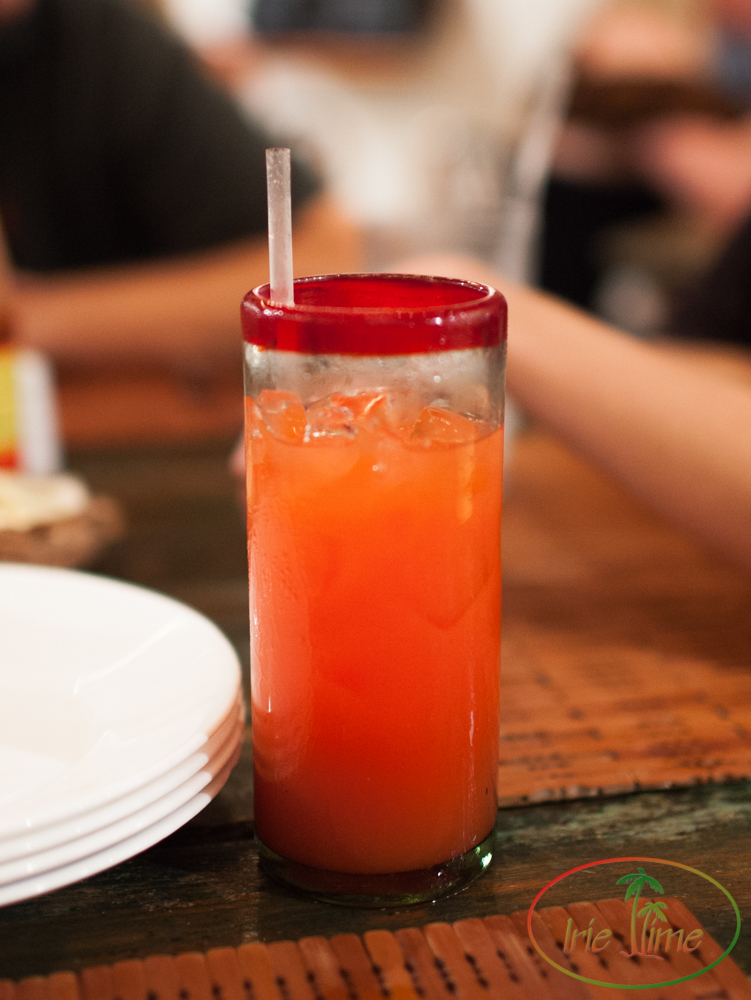 And a Goombay Smash!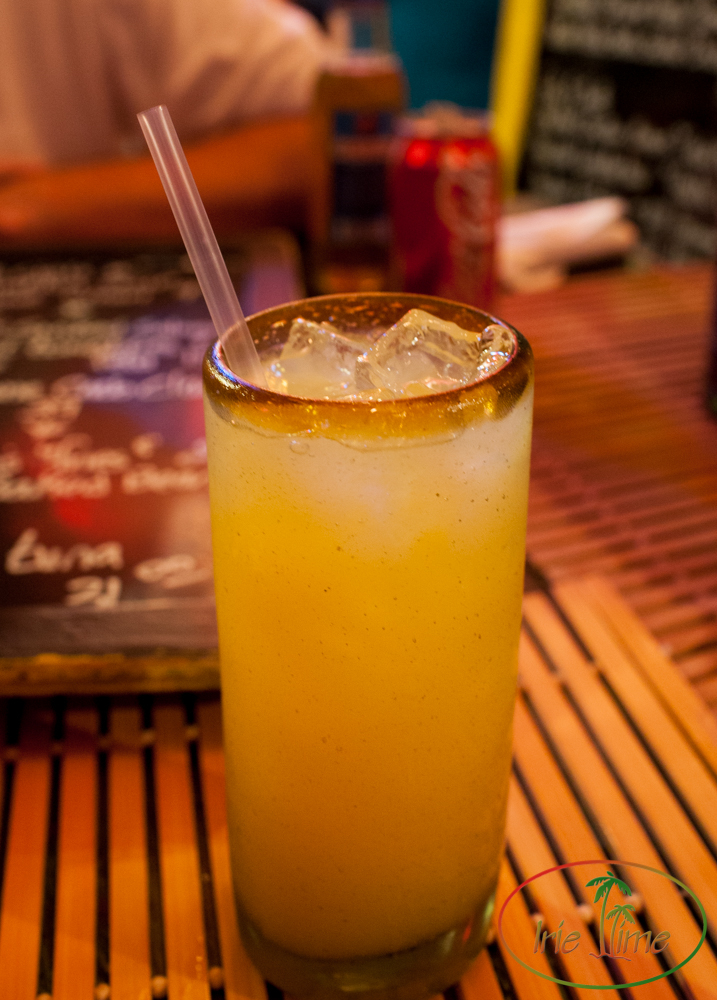 We had a 7:30 reservation that Saturday night, and the music was just getting started as we were leaving, so plan to dine later if you want to have music while you dine.
Thanks for joining us on our food tour of Eleuthera and Harbour Island.  That concludes our trip report on Eleuthera and Harbour Island, but we have loads more photos from our trip and will blog them from time to time on My Irie Time.  Be sure to check our travel journal, our Facebook page, and our Twitter feed for more!
Did you miss parts 1 through 5 of our trip report?  Get started reading here!
More Eleuthera and Harbour Island posts here:
All words and images ©2006-2018 Wendy G. Gunderson. Any use without written permission is prohibited. For licensing information, please send inquiries via the Contact page.